Entertainment
Who Is Susan Boyle? The America's Got Talent New Singing Sensation
Songstress Susan Boyle's Britain's Got Talent audition garnered praises and propelled her into international superstardom. A tomboy since her teenage years, her rise to fame meant that she would now be able to land a boyfriend with ease.
With husband wannabes in abundance, the Blackburn native could have her sight set on experiencing married life. Her recent weight loss, perhaps, is as clear an indication as any.
Nine years after making her reality tv debut, the singing sensation looks all set to dazzle the US audience with her larger than life vocal deliveries. And this time around, she is gunning for the top prize as the winner of America's Got Talent.
Read along to learn more!
Know About Scottish Singing Sensation Susan Boyle; All Set To Return In America's Got Talent
If nothing else, Susan's life story resembles that of Cinderella's!
More From AGT:- America's Got Talent Season 13 Hot Performance & The Champion That Won
Ten days after celebrating her 48th birthday, the Unchained Melody crooner would decide to appear before the audiences & judges of Britain's Got Talent on 11 April 2009 to sing a song. Little did she know that one decision would change her life in ways she could never imagine.
Singing I Dreamed A Dream, not only did she recieved standing ovation from the crowd in attendance but also managed to solicit tears from the ever-so-stern Piers Morgan. She would go on to finish in the second position, only narrowly missing out to dance troupe Diversity in the finale.
Seven albums and over 25 million record sales later, Susan, now 57, will once again hit the screens as she participates in the newest edition of its aptly titled spin-off America's Got Talent: The Champions. And maybe this time around she will be crowned a deserved champion.
Another BGT Overnight Superstar:- Lucy Spraggan & Wife A Lesbian Power Couple; A Teary Story To Bliss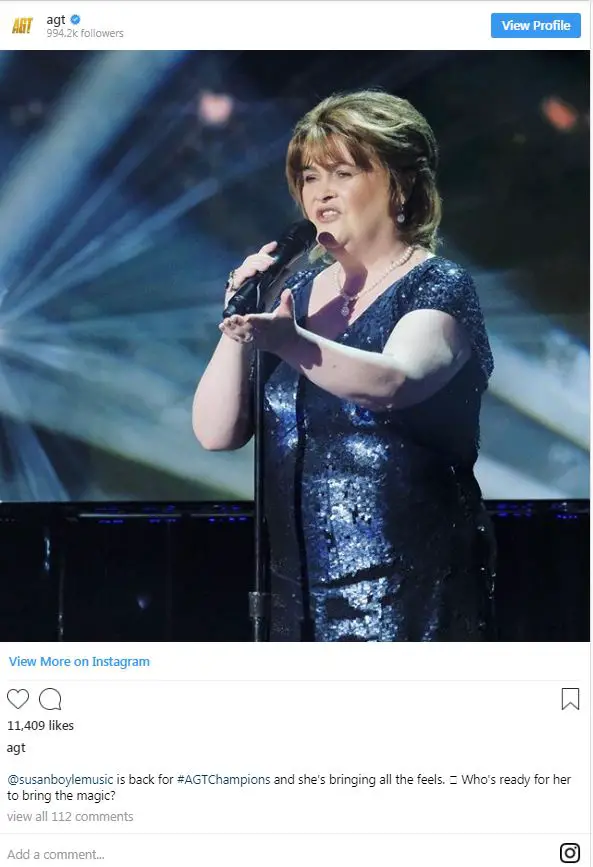 AGT announces Susan Boyle's return (Photo:- America's Got Talent's Instagram)
For the highly publicized prize, the Wild Horses crooner will compete against fellow Britain's Got Talent stars including sword swallower Alex Magala, Ashley and Sully and shadow theatre troupe Attraction.
Hosted by Terry Crews, the 2019 edition of America's Got Talent - which premieres on 7th January 2018 - features familiar faces, Mel B, Heidi Klum, and Howie Mandel as its judging panel.
Dating A Boyfriend Or Married With Husband?; Weight Loss Following Type 2 Diabetes Diagnosis
Along with her musical success came advancement in romantic front as well but not without doubts.
Explore More:- Meet QVC Host Amy Stran Age 39 Husband & Adorable Babies | Bio
The Cosmo actress, despite the hectic tour, professed her desire to get married one day. In 2013, she told Digital Journal:-
"I want to find a man but it's hard with all the traveling I do. I really want to start going on dates and I've asked my friends to set me up with a good man — if they can find one. I'd like to settle down one day."
As fate would have it, a year after the stated interview Susan was madly in love with her boyfriend, who is of same as age as her. Speaking about her romance with the husband prospect in an interview with The Sun, she gushed:-
''I don't want to say any more about who he is right now as that would be unfair on him. All I'll say is we are around the same age and he was a very nice guy.''
Contrary to gossip, her present boyfriend isn't her first. But judging by her words, her current beau is by far the best one she has had in a long time. In the past, her boyfriend has impregnated other women while still being together.
See Also:- Dancer Sierra Haschak Age 14 Flaunts Sister Bond, Versatility Height & Singing Sessions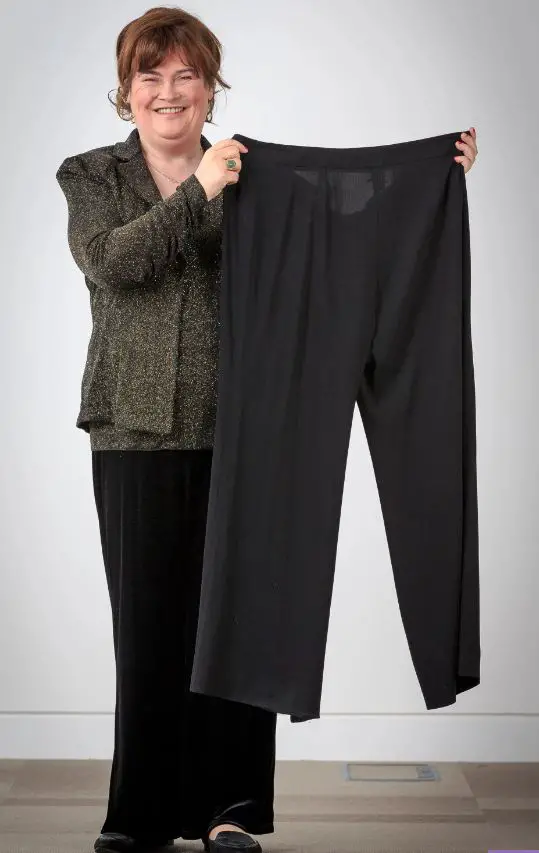 Singing sensation Susan Boyle shows off her weight loss transformation (Photo:- thesun.co.uk)
There seems to be very little to no credence to the rumors that suggested The Perfect Day singer's recent weight loss has all to do with her possible life as a married woman. Susan had achieved miraculous weight loss - shredding two stones - since being diagnosed with Type 2 Diabetes.