Entertainment
Tanika Ray Married & Husband | Who Is TV Girl With Daughter Hiding?
American TV personality, Tanika Ray was previously engaged to......The couple was looking to take the next step in their relationship after the arrival of their child......Tanika, who possesses a net worth of ..., thought of changing the status of her fiance to husband, but eventually faced a turmoil......
While slamming a rightful example to the belief that true love doesn't exist anymore, Tanika Ray shared the heart-touching story of her parents as they celebrated their 47th Wedding Anniversary together.
Following her parents' footsteps, the TV personality also shared a romantic relationship with her boyfriend-turned-fiance and even parented a child together with him. But, that was a few years back. 
So, is the couple still engaged or already taken a step forward in their romance with a wedding? Or, have they faced the inevitable and parted their separate ways.
Nonetheless, the pair will always be connected as they share a mutual love for their daughter.
Daughter With Fiance; Not Husband Yet
Being the mother to a beautiful child is a blessing that any woman wishes to have!
46-year-old American TV personality, Tanika was more than happy to conceive a baby girl with her fiance, P. Frank Williams back in 2014. Though the couple had kept their relationship under the radar, they flawlessly flaunted their soon-to-becoming parents' moments.
Other TV Presenter:- Marcia Clark Net Worth & Show, Where Is She Now? Married Status
Tanika, whose natural curls envy many hair stylists, and her TV producer fiance had organized the baby brunch for their close friends and family. 
During that time, she publicly accepted her private nature saying,
"I've always been just private about all my stuff. Funny, considering I get exposed to everybody else's stuff and my stuff's quiet."
She welcomed her baby girl named Nyla Nova in July 2014. Since her daughter has aged four now, she usually features her rapidly-growing daughter on social media.
Aside from the pictures, the actress also shares the interesting tidbits about the growth of her daughter which keeps her followers close to her personal life.
Similarly, for the occasion of National Daughter's Day on 25 September 2018, she Instagrammed an adorable picture alongside her daughter quoting the day was made for the two.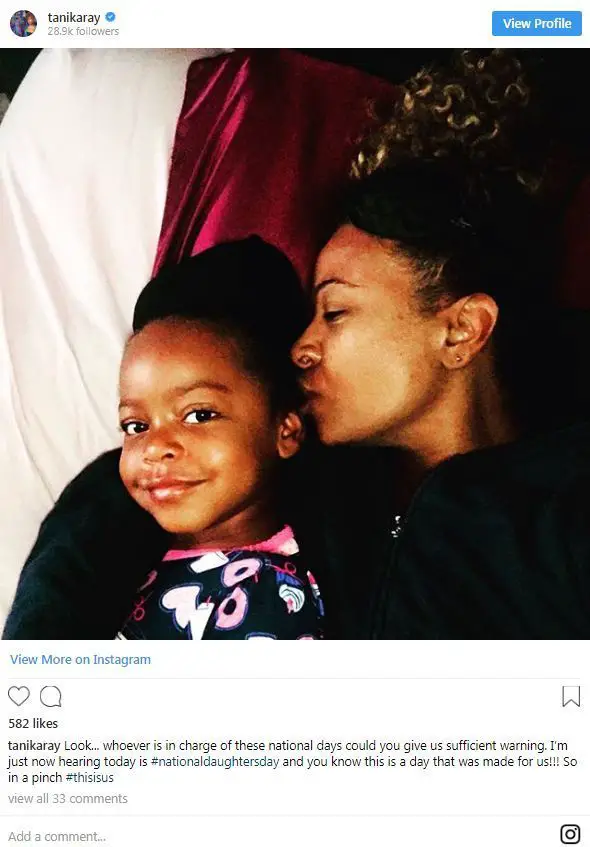 Tanika Ray wishes daughter Nyla Nova on National Daughters Day (Photo: Tanika Ray's Instagram) 
See Also:- Gregg Wallace's Wife Pregnant With Their First Baby, Family Is Now Complete!
Moreover, Nyla is not only her mother's daughter, but she is her dad's princess too. Nyla's doting father also shared her beautiful portrait and wished her on the National Daughter's Day.
Similarly, on Holloween 2018, Frank joined the couple's daughter with a gladiator dress while the little princess was dressed as a unicorn.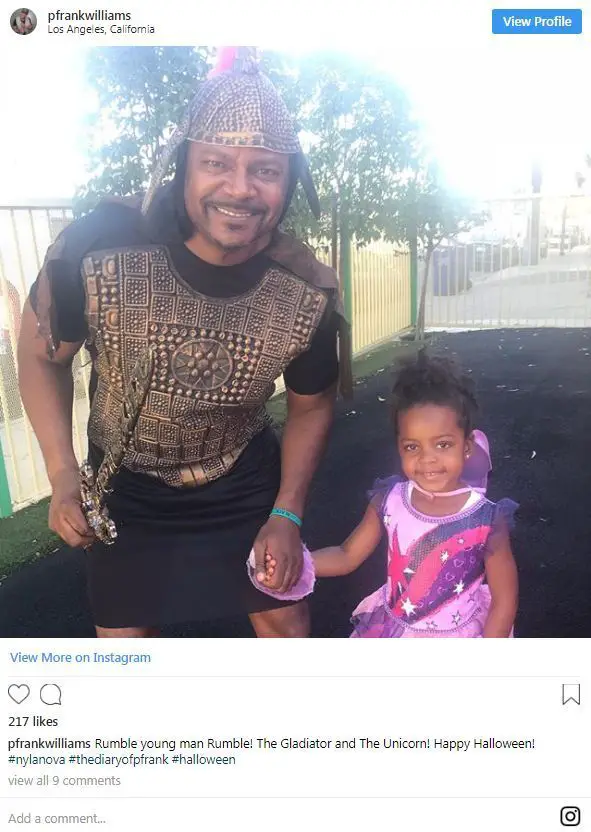 P Frank Williams with daughter Nyla Nova on 2018's Halloween (Photo: P Frank Williams' Instagram)
P Frank seems to be an adorable father but is he a loyal partner to his daughter's mother?
Even though the couple had a romantic dating history, the duo can't say the same about their present.
Married To Daughter's Father? Not Really!
While Tanika and her fiance both flaunt their daughter on social media, everyone might have thought the couple is getting cozy with their engaged life.
But they have not shared a picture together in recent times, which hints on a problematic relationship between the two.
On February 2016, she expressed her desire to have a romantic affair with Scorpio, Aries and Sagittarius guys. So, it seems Tanika had already broken with her to-be-husband before the date.
Recommended:- Jennifer Hawkins & Husband Keeping Wedding Vows Strong! Plastic Surgery Talks
Later on September 2017, she confirmed her split with then-fiance P. Frank claiming that she was raising her offspring as a single mother during an interview with Essence.
Though she was close to starting a blissful married life with her then-fiance, things did not work out between them.
As of now, she is co-parenting her daughter together with P Frank. Little Nyla spends her weekend with her father and he "loves every minute" of it.
On 19 November 2018, Frank shared the glimpse of his weekend with her daughter where his playful daughter was busy on making the blocks.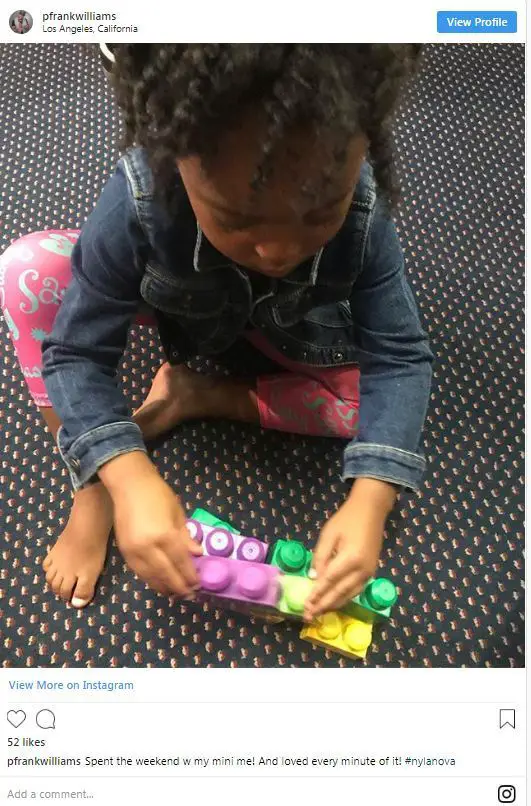 Tanika's ex-fiance spends his weekend with daughter, Nyla Nova (Photo: P Frank Williams' Instagram)
Don't Miss:- Todd Sampson Age 48 Flaunts Fierce Family With Wife | Love At First Sight
While the former couple separated before taking the sacred wedding vows, her parents are the biggest influences in her life as the black ethnicity couple has been married for 49 years now.
At the moment, Tanika, who has not disclosed her salary, has stepped away from the dating game and is more concerned about her daughter and her career, which has honored her with a net worth of $ 3 million.