Entertainment
Tasya van Ree Girlfriend, Ethnicity, Family, Net Worth
Tasya van Ree's girlfriend also changed her name from...to honor and express love for her ex-partner...the exact figure of her net worth hasn't...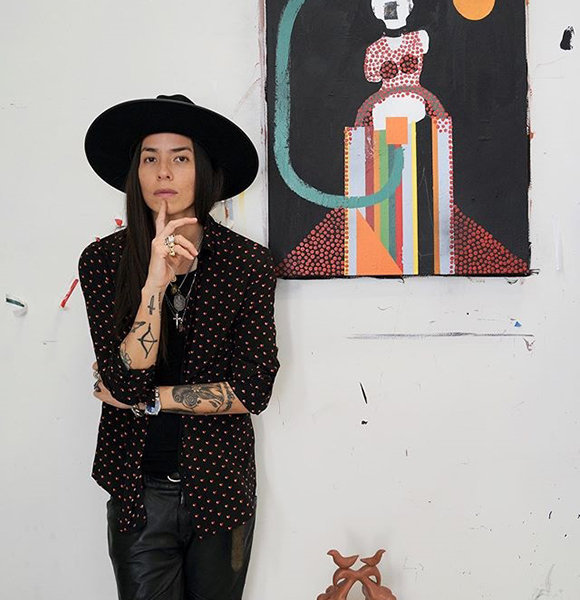 Tasya van Ree uses the power of her lens to photograph mostly the feminine aspect with themes of identity and womanhood.
Personalities such as Amber Heard, Michelle Rodriguez made it into the portraits of the LA-based photographer. Her works have been featured side by side with admired filmmakers such as David Lynch and Gus Van Sant.
Relation With Girlfriend 
Although several celebrities and models appeared in her black and white artistic portraits shots, actress Amber Heard was the recurring one.
Moreover, the photographer even referred to the Aquaman actress as one of the primary source of inspiration behind her artistic ventures. As their relationship progressed professionally, love started to blossom between them, and the relation took an intimate turn like her beautiful shots.
Although same-sex became officially legal in America from 2015, the pair had already got into a domestic partnership in 2008. Her girlfriend also changed her name from Amber Heard to Amber Van Ree, showcasing her commitment to the association.
Later, they held a secret wedding ceremony in 2011. 
Split From Amber Heard
The lesbian pair stood by each others side until Tasya's actress lover allegedly caught feeling for Johnny Depp-during filming of The Rum Diary. In 2012, they broke off but, continued to remain in good terms.
More On Tasya's Ex-Girlfriend's Divorce:- Life Goes On! Actor Johnny Depp Back on Set after Finalizing Divorce with his wife Amber Heard
Tasya even resorted to the artistic medium by getting the Spanish tattoo to honor and express love for her ex-partner which quoted (translated from Spanish),
I love you because I know no other way to love." 
Furthermore, the artist defended her ex-girlfriend Amber during her ex-girlfriend's publicized domestic violence allegations at Johnny Deep and the subsequent divorce settlement.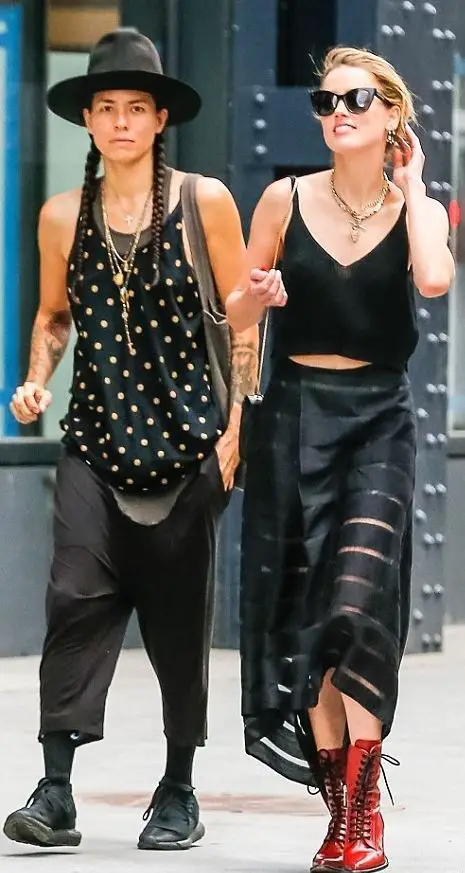 Tasya Van Ree strolls with ex-girlfriend Amber Heard in New York City on August 2018 (Photo: dailymail.co.uk)
Her ex had filed a complaint against the Pirates of the Carribean star, alleging that he showed violent behaviors throughout the marriage with harmful tendencies. And, the divorce was finally settled with monetary agreements.
Interestingly, in August 2018, Tasya was seen spending times with her newly divorced ex-lover at New York in a friendly meet up.
Bio Plus Career Start
Born on 30th April 1976, Tasya of Japanese-American ethnicity was brought up in Mililani, Hawaii. She lived with her family in her native place until high school. Then, she moved to Los Angeles to become a photographer.
Besides making her mark into photography, she ventured into the business of clothing brand. She launched her brand of T-shirts labeled as Die Wilder with a very symbolic approach.
Recommended Celebrity Photographer:- Yu Tsai Bio, Gay, Boyfriend, Height, Family
Although the exact figure of her net worth hasn't reached the public eye, her link to celebrities undoubtedly boosted her height in Hollywood circles. Since Tasha is also a painter by profession, her artwork is also her source of income.