Entertainment
Padres' Ted Leitner Net Worth & Salary; Plus Married Life & Children Info
In late May 2018, San Diego Padres' broadcaster Ted Leitner announced that he would be leaving to receive treatment for kidney cancer treatment. The decision meant that he would miss the MLB outfits' road trip for the first time in almost 40 years.
A month later, the sportscaster, better known as Uncle Teddy among Padres' fanatics, resumed his play-by-play commentary gig after announcing to the world that he had successfully battled the disease after undergoing "low-grade cancer surgery."
His cancer turned out to be a benign one, which made it seem more natural to fight than initially believed. Regardless, the veteran sportscaster thinks he couldn't have done so without the "thoughts & prayers from Padres & Aztecs fans."
Cancer Victim-Survivor's Net Worth & Salary
The year Ted got diagnosed with cancer - which was later successfully removed - marked his 39th season behind the mic for beloved "My Padres."
Cancer Related Story:- Brooks Ayers Age 51 Married Again, New Wife & Fake Cancer Talks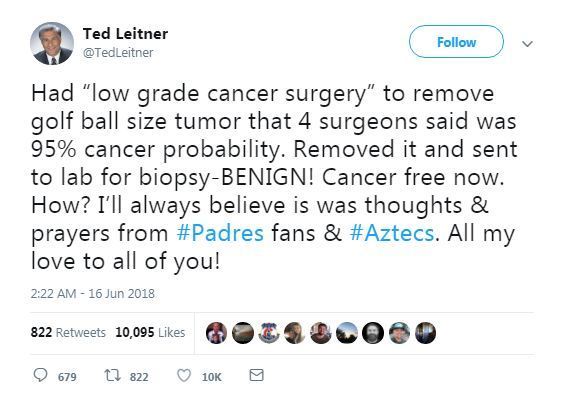 Ted declares he's cancer free, less than a month after opening about it in May 2018 (Photo:- Ted Leitner's Twitter)
Currently, in his 42nd year in broadcasting, Ted also acts as the leading voice of San Diego State University Aztecs baseball and football.
Ted's other play-by-by credits include NFL's Philidelphia Eagles and Los Angeles Charges, NBA's San Diego Clippers, the University of Connecticut, and the University of Oklahoma.
A graduate of Oklahoma State University himself, he completed his Master's degree in Television/Film/Radio from the University of Oklahoma. Between 1978 and 2002, the veteran play-by-play announcer worked as a sports anchor for San Diego-based KFMB-TV -- a CBS-affiliated television station.
It's safe to say; Ted has made himself a staple in San Diego community, having mastered several Padres' ceremonies over the years including the club's annual awards dinner, Padres Hall of Fame induction ceremonies, Opening Day ceremonies, and 2012's Jerry Coleman Day, honoring Coleman's 70 years in baseball.
Explore New:- Former First Take's Host Jay Crawford's Blissful Married Life With His Wife and Children, Salary and Net Worth?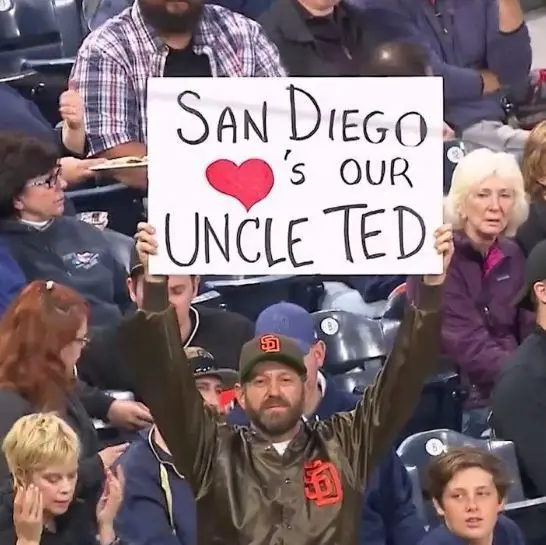 A San Diego Padres' fan shows love to "Uncle Teddy" on a game night (Photo:- pinterest.com)
Given his experience & loyalty to the California-based MLB team, one would expect him to receive a considerable sum in salary -- most likely in the seven-figure mark. Collectively, his earnings should help in amass a formidable net worth -- and again, an amount expected to cross the eight-figure threshold.
A favorite among San Diego Padres' owners, Ted could have easily used his influences to secure even bigger pay in the past by gaining their trust. Or else how would someone explain him officiating the 2013 wedding between former Padres owner John Moores and his wife, Dr. Diane Rosenberg?
Married Life - Seven Children & Four Wives
Funny enough, the veteran sportscaster is a seasoned hotshot when it comes to weddings, having gotten married four times himself.
Fellow Sportscaster:- Greg Amsinger Behind Camera! Married With A Wife And Low-Key Relationship
If nothing else, being married four times guarantees huge baggage. Just ask Ted, who had to live through an awkward phase of having to drop commentary on one of his ex-wife's previous lover, a former player for the Los Angeles Chargers.
The University of Oklahoma Alum, for his part, looks for much humor in his failed marriages. One has to tune-in his programmes to get a taste of his attempt at finding comic value in it. However, what he lacks in a successful marital relationship with a wife, he makes up for it by becoming an exemplary father to his seven children: twins Ryan & Nicholas, Mark, Matthew, Teddy & Jordan, and a daughter named Kristin. With now three grandchildren added in the mix, Ted's surely has a lot to look forward to in the future.
Many might not remember but his son, Ryan Leitner became a victim of gun violence in 2010. Then 19-year-old Ryan got shot in the midsection following an altercation but survived.
Discover Now:- Former First Take's Host Jay Crawford's Blissful Married Life With His Wife and Children, Salary and Net Worth?
Perhaps, surviving ugly situations is what the Leitner family does the best.