Entertainment
Teddy Geiger Transition & The Emotions Tied To It; Girlfriend, Loving Wife To-Be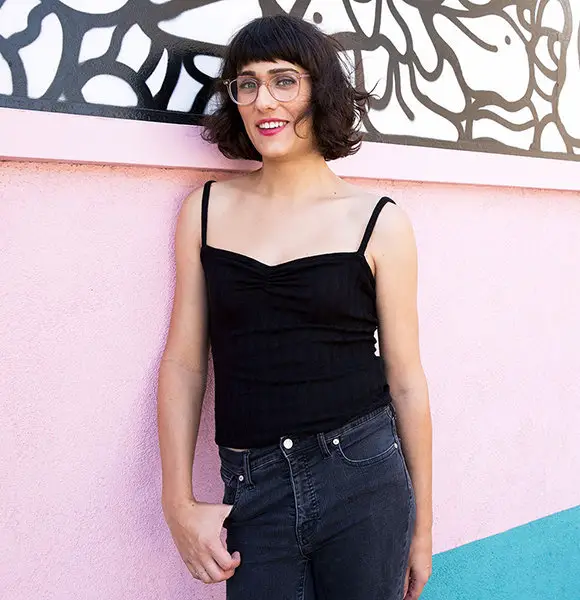 It's indeed challenging to fit in commonality when people are born different. American musician Teddy Geiger put in efforts to sit in a place she never belonged. So, she never found genuine happiness until she took steps to be who she was meant to be.
Even though she knew she wanted to be a woman at an early age, she opted to do the transition only at the age of 29.
Blessed after the transformation, the happiness she longed for finally embraced her. Everything fell into place for the singer-songwriter, as she made a loving bond with her girlfriend-turned-fiancee.
Teddy Geiger's Transition, "the next step is to tell Y'all."
Teddy, the record producer, came out as transgender at the age of 29 in October 2017. She announced her transition plans to her admirers and followers on Instagram.
Interesting: Benzino Fears For Married Life With Wife; What Happened To Their Relationship?
Even though she came out publicly, she knew she was a woman already at an early age. Talking with The New York Times, Teddy revealed that she was at the age of five when she first acknowledged her sexuality.
"I can remember back to being 5 and looking in the mirror, feeling like a girl and wanting that. But growing up in Rochester, [New York], there were limited resources. I'd never met a trans person before."
Because of his longstanding issues with gender identity and stress anxiety led from it, the nationally-recognized songwriter even turned to cigarettes and marijuana for help. Later, it took the form of addiction.
As a result, the childhood dream became a reality as Teddy started to fight her emotions like shyness and fear. Thankfully, she had a loving family and friends around her to boost up her decision of transforming into a female. She reflected her gratitude for the encouragement she got from her dear ones via an Instagram post in October 2017.
Replying to the fan's interest, she expressed,
"I am transitioning. I started talking about it with a couple of close friends and family about a month ago and it's given me the courage to start the process. I feel like the next step is to tell y'all. So here goes. Love it or hate this is who I have been for a looooong time."
By November 2017, Teddy began Hormone Replacement Treatment (HRT), which helps transgender people change their secondary sexual characteristics. And, in May 2018, she made her first public appearance as a trans woman.
Romance With Girlfriend, Soon-To-Be Wife
After Teddy, age 30, came forth with her transition, she got into a romantic relationship with her once-wife prospect, Emily Hampshire, a Canadian film and television actress.
You May Like: 'VICE' Isobel Yeung & The Guy She Might Get Married To; Oh! She's Not Gay
Teddy's relationship with Emily was her first public relationship since transitioning (even though she previously dated Emma Stone.) The pair came forth with their romance in August 2018.
Nobody knows how the couple met and fell in love, but by the looks of it, they seemed to share a strong base for their relationship. The duo made their first red carpet appearance during the Toronto International Film Festival in September 2018.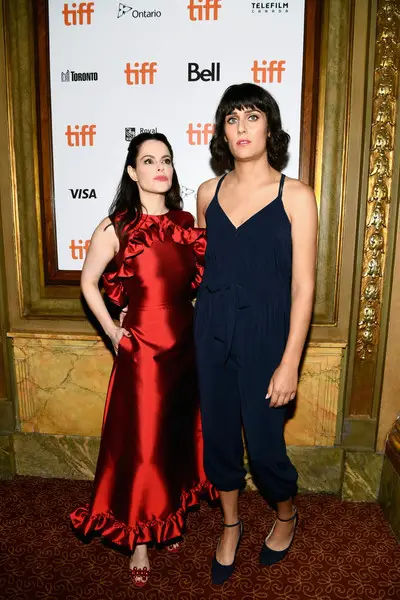 Teddy Geiger attends Toronto International Film Festival with girlfriend Emily Hampshire on 10 September 2018 (Photo: Zimbio.com)
Two months after publicly announcing their romance, another news surprised their fans. It turned out Emily presented an engagement ring to Teddy while asking her to marry her. Without any doubt, Teddy said "yes" to the proposal and revealed the news through a post on her Instagram in November 2018. She wrote,
"I love this woman so much she treats me like a lil princess and makes me laugh harder than anyone. I am so f—ing happy to wake up next to her every morning and fall asleep next to her every night and take care of our lil B.B. stumbs together. Which is why..." 
Likewise, the very same day she posted another picture, and flaunted her heart-shaped engagement ring with a caption that read,
Which is why… When she asked me if I wanted to spend the rest of our lives together I said… YES … INFINITE YES."
Speculating the bliss of their relationship, it seemed like Teddy, who has a net worth of $2.4 million, and Emily would exchange the wedding vows. Alas, it wasn't meant to be.
Split From Girlfriend Turned Wife Prospect
Six months after announcing the engagement, in June 2019, Teddy and his fiancee Emily severed ties. Talking to Page Six, an insider made a bold claim by saying that the formerly engaged duo was over and never getting back together.
Split In 2019:- Irina Shayk Dating, Split, Bradley Cooper, Husband
The news of the For You I Will crooner's split from his former wife prospect Emily came weeks after an eagled-eyed fan noticed that the two were no longer following each other on Instagram.
By all means, the separation was a surprise to many. Four months back, in February 2019, Teddy hinted that the duo might elope. Admittedly, they had difficulty planning the wedding.
The former lovebirds got last photographed in late-March 2019 at the Canadian Screen Awards.