Entertainment
Tia Booth, 26, Single? Personal Life Detail On The Bachelor Contestant
Tia Booth, 26 And Single? Personal Life Detail On The Bachelor Contestant One of the contestants of the reality show, The Bachelor season...Tia Booth happens to be the top four contenders who competed for the heart of Arie Luyendyk Jr. In the...Tia confessed that she was falling for Arie, and Arie also seemed to be interested in her.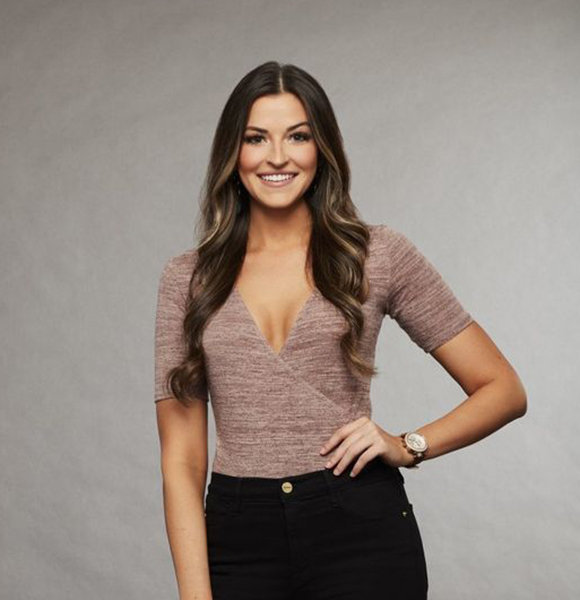 One of the contestants of the reality show, The Bachelor season 22, Tia Booth, happens to be the top four contenders who competed for the heart of Arie Luyendyk Jr. In the show, Tia confessed that she was falling for Arie; and Arie also seemed to be interested in her.
So, was Tia able to become a couple with Arie or she remained single? Keep reading to find out the answers, along with the details of her personal life.
On And Off Relationship
Tia Booth went through a whirlwind when it comes to dating a boyfriend and staying in a long term relationship with them. First, she broke up with her ex Colton Underwood and told that she met him through DM on social media.
Adding to the same, she confirmed involving in a relationship only if a friend suggests her a decent person to date. However, Tia had the strangest of dating proposal. Gina Hardison, one of the employees of Cory's family's business, popped the question Tia should date her boss's son. So, she emailed the reality star on her business address and put forward the proposal.
Fabulous Musician:- David James Elliott Wife, Family, Net Worth
Following the same, Cory Cooper and Tia started seeing each other in 2018. The newfound love visited the whole of Cooper Steel and spent most of their time hanging around with each other. Despite already dating each other for some time, the couple made their relationship Instagram official in November 2018.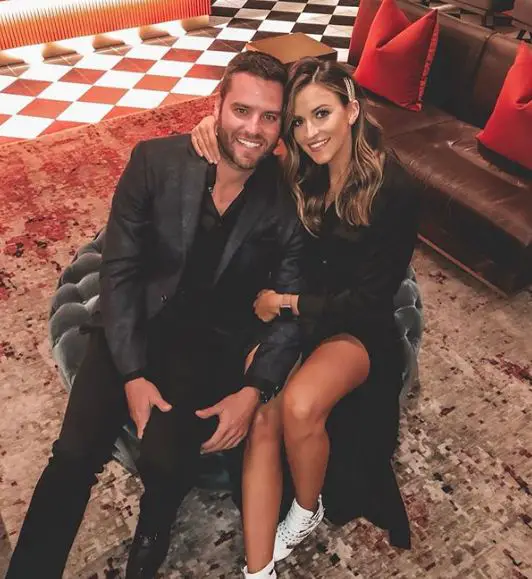 Tia Booth with Cory Copper at Dream Nashville in August 2019 (Photo: Tia Booth's Instagram)
The loving couple posted a picture of the Tennessee Titans' game at the weekend and announced their love. Saying that, things took a turn for the worse after a year of dating each other. On 14 October 2019, Tia took to her Instagram to notify her fans that the two were no longer together.
Talking more about the split, the Bachelor's star indicated her social life and popularity was the main reason for the split. Now, the two are in their separate ways and still good friends. 
Tia Booth's Personal Life Detail
Well, Tia Booth has created a wave with the show and attracted a lot of interest, so we have brought you some of the details which would surely interest you!
Tia Booth was born in 1991, and her birthday falls on August 11. Tia, who is 28 of age, hails from Arkansas. She is a medical student and does the job of a physical therapist. Moreover, she was a part of St. Jude's Children's Hospital's half marathon program back in 2015. 
If we go by the pictures of her Instagram, Tia is close with her family, especially her mother. By now, everyone knows that Tia is dearly loved by her father, Kenny, and brother, Jason. Well, everyone witnessed her father and brother's protective nature towards her on the show, The Bachelor. Also, she has inked a tattoo on her left foot, which says, "Mama & Papa." 
Know About:- Stephanie Davis Boyfriend, Husband, Baby, Net Worth
The beloved daughter of the Booth family, Tia Booth, was vocal about her feelings for Arie from the beginning of the show, The Bachelor, and even made an impression on him, which compelled him to say that he likes her. When the competition moved ahead, she was able to list her name among the top four contestants, and finally, the time of her hometown dates arrived.
The Hometown episode happens to be a turning point where Tia and Arie went to Arkansas to meet her family. During the visit, Tia's suspicious family grilled Arie regarding his playboy image.
As one of the protective siblings, Tia's brother, Jason showed his concerns by questioning Arie as,
'I heard some things about you - you're maybe a little bit of a playboy,' 'The rumors are out there - the ''kissing bandit''. Is that something I have to look forward to?',' 
Moreover, the reputation of Arie as a playboy compelled Tia's father, Kenny, to ask if he has a plan to settle down or is only having a good time with 25 girls. While clarifying that whatever he knows is through the internet, he warned him saying,
'She may be 26 but she's still my little girl.'
Although Tia's father warned him, he permitted to propose his daughter as he trusts Tia's judgment.
'I've got to trust her judgment on this one and she really digs you. So if that's the way it works out I'm fine with it.'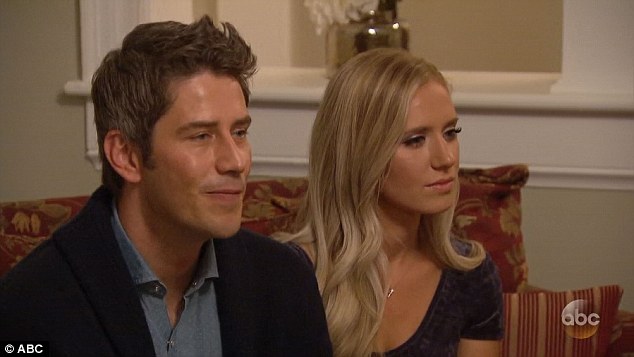 Tia Booth and Arie Luyendyk Jr. in her house in Arkansas (Photo: dailymail.com)
Arie laughed out after the warning from Tia's father, but he admitted that he is 'a little scared.' Tia expressed her love for Arie while stating that he is entirely different from the boyfriend she has had before.
"Arie is completely different than the men that I have dated — I want to tell Arie I am so in love with him. I want him to be a part of my family."
While Tia shared her desire to add him to his family, Arie shocked everyone by sending her home. Tia asked for an explanation for his decision, but he didn't have 'a good explanation.' However, he insisted that she is an incredible woman, and anyone would be lucky to be with her.
Well, now she is dealing with heartbreak and says that it's tough to get over Arie.
"It was tough getting over him. We went from this fantasy fairy tale to going back home and going back to work.
She added,
"I really had to take a few weeks and decompress and reflect on this journey as a whole and not just this breakup. Like I told Chris [Harrison], there were amazing girls left when I went home. It was tough going back home knowing I fell in love with this man."
After the elimination from the show, the fans were intrigued to know if she would like to be the Bachelorette ever. She replied to the question as,
"I think it would be an amazing experience getting to be the Bachelorette and to get to meet some amazing men. I know it would be tough, but I would kinda be in control and in charge. I think it would be another learning and growing experience, and I'm all for that.Thirty years from now, I don't want to say, 'Well, I turned that down because I was scared or nervous.'" 
Hopefully, the makers are listening, as her fans are eagerly waiting to watch her on her Bachelorette show!