Entertainment
Star Chef Tom Kerridge Shares Miracle Weight Loss Plan & Family Moments
The celeb chef Tom Kerridge has stunned the world with his massive weight loss. Tom, who has won two Michelin stars has earned a significant name in the culinary world. With such grand achievement in the culinary world and weight loss, Tom has come a long way to proved that he can do anything!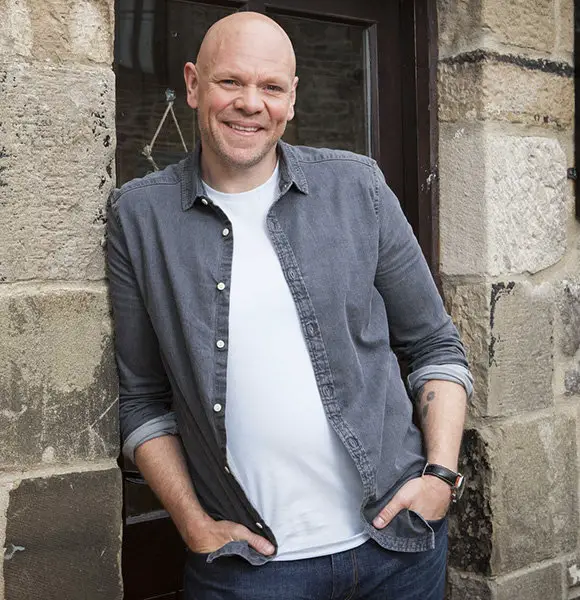 Sizzling some meat and sprinkling some veggies on top, Tom Kerridge has won himself two Michelin stars through his signature dishes full of flavors. 
Being a food enthusiast, his rich diet and boozy lifestyle had just given him a big belly and a wake-up call to shed some pounds.
And the celeb chef, indeed, walked down the path of huge weight loss with sheer determination. With a balanced life spent on gym, pub, and home, Kerridge has succeeded in losing some weight, earning himself a good fortune, with the support of his wife. 
Be it weight loss or being a good husband for his wife, Kerridge has kept it all under control!
Celeb Chef's Weight Loss Journey: Big Belly Guy To "Gym Bunny"
It was a long way to a slimmer body for Tom who had spent his life cooking and tasting all the exquisite dishes that he was popularized for. After the foodie lifestyle since a tender age, the chef had gained himself a total of 420 pounds that made him question his own weight problem later at the age of 40.
After an irksome journey of losing 252 pounds, Tom Kerridge now stands slimmer than ever before. With everybody dazed with his current transformation, Tom has been getting heaps of questions related to his weight loss.
Similar Story: Did Mary DeAngelis, The QVC Host Achieved Weight Loss With Surgery?
So, the chef chose to reveal his secret of massive weight loss in the Sunday Times. According to him, all he did were three things back to back, cutting on booze, lesser carbs and burning all the food he ate.
The chef realized that the more alcohol that got into his system, the more hindrances it brought out to his metabolism. The 44-year-old also cut short on carbs.
He reported to the Sunday Time saying that:
"Carbs are a big thing. The more you understand it and the more you look into it, you see that there are so many carbohydrates involved in sugar as well."
Everything he ate, got under his 'Dopamine Diet' where he was producing his happy hormones by eating much healthier food than what he used to eat before.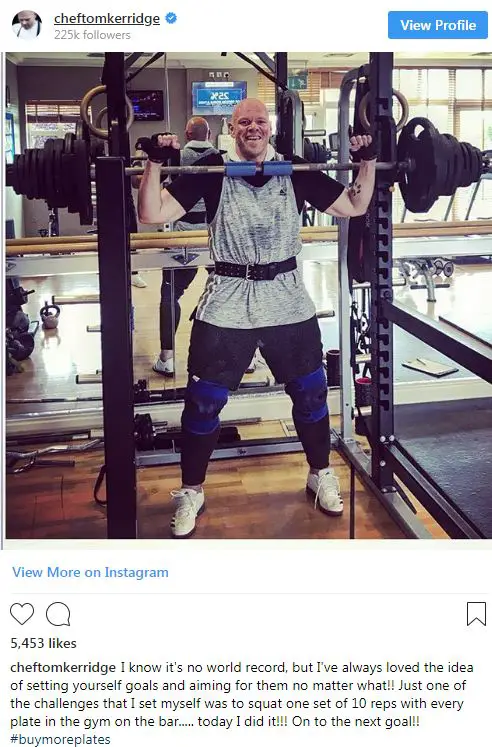 Tom Kerridge lifting some heavy weights (Photo: inews.co.uk)
Along with his own diet schedules, Tom was sticking up to his rigorous swimming routine where he burned the maximum calories. The Top of the Shop with Tom Kerridge star spoke to the Telegram reporting that:
"My alarm wakes me up at 6.15am every morning and I go to the swimming pool at a hotel up the road. On a busy day I swim a kilometer; on a relaxed one I'll do a mile."
Switching to veggies and nuts and hitting the gym, Tom has succeeded in losing 252 pounds in total. His wife Beth calls him a "Gym Bunny" as the chef has started gaining more muscles by every passing day!
Wife Makes Wedding Proposal At Two; Son Completes Happy Family!
In 1997, Tom Kerridge first met his sculptor-wife Beth Cullen-Kerridge in a club in North London. Her first words to Tom were:
"Will you give me £3 for the stripper, please?"
Looking at a blonde lady who has given him such a sentence, Tom couldn't stop thinking how cool the lady was.
After three days, Beth also knew that Tom is indeed the one for her. So the co-owner of the Hand & Flowers bent her knees and asked him to marry her with the engagement ring in Leicester Square at two o'clock in the morning. 
With a simple yes, the pair started their marital life of love and busy schedules of works.
Don't Miss: Damaris Phillips Exclusive Insight On Spectacular Wedding To Husband
Beth, who is an immensely talented sculptor, had her own life built on her own principles. She wasn't dependent on Tom and that was what made the duo share such a successful story together.
Read Also: Mark Dacascos, Iron Chef Chairman Rejoicing Family With Gorgeous Wife
Beth, also took some time off her own career to help Tom achieve his dreams of opening the grand pub, Hand & Flowers.
With Tom heading towards Britain's most popular culinary show, Saturday Kitchen, earning himself an ample net worth, and Beth handling her artistry business, the couple then welcomed their baby son Acey to the world in 2015.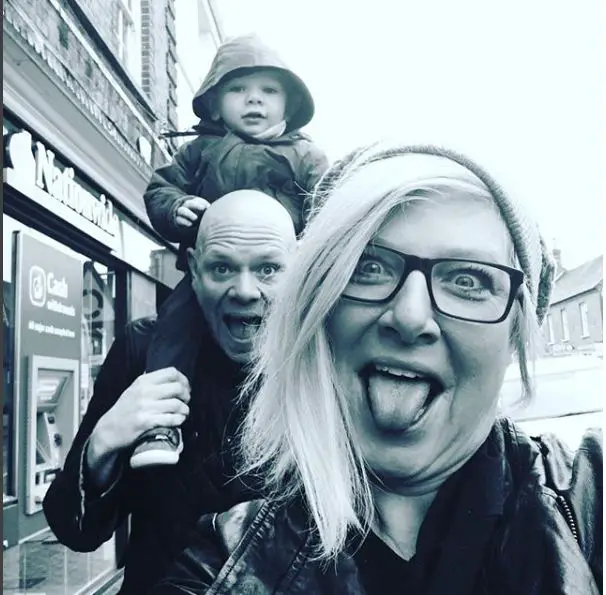 Tom with wife Beth and son Acey (Photo: Beth Kerridge's Instagram)
Now, Tom Kerridge's job wasn't just to make his customers happy, but make some time to create the same joy for this family too.