Entertainment
Tracy Wolfson Juggling Life Between Career And Family Life; Contemplating Divorce With Husband?
Juggling and balancing between personal and professional life is a thing that many struggles to do well. You do have your family to look after, and you also have your professional obligations to fulfill. That causes you to sometimes compromise on your preferences and you might not feel good doing such as you value your professional as well your personal life.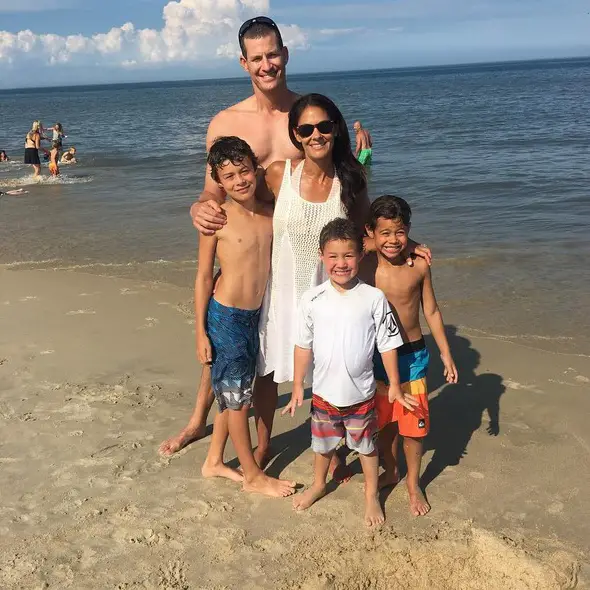 Juggling and balancing personal life with professionalism is a thing that many struggles to do well. That sometimes causes you to compromise on your preferences, although you might not feel good doing so as you value your professional as well your personal life. 
Similar is the case for Tracy Wolfson, an American sportscaster for CBS Sports who has done well with her career and is an equally family being. But she too at times might find it difficult adjusting her life both ways and equally well.
Is she facing some difficulty balancing her life recently? Let's dig in.
Blissful Married Life With Husband & Children; Divorce Out Of Bounds
Fans who know Tracy must also know the fact that she is married to her husband since 2003, David Reichel and also share three children together, all sons -- Dylan, Ari, and Evan. The family resides in New Jersey together, as Tracy's base of operations lies in New York.
Don't Miss:- MyAnna Buring Ultra Secretive About Married & Husband But Not Baby, Why?
David Reichel, her husband, grew up playing sports and also attended the University of Michigan. Having initially met during their time as students of the stated university, the pair - however - didn't date until both of them graduated.
David and Tracy got married more than a decade ago on New Year's Eve in 2001 as claimed by some sources. Tracy acknowledged the claim at last when she uploaded a photo of her and her husband celebrating their 15th wedding anniversary on 1st December 2017.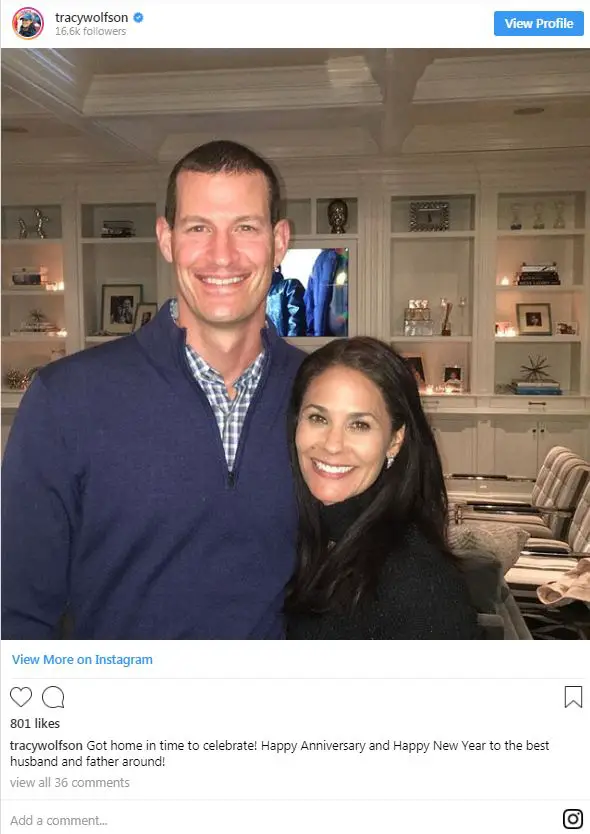 Tracy and her husband celebrate New Year as well as the wedding anniversary (Photo:- Tracy Wolfson's Instagram)
Tracy has all but her husband and her family to thank for maintaining a balance between work and life at home. In 2016 interview, she told the New Jersey Jewish Standard:-
"I couldn't do it without my husband's support — I travel so much — and without the "friends, I made in town, and my children's friends' parents. I'm so lucky with the relationships I have."
In return, she shows off her devotion to her husband and children through her Instagram posts. From enjoying a family trip to LA to bringing her three children to work at NFL games, Tracy has chronicled it all on her Instagram.
Interesting:- How Chris Rock Wrecked Wife Relationship, Girlfriend Affair Fueled Divorce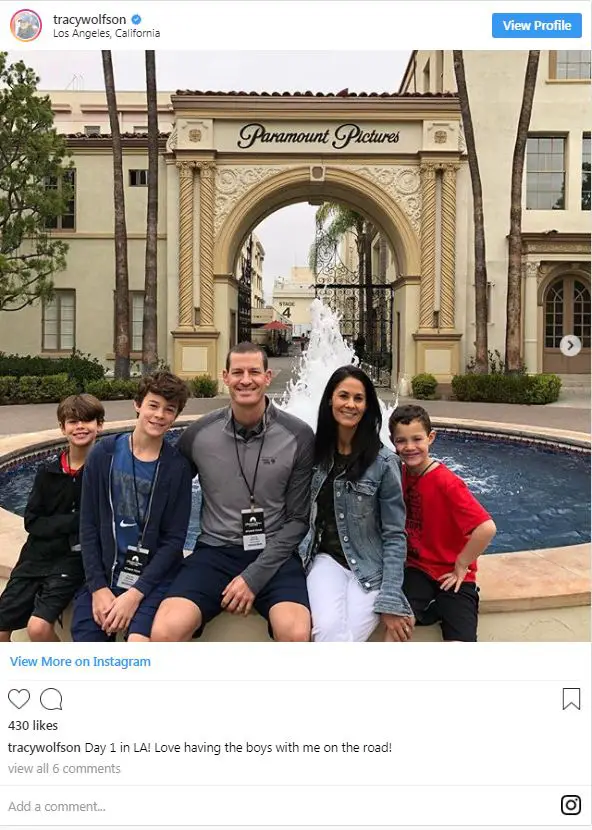 Tracy along with her husband and their three children travel to California (Photo:- Tracy Wolfson's Instagram)
Also, from time to time, she takes to Twitter to educate her struggling parents who have a hard time balancing their work and family life. Her April 2018 tweet reads:-
"With our busy lives we should remember this from Barbara Bush "At the end of your life, you will never regret not having passed one more test, not winning one more verdict or not closing one more deal. You will regret time not spent with a husband, a friend, a child, or a parent."
She is a one who is absolutely in love with her family, so we can rest assure she is not the one to get a divorce from her husband, despite her problems that may arise because of her professional life.
Tracy Wolfson Bio Unveils Salary & Ethnicity 
Tracy Wolfson works mostly for CBS and does heaps of NFL work, but she's also known for her works on NBA as well.
She is a sports journalist who has made her way up through a profession that is not particularly welcoming to women until she's reached one of its pinnacles. She is a sideline reporter for CBS, covering huge games, thereby reaching the country's biggest audiences.
Discover:- Shaun King Family Insight: Who Are Parents & What's His Ethnicity?
Tracy first started working as a broadcaster in the year 2000 in the city of Trenton and had been working as a researcher for CBS before that.
Also, working as a general reporter at a college station out on Long Island, she used the information she accumulated to make her own audition tape. Who knew that it would be the stepping stone for her successful career in the future. She shared about her audition tape in her statement:-
"So although the tape had never aired, I sent it across the country, and I got a job in Trenton, at WZBN. It no longer exists, and then it was mom-and-pop. And that's how I got my start. I spent about a year and a half to two years there, doing all sorts of news. They needed me to cover news, and I was their only sports reporter."
Born on 17th March 1975, Tracy Wolfson is an American broadcaster. While many wonders about her ethnicity, she is termed believed to belong to American ethnicity with Jewish heritage. She is one of the best sports broadcasters and she is paid heftily as seen in her 10 digit salary amount figure.
However, she has not publically revealed her net worth, but it can be estimated to be in millions.