Known for his signature style of performing topless and showing off his tattoos, Travis Barker revolutionized the status of drum music in the modern musical era.
The majestic drummer has been holding the drum sticks since the age of four and is by far one of the greatest drummers the world has seen. But, before his big breakthrough, Travis had faced harsh times and even worked as a trashman.
Learn all there is to about the Blink-182's drum sensation. 
Married And Kids With Wife Or Dating?
Travis Barker's music career has had its ups and downs. Similar was the case with his married life with Melissa Kennedy. 
The drummer married his former wife in September 2001 and split with her immediately in 2002. After remaining dormant for two years, he married for the second time with Shanna Moakler in October 2004.
Aspiring Musician:- Denzel Curry Girlfriend, Family, Net Worth, Height
Though he parted with her in 2008, during the four years of togetherness, the couple nurtured two kids; a son named Landon and a daughter called Alabama. For now, the debate regarding their children's custody keeps coming back to haunt both Travis and Shanna.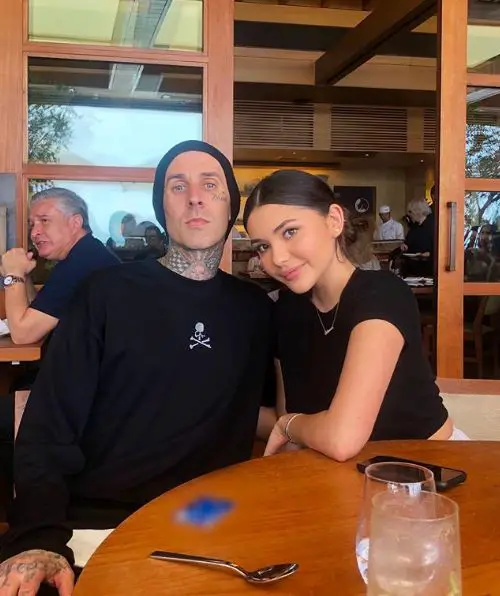 Travis Barker with his step-daughter Atiana De La Hoya during his birthday in June 2019 (Photo: Atiana De La Hoya's Instagram)
Apart from that, the 43-year-old artist has not stopped making headlines with his dating game. In 2015, he partnered with the X-Factor judge Rita Ora but ended the relationship, stating he did not want a serious commitment.
Similarly, in March 2019, Travis cleared up the dating rumors with Kourtney Kardashian as a fluke and called her a friend. As of now, he is probably single but could be open to dating.
Family, Story Of Tattoos And Works In 2019
Travis Barker was born in Fontana, California, on 14 November 1975 to parents: Randy and Gloria. Growing up, Travis has limited resources, so he connected with drumming and music as a remedy.
He developed an interest in surfing and skateboarding as well but eventually settled with becoming the best drummer in the world. It was during his school days that Travis started performing locally on regional competitions and festivals.
After much hard work, he slipped into music bands and started performing openly. Then in 1998, opportunity knocked at his doorstep as he got selected as a replacement for Blink-182.
Talented Actress:- Sonya Cassidy Married, Dating, Parents, Height
His drumming skills were so remarkable that he immediately made a significant impact on the band. Not only that, their album Enema of the State released in 1999 became a chartbuster selling more than 15 million copies worldwide.
However, in 2008, he was one of the two plane crash survivors. From then onwards, his life changed.
Now, remembering all his journey and crucial moments in life, Travis has all his body covered with tattoos, which all have their significant meanings. Also, as of 2019, he has been a part of a music video for Jumex called Spraypaint.
Net Worth & House Info
Travis Barker is a self-made man who catapulted his career as a part of the influential punk rock group, Blink-182.
Everything he achieved in his musical career was not for granted. Before getting massive success from his album Enema Of The State, the Fontana native worked for bands like The Aquabats and Box Car Racer.
Now, he accumulates a net worth of $45 million from his ventures in music, reality shows, and the clothing company named Famous Stars and Straps. Besides that, he has a house worth $2.8 million located in Calabasas, California.