Entertainment
Is Trevor Moran Interested In Some Dating Affair After Coming Out As Gay? Hiding Boyfriend From Fans?
Known to be a recording artist, singer, YouTube personality and X Factor contestant, the spotlight has been firmly put on Trevor Oran lately. Also, he acts somewhat weird and gay-ish, and that prompts people to question his sexuality. But for those who are unaware of his sexuality, we have got some news for you. So, let us shed some light on his sexuality.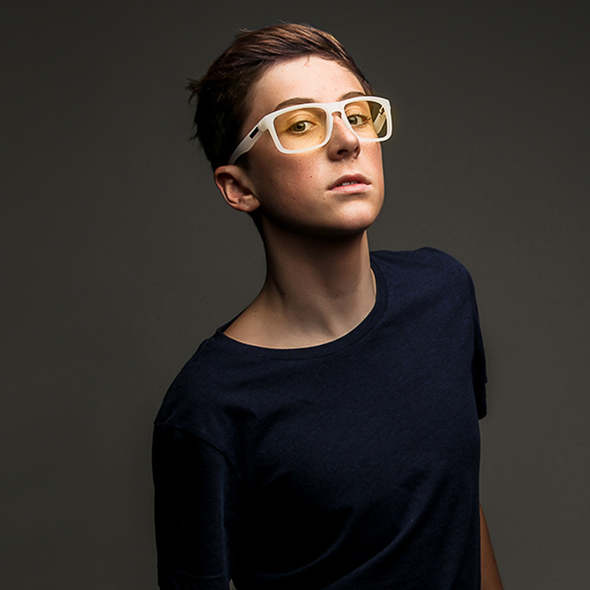 Known to be a recording artist, singer, YouTube personality and X Factor contestant, the spotlight has been firmly put on Trevor ran lately.
But with fame comes a lot of speculations and questions about one's personal life. Like many other people who have come under the spotlight winning hearts of millions and getting bombarded with curiosity, Trevor Moran is one of them.
The young singer has been constantly questioned about his sexuality that still leaves the bigger question of "Is Trevor Gay" unanswered to his followers. 
Here is the answer!
Trevor Has Come Out As Gay!
With the constant pressure from his followers who all were questioning his sexuality, the youtube sensation has finally come out from his closet and has openly identified himself as a gay man.
Similar Gay Stories: Greyson Chance Dating Status Now; Proud Gay Singer Boyfriend At Age 21
After many years of hiding his true sexuality from the limelight, Trevor filmed himself confessing and opening up on his sexual choices. He did that in October 2015 and said,
"So basically – if it's a shocker to any of you – I'm gay!"
Also, he added that this should not come out as a surprise for those who have been following him for a long time,
"If you've been watching me since Apple Store dances up to X Factor up to the "Echo" music video, you probably should know by now, but clarifying it, yes. I don't feel like I was ever in a closet, I feel like I was in like a glass closet. Like you could f——- see me."
The video we talked about shows him talking about his sexuality, and if you watch it entirely, you shall be able to know yourself more on this. 
Trevor Moran comes out as a gay. (Published on Oct 9, 2015.)
Also, his video for his single, "I Wanna Fly" shows his gay thing and he is seen to be sharing love interests with Jacob Reinhard. 
Beans were however spilled prior to him confessing his sexuality as some Twitter feeds show.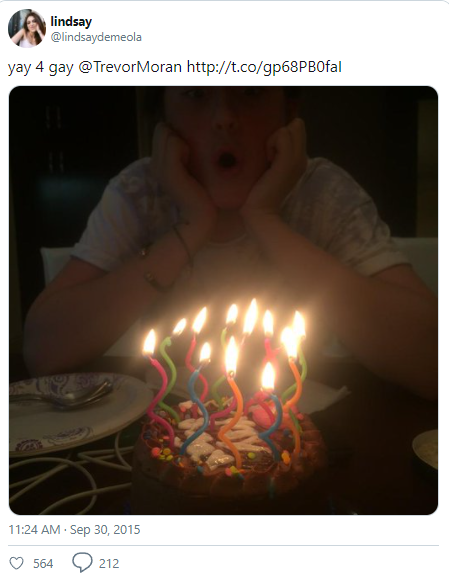 The choice of emojis in the later tweet gives away something, doesn't it?
Gay or straight, Trevor has been able to grab a fair amount of attention from people around the globe with his talents and skills and has won hearts of many too. Hey, ladies who were willing to be his girlfriend, you might need to find someone else to fall for.
Speaking of dating, has he been in a relationship lately? Has he been hush about his love relationship?
A Secret Boyfriend Or Just Rumors?
Trevor, who started his career at the age of ten after joining the Youtube and posting his random videos of him dancing in popular song, he soon rose to fame after getting ample amount of followers who both loved and appreciated the young artist's videos.
After becoming the member of Our2ndLife or O2L, his whole life turned around. With so much stardom at his side, no wonder his followers get curious about his personal life.
After knowing his true identity, his followers raised another curiosity of his boyfriend. So people now wonder whether this Youtube sensation has a boyfriend in his life. While some answers are "YES" while some are "NO," 
After rumors had surrounded him dating Sam Pottorff, a fan asked questions regarding the nature of their relationship in a tweet.

To this, Sam tweeted, 

Also, Trevor responded to this by saying that Sam was lying.

To which Sam just responded with an emoji.

That leaves the people a bit confused so let us wait and see if any further significant confirmation comes forth from either side. 
More about Tana Morgeau: Tana Mongeau Wiki: Age, Affair, Net Worth Of Girl Who Was Dating Mac Miller
But after coming out as gay in 2015 from his video "I Wanna Fly", the singer said:
"So I sat on it for a few months. I cried a whole lot. And I came to the conclusion I was transgender."
so after that incident, he was caught up in a delusion of his own sexuality and struggles a lot in identifying his true self. He said that once he went shopping, he changed his entire wardrobe into a women's closet. he said:
'I continued to grow my hair out. I got wigs, and I changed my whole wardrobe. Literally, I went shopping one day and changed my whole wardrobe to women's clothes because I was about to transition into a woman. But that just was not the case.'
From there on he has been carrying out his tans life openly and proudly.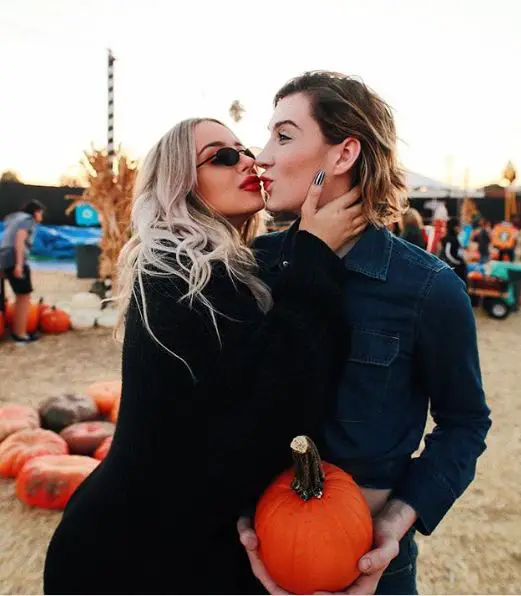 Trevor uploads a picture with Tana Mongeau (Photo: Trevor Moran's Instagram) 
More Trans Story: Miles McKenna, Gender Neutrality At Age 22! YouTuber Makes Bold Statements
The youtube singer then underwent a surgery to begin his transition. he recalled that day by saying:
'I scheduled hormone replacement therapy, to you know, block my testosterone and start putting estrogen in me. And before I did that, I scheduled an appointment to freeze my sperm, because most of the time once you start hormone replacement therapy, you're not fertile. So you have to freeze your sperm if one day I decided I wanted to have kids.'
Now after living life as a free trans, he openly shares his pictures with his girlfriend.