Entertainment
Troian Bellisario, New Mom With Husband! Her Emotional Message To Baby
The Pretty Little Liars star, Troian Bellisario tied the knot with husband......after nearly 8 years of togetherness. The couple, who exchanged their I-Dos and kisses, thew a grandeur wedding ceremony to mark the day when they were bonded for eternity. The lovebird recently made a big announcement of their new born baby that has left us elated with the news.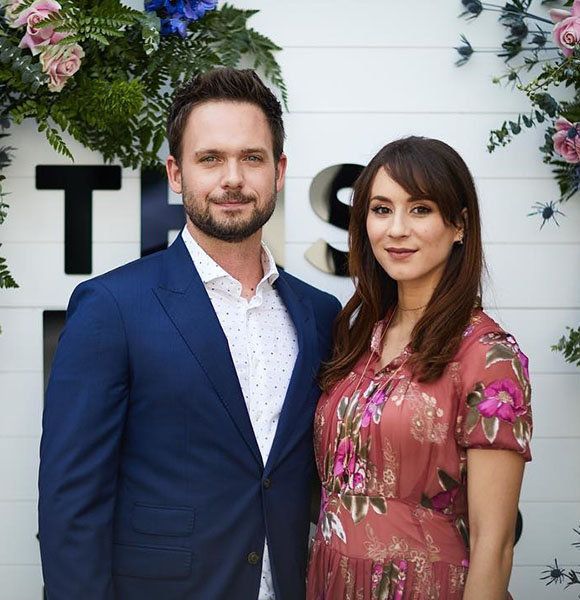 Spencer Hastings, the famous character of the popular American series Pretty Little Liars, brought the gorgeous Troian Bellisario under the spotlight. Proudly holding the Teen Choice Award, the actress taught the fans all about true friendship.
Behind the cameras, she holds a captivating story of her own along with the Suit star, Patrick Adams.
Nearly two years down the line of their marriage, the lovebirds welcomed their beautiful baby girl into the world with an equally beautiful message.
Wedding Bells Ring For Bellisario And Her Husband:
Bellisario of the Italian ethnicity and Patrick J. Adams of Canadian ethnicity started as 'just friends' in 2008 until they started building their pillow fort in Adam's apartment to share conversations and chit-chats, which they named it as "Fort-Day."
These fort-days finally grew into vows and wedding bells that made them unfold a new chapter in their lives.
Flashback to the day when the couple organized their dreamy boho wedding with kids and family elated in joy and laughter, the day had made both of them reminiscence the time when they started this blissful journey of togetherness.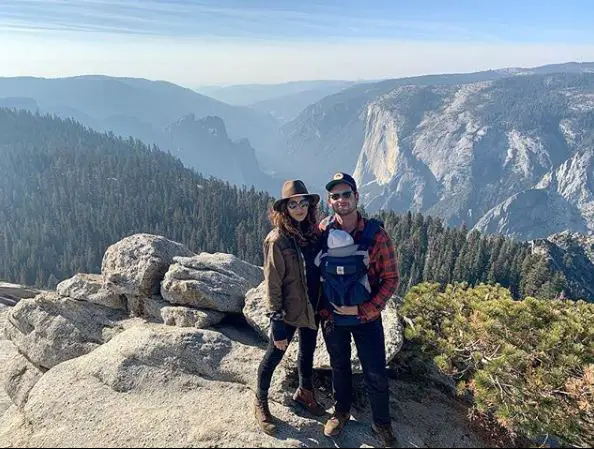 Troian Bellisario with husband, Patrick and baby daughter in November 2018 (Photo: Patrick J. Adams's Instagram)
The Southern California wedding saw all the guests camp in tents around the venue. The whole ceremony had an earthy vibe to it, and the bride looked stunning in her elegant wedding gown.
The Inside Story: 'Suits' Star Patrick J. Adams & Wife Welcoming First Child At Age 37!
The pair, after such a glorious wedding, has been happily married to date, sharing their endless love and support for each other. Their quiet and peaceful fort-days has created a bond so strong that would remain the same for ages.
With gratitude and happiness, this pair has been sharing their epic love story with all of her fans through their social media.
Welcoming Baby Girl: Bellisario A Mom Now!
After their mini-vacation in Mykonos, Greece, the paparazzi picture, which led the PLL star to body shaming, came under huge fan speculation. Keeping their lip tight on the topic of new baby arrival, the public could not stop burning in doubts about whether the star was pregnant with a baby bump!
Read Also: DATING Alert! Ryan Rottman & Lucy Hale Holding Hands Wiggles Romance Spec
It was a couple of days ago that Adams and Bellisario confirmed the news of the arrival of their beautiful baby girl. Sharing a glimpse of what looked like her baby girl tenderly holding into one of her fingers, the new mom just took all people into an emotional ride with the picture and its aw-worthy caption.
In the post, she extended her gratitude to all the people, including her caring husband, for all the support he has giving throughout her pregnancy and pouring out her excitement on welcoming the little soul into this glorious world.
Also, her parents Deborah Pratt and Donald O. Bellisario, were excited and proud to be grandparents of their daughter's newborn.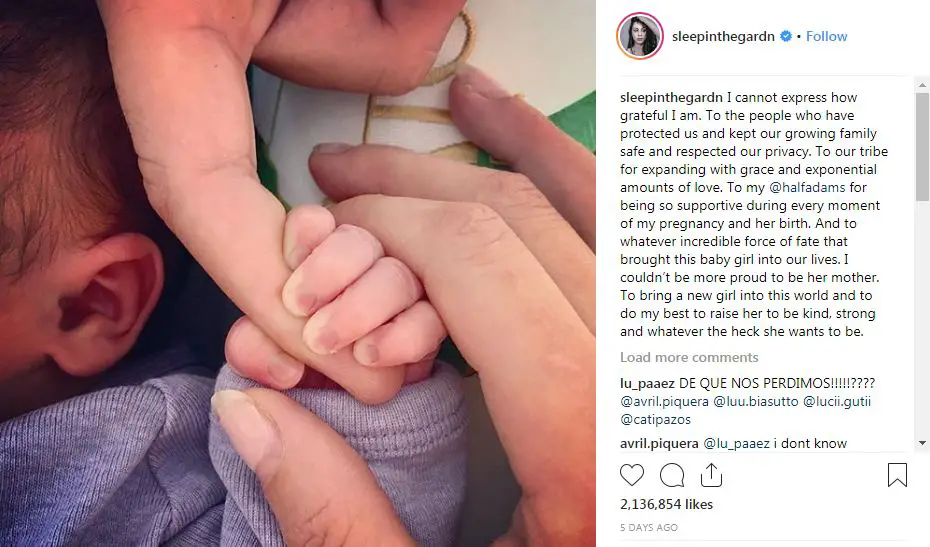 Troian's beautiful newborn holding her momma's hand (Photo: Troian Bellisario's Instagram)
The Suit star then shared the same picture with a promise made to raise his new-born into a powerful and fearless girl. This emotionally captivating post let all of her fans drench into tears and smiles.
Similar Stories: Danny Fujikawa Age 32 & Girlfriend Welcomes First Baby, It's A Girl!
Though giving birth to a baby girl was a dream came true, the Pretty Little Liars didn't always think like that. Before the baby girl's birth back in October 2018, Troian was a bit nervous about giving birth to a daughter.
Justifying that statement, the actress said she did not want her daughter to go through all that she went through as a child. Likewise, she was quick to get over it and love her daughter.
However, everything was not as planned for the TV star. She was having difficulty in coping up with the breastfeeding routine for her daughter. Even though going through a lot, she kept her daughter at the top of her priority list.
Also, it was only on 21 October 2019, Troian revealed her daughter's name as Aurora. The happy mother who is adjusting back to the glam life told the baby girl's name after nearly one year of her birth. 
Now, the new parents are on a roll, spreading their love and care to their baby, who has made their life even more enjoyable.