Entertainment
Ty Dolla Sign Girlfriend, Daughter, Net Worth, Parents
Ty Dolla Sign revealed about his new girlfriend in a radio interview........ took into herself to look after their daughter while........Although his stage name is only widely known, his real name...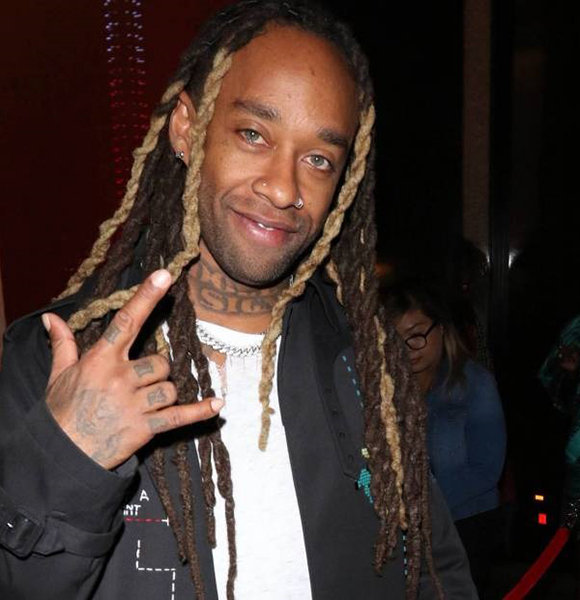 Ty Dolla Sign is one of the well-established rappers today ever since the release of his track, My Cabana. Complex Magazine even listed the song as among the 50 best songs of 2012.
His music is notable for having the blend of contemporary R&B and hip-hop evident through his tracks like Swalla and Think About Us. Apart from singing, Ty is also a songwriter and has written songs for artists such as Rihana and Chris Brown.
Past Girlfriends, Daughter
The rapper first fell in love at the age of 18, before he had gotten the taste of fame and success. He was dating a girlfriend back then, and their passion resulted in the birth of his daughter, Jailynn Griffin.
She was born on the 1st of February 2005 when Ty was only 20 years old.
However, things didn't start to work out with his girlfriend, so they broke off. The former couple remained on good terms despite the separation to take care of their child.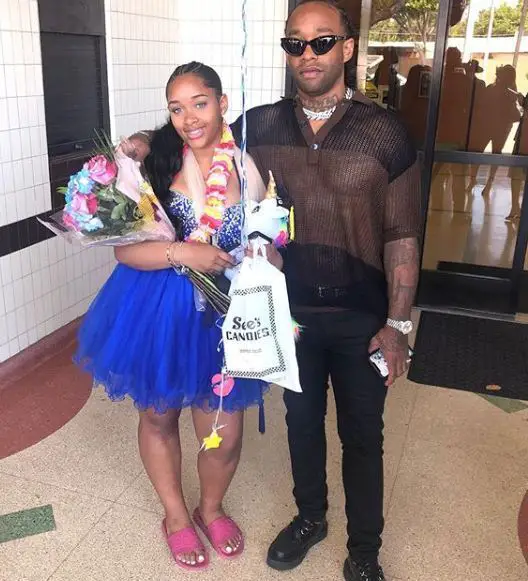 Ty Dolla Sign attends the middle school graduation ceremony of daughter Jailynn Griffin on 6th June 2019 (Photo: Ty Dolla Sign's Instagram)
Likewise, in 2016, the singer dated reality star Kylie Jenner right after her breakup with singer Tyga. Reportedly, he was caught kissing her in a party. Both of them had spent time together in a VIP area away from the eyes of the media.
But, shortly after his breakup with Kylie, Ty started dating a girl named Alicia. He revealed about his new girlfriend in a radio interview and even described her as the wildest girl he had ever met.
New Girlfriend and Split Rumors
Meanwhile, this relationship also didn't last too long as Ty started to fall for Lauren Jauregui, member of the musical group Fifth Harmony. He had met first met her in 2016 while collaborating on the song, Work From Home back.
A year later, they started dating officially, and everything in their relationship was going fine until the year 2019.
More About Lauren Jauregui:- Lauren Jauregui Dating Status Now; Does She Have A Boyfriend Or Girlfriend?
In April 2019, Ty's girlfriend posted a picture on Instagram with a cryptic caption hinting at their breakup. To make the matter worst, the hip-hop artist deleted all of his old tweets, leaving out just one tweet that denoted a broken heart emoji.
As a result, fans were left thinking if the pair split from each other. As of now, the couple has neither confirmed nor denied their break off, so fans have their fingers crossed.
Short Bio: Age, Parents, Height
Ty Dolla Sign - height 6 feet and 2 inches (1.8 meters) - was born on 13 April 1985 in Los Angeles, California. Although his stage name is widely known, his real name is Tyron Griffin Jr. His father Tyrone Griffin, member of the band Lakeside divorced his mother while Ty was young.
However, including him, all of his siblings grew up to establish their career in music-making after they grew up. His sister AngelGold and brother Big TC are hip-hop artists too, and the three siblings even collaborated on a song together titled No, No, No.
Unfortunately, though, his brother Big TC is serving time in prison right now as a convicted murderer.
Net Worth Updates
As of 2019, the artist possesses an impressive net worth of $1.5 million, and his album sales have heavily contributed most of it.
You May Also Like :- Rapper Trippie Redd  Net Worth, Girlfriend, Family, Height
Ty also heavily earns from the sales of his official merchandise sold through his record label, Atlantic Records. Also, he had teased about his upcoming new album in 2019. So if it does well, there are chances viewers will see a lot of improvement in his net worth.