Entertainment
Tyson Beckford Fans Say He Married Girlfriend But Kim Hints He's Gay
Tyson Beckford is an American supermodel famously known for his...he has had a series of controversies including a fist fight with...rumored to be secretly married with...Tyson is...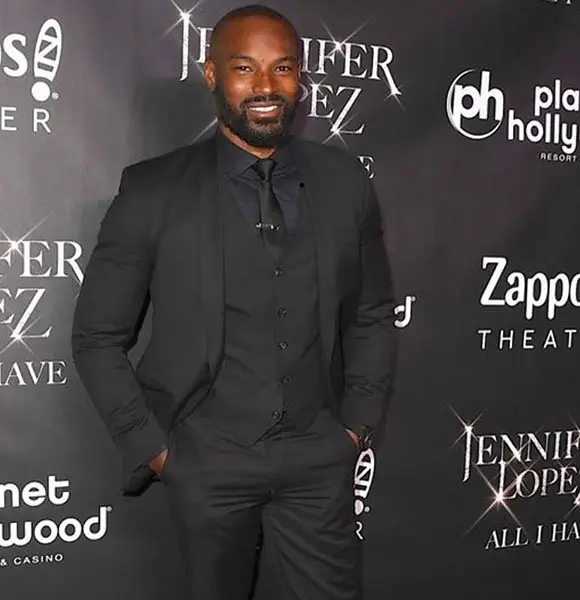 A Ralph Lauren Polo Model, Tyson Beckford with his exotic eyes, prominent cheekbones and fascinating tattoos, is considered to be one of the world's top male model.
Achieving unprecedented success through his dashing personality and good looks, Tyson a ladies man in his own right, has dated numerous famous personalities throughout his career. However, controversies haven't been a distant friend for Tyson, with the supermodel involved in a list of controversies throughout his career.
One amongst very few successful black models, Tyson takes immense pride in his ethnicity. With his ever so successful career, Tyson also fulfills an extra responsibility of a father to his child. However, his latest altercation has somehow questioned his sexuality.
Fights Over Ex-Girlfriend; Now Has Wife?
The Into the Blue star, controversies favorite child, has had some outrageous disputes over the course of his career. But none stand bigger than his alleged brawl with his DJ Ruckus, partner to his ex-girlfriend Shanina Shaik.
You May Also Like:Jennifer Hawkins & Husband Keeping Wedding Vows Strong! Plastic Surgery Talks
Shanina, a model herself, was involved in a long-term on and off relationship with Tyson from 2008 to 2015. However, after their breakup in 2015, Shanina immediately started dating DJ Ruckus.
It seems this was something too hot to handle for Tyson.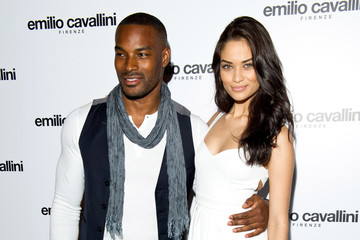 Tyson Beckford posing with his ex-girlfriend Shanina. (Photo: zimbio.com)
The two, who met at a nightclub on June 2016, were thus involved in a fist fight with each other. As per Tmz, the brawl between two former friends had blood involved after Tyson was found on top of Ruckus before getting punched in the head by one of Ruckus's friends.
Working his charm around women, Tyson has since then been linked with numerous other stars from the fashion world. Some of the name in his girlfriend list includes Paige Butcher and Caridee English.
Don't Miss:  Beautiful Model Selita Ebanks' Family: Is She Dating Someone? Or Has a Husband?
Talking about his failed relationships over the years to Diana Madison in 2015 at the backstage of a New York fashion show, the male supermodel identified his controlling nature as the reason behind his numerous breakups.
"I have a way of putting my foot in my mouth. There is no filter and that is my problem. I kind of get controlling when she is getting dressed as I might be like 'Don't wear that, wear this.'"
The actor is currently rumored to be secretly married to girlfriend Berniece Julien since the early parts of 2018, however, there has been no sort of confirmation by the model whatsoever.
Bio Reveals Age, Ethnicity and Son details Amidst Gay Rumors
Belonging to African-American ethnicity, the actor, at the age of 47 has a 20-year-old son Jordan Beckford from his previous relationship with stylist April Roomet. Though not together now, the parents to Jordan, still remain on friendly terms for the sake of their child.
Despite having a son and dating numerous girls throughout his career, Tyson had to recently deal with a bizarre allegation when Kim Kardashian hinted him to be gay.
See Also: Martin Shkreli Girlfriend Status After Getting Sentenced | Gay Talks & More
Tyson commented on the Kardashian sisters post regarding her body and her rumored surgeries in July 2018,
"Sorry I don't care for it. She is not real, doctor **** up on her right hip."
Beckford had to face the storm after Kim backfired hinting him to be gay. She clapped back questioning Tyson's sexual preference.
"Sis we all know why you don't care for it."
Ever since then, the model and actor took to Instagram displaying his muscular build body mentioning he is not gay but supports the LGBTQ.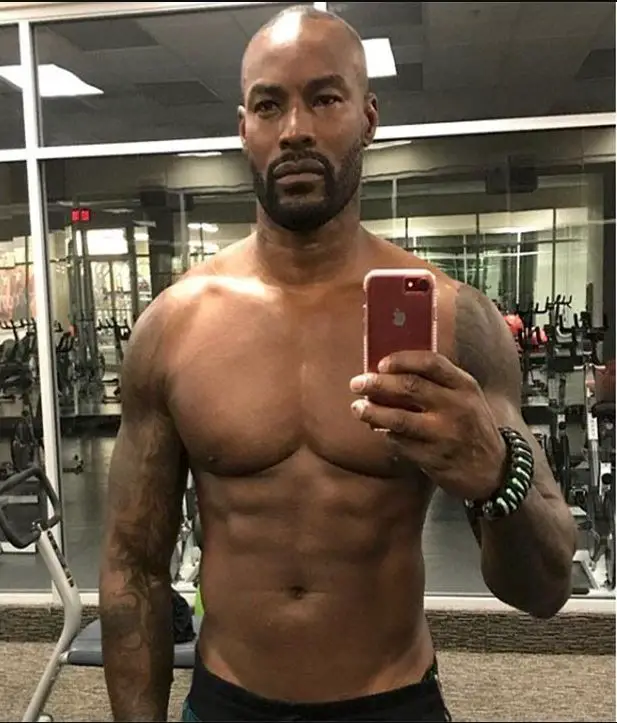 Tyson Beckford posting his shirtless picture in response to Kim Kardashian's allegations. (Photo: Tyson Beckford's Instagram)
"Train 5-6 days a week, weights Martial Arts and Firearms and I defend those who can't defend themselves!" he wrote. "I support LGBTQ, even though I'm not Gay. It's just the Human thing to do."
After clearing up the air regarding his sexuality, Tyson Beckford continues to build his legacy in the field of modeling and acting with one successful stint following another. His fans, however, eagerly anticipate his confirmation regarding his relationship status.