Entertainment
Victor Ortiz Relishing Family Life With Wife-Like Girlfriend! Getting Married On Card?
The news of Victor Ortiz, an American professional boxer, successfully extending his skills to the film industry is well-known, but do you wonder if his romance with his long-time girlfriend is ever going to cross over to a marital union?
Fret not, for we have attempted to answer that question for you. Just scroll down, and we will take you on a ride to get acquainted with Victor's love-life!
Victor Ortiz's Happy Family:
Victor Ortiz stepped up his relationship after he and his girlfriend, Deborah Mather, welcomed a baby boy named Royal on 10 January 2017. His girlfriend seems to enjoy a low-key lifestyle as no information about her is available, and besides, her Instagram account is private as well.
However, Victor makes up for it by liberally offering a glimpse of his family life on his Instagram. In November 2016, the boxer posted a picture of him with his girlfriend shortly after announcing their pregnancy.
Victor was seen resting his head against his sweetheart, who playfully stuck her tongue out. An appropriate caption accompanied the post which read:
Two goofballs
Since then, the loving father has not been able to contain himself from flaunting his family. Victor does not miss any chance to share the lovely photos of him enjoying family time. Take a look at how he spent Halloween 2017.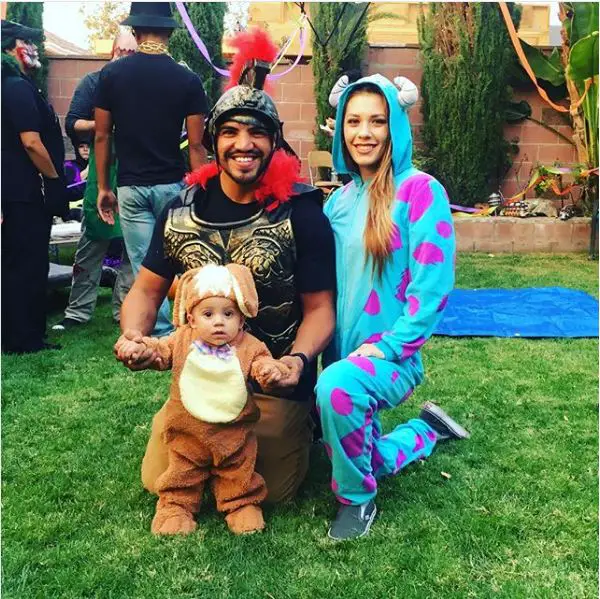 Ortiz family all smiles celebrating Royal's first Holloween (Photo: Victor Ortiz's Instagram)
Additionally, Victor has dedicated several of his Instagram posts to Royal's firsts, like Royal's first Red Carpet, his first Thanksgiving, and his first tattoo to name a few.
Though Victor leaves no stone unturned in offering his son's every little moment to his fans; the same cannot be said about his love life.
No information about how and when he met Deborah Mather remains open. Moreover, there have been no talks of him turning her into his wife. But peeking at the duo's commitment and blissful family life, married life does not seem far for Victor and Deborah!
Before Deborah, Victor was rumored to be dating Vanessa Laine Bryant, the model wife of the professional basketball player, Kobe Bryant. The speculation swirled when Kobe and Vanessa were going through a rough patch in their relationship, but the rumors died when the Bryants reconciled.
Moreover, Victor also was linked to the professional dancer, Lindsay Arnold, during his tenure as a reality star in the show Dancing with the Stars in 2013. His dance partner, Lindsay, however, got married to her high-school sweetheart, Sam Cusick in 2015 leaving no grounds for the validity of the suggestion.
Victor Ortiz's Sad But Humble Beginning:
The 31-year-old Victor Ortiz was not born with a silver spoon in his mouth. He grew up in a foster home after his mother abandoned him at the age of seven along with his two siblings and his father followed suit six years later. Victor took boxing to help himself cope with his hard childhood and to impress his father.
It was not until 2011 that he reconnected with his mother and as of now, no information about his current relationship with his father has surfaced the media.
Think we're missing something? Do let us know in the comment section below!