Entertainment
Vincent Herbert Weight Loss, Parents, Tamar Braxton, Wedding
In recent times, music producer Vincent Herbert maintained relevancy not through musical contributions but, because of his on-going feud with his estranged wife, Tamar Braxton.
A star on his rights with millions to show for it in net worth, the Newark New Jersey native's marital troubles began within months after him achieving miraculous weight loss transformation.
Could the milestone on health front in any ways derail his married life? Read along to learn more including information about his parents & the wedding date!
Weight Loss Caused Strife With Tamar Braxton? Net Worth After Divorce
In the Spring of 2017, Vincent - who is no less tall than six foot (182 cm) in height - shocked the world by dropping a jaw-shattering 100 pounds.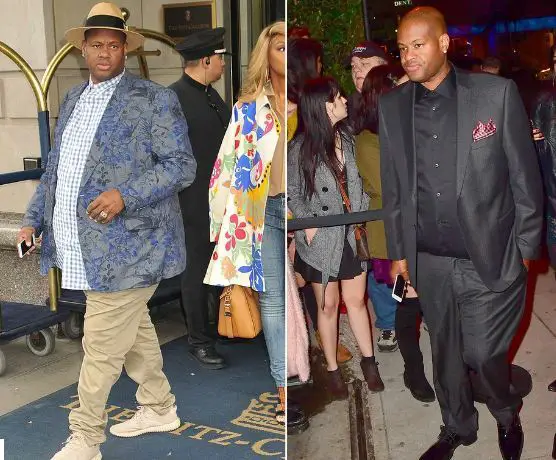 Vincent Herbert before (left) and after (right) weight loss alteration (Photo:- people.com)
While the world looked astonished at the incredible weight loss transformation, his wife Tamar didn't share the same sentiments -- so much so that she openly admitted to missing his old body. In her own words:-
I'm very happy only because he's much healthier and I want him around forever, but, you know, I like a little meat on my man's bones.
Oddly enough, later that year, the parents of one found themselves in the middle of a nasty divorce amid cheating and abuse allegations.
Vincent's mother-in-law, Evelyn Braxton accused him of being abusive towards her daughter meanwhile Tamar herself got into a public beef with Laura Govan, a woman who was allegedly carrying the music producer's lovechild.
Laura, to this day, vehemently denies being the sole reason behind the then-couple of ten years' split.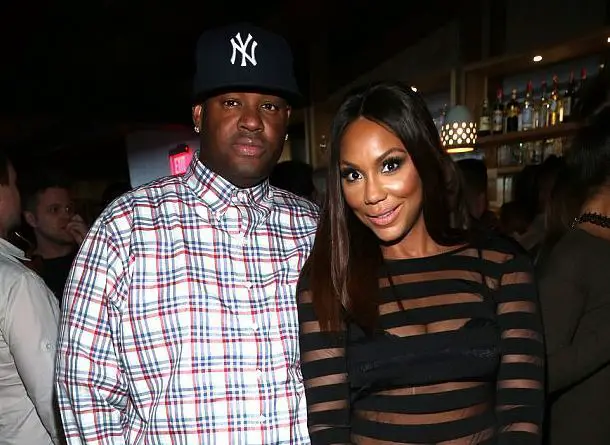 Vincent Herbert next to his estranged wife, Tamar Braxton in a photo dated back to 2016 (Photo:- dailymail.co.uk)
Married in 2008 at an extravagant wedding ceremony, Vincent and Tamar's marital relationship has been somewhat a troublesome affair from the start. By latter's admission, if it weren't for the birth of their son Logan in 2013, they would've parted ways sooner.
In retrospect, Vincent's weight loss had nothing to do with their fallout. Worsen by cheating and abuse accusations; the separation was all their making.
On the verge of finalizing the divorce now, the estranged married duo's net worth - Vincent: $3 million & Tamar: $6 million - is likely to take a hit because divorces these days don't come cheap no matter the outcome of the settlement.
Post Married Life; Lost Parents At Early Age
The post married life hasn't been the kindest to Vincent; besides getting hospitalized with gout in the elbow, the father of one - who celebrates his birthday on 27th January every year - is also facing difficult times on the financial front after getting sued for breaching a luxury car lease.
Riled Up In Lawsuit:- Fox News' Boss Roger Ailes, in Sexual Harassment Lawsuit, Against Former Anchor Gretchen Carlson
His former life partner, on the other hand, is indeed the happiest of the two. Now dating a wealthy Nigerian boyfriend, Tamar even spent the 2018 holiday season with her new man.
If only Vincent, now age 46, had the closest kins to fall back to and get his life back together! Sadly, that's out of the question. He lost both of his parents in his early teens and had to bury his brother before he reached 20.
Dating Status Now: New Girlfriend In The Picture?
Even after two years since the pair first filed the divorce papers, their separation is yet to receive the official status.
In early March 2019: Fresh from her Celebrity Big Brother win, Vincent's estranged wife, Tamar sat down with Wendy Williams to discuss why the divorce was taking so long to complete. The R&B singer explained:-
"It's the paperwork, Linda! And it's LA. And when you have a lot of things together and LA, just period, takes forever. We haven't been living together for two years now."
Furthermore, Tamar opened up about her new romance with a certain Nigerian boyfriend, who works in finance. Gushing about her new man, she called him "a whole new snack."
Despite having a boyfriend, she confessed that Vincent would remain an integral part of her life as they shared children. Also, she claimed that her estranged husband would feature heavily on 2019 offering of Braxton Family Values.
However, in late March 2019, Tamar took to Instagram to reveal that she was "single and ready to mingle."
It later turned out Tamar was kidding about her cryptic Instagram post or was there a lover's quarrel with the Nigerian beau?
Well, whatever may be the answer, the good news is the reality star is in a relationship with Nigerian national, David Adefeso. Tamar made it loud and clear when she walked hand in hand with her new man in the premiere of her show Braxton Family Value.
Tamar Braxton poses with new boyfriend, David Adefeso at the premiere of Braxton Family Value on 3rd April 2019 (Photo: Tamar Braxton's Instagram)
After making the PDA-filled-red carpet appearance, she later took to her Instagram to make it "Insta official."
Legal Troubles For Vincent
While his ex-wife is enjoying her dating bliss, times are not so good for the father of one.
Well as of March 2019, Vincent was facing two lawsuits. A company named NK Real Estate Investments sued the reality star for not paying the apartment rent on time. He didn't pay the rent of $37,000 for February.
Furthermore, a woman named Dakota Sal sued the troubled guy for allegedly giving her false checks amounting $10,000 that later bounced.