Entertainment
What Is Evelyn Braxton Age & Net Worth? All Essential Details Revealed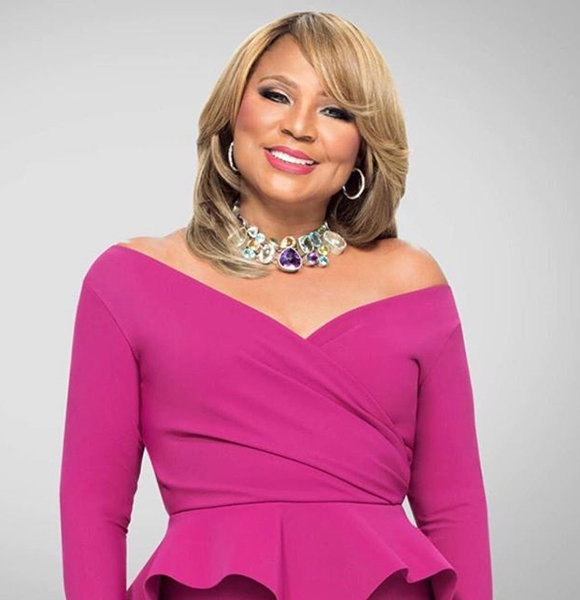 Reality star Evelyn Braxton's a living proof that age is anything but a number. The mother of six finished her college education when her children were old enough to look after themselves. So when one of her 12 grandchildren went off to college and essentially followed her footsteps, she couldn't contain her happiness upon sharing the milestone on her Instagram.
Now in her 70's, the star of WE TV reality series Braxton Family Values strives for excellence; take her most recent weight loss achievement for a clue. She expects the same from her daughters' husband as well. Her 2017 TMZ rant stands as proof.
A star in her right, Evelyn doesn't necessarily rely on her children's fortune to maintain a particular lifestyle. The matriarch of the Braxton clan's net worth is a pleasant surprise.
Behind Evelyn Braxton's Net Worth; Rants About Daughter's Husband
Besides being an opera singer and a certified life coach, she's also a shrewd businesswoman.
Fellow Matriarch You Might Know:- Corey Gamble Age 38 & Kris Jenner Won't Be Getting Married, Here's Why
When the opportunity presented itself for in the light of her miraculous weight loss transformation, she grabbed it by the throat and ran with it. As an ambassador for weight loss tea brand Teami Blends, she regularly uploads paid posts across all social media platforms.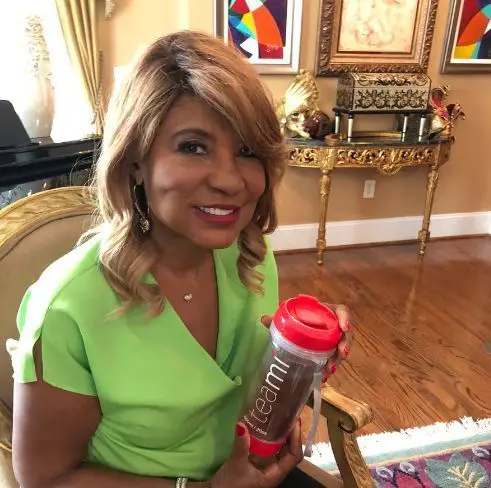 Evelyn Braxton poses with Teami Blends product (Photo:- Evelyn Braxton's Twitter)
It is still unclear how much she charges for the promotional, but rest assured, it will immensely assist her seven-figure net worth to grow exponentially. An aspiring author, Evelyn - who stands no taller than five feet and five inches in height - at the moment is penning a cookbook in the hopes that it might also do the same.
Celeb With Large Family:- How Much Is Joseph Simmons Net Worth? Get Family & Kids Details Here
When she's not mapping out smart business plans, she's busy looking after the well being of her children she had with her ex-husband, Michael Conrad Braxton -- Tamar Braxton, Toni Braxton, Towanda Braxton, Traci Braxton, Trina Braxton, and Michael Conrad Braxton Jr. Look no further than her 2017 TMZ rant, where she lashes out against Tamar's then-estranged husband, Vincent Herbert.
Twelve Grandchildren In Total
Married in a beautiful wedding ceremony in 2013, Tamar and Vincent share a son named Logan Vincent Herbert.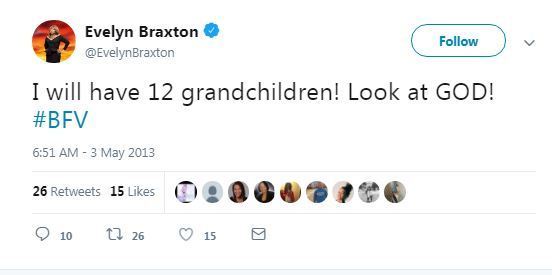 Evelyn exclaims at the fact that she has 12 grandchildren in total (Photo:- Evelyn Braxton's Twitter)
Interesting enough, Logan is one of Eveleyn's 12 grandchildren. The others include her oldest daughter Toni's two children -- Denim & Diezel; Towanda's two children -- Braxton Montelus & Brooke; Trina's children -- Eric and Caleb; and the rest.
Since her grandson, Kevin became a father in 2018; She has presumed a new role of a great grandmother. Also, the South Carolina native, now age 71, seems to take a lot of pride in her grandson Khanrad going off to college.