Entertainment
Vincent Rodriguez III Was Dating And Turned Him Into A Husband; Yes He Is A Gay Man!
Love doesn't have a boundary, neither does someone's sexuality; let the heart decide who to love; and, do what should be done, Vincent Rodriguez III, who plays the male lead role of Josh Chan in the CW Drama Series 'Crazy Ex-Girlfriend' proudly revealed that he has a husband.
Despite playing as a straight character onscreen, he is a proudly a Gay in real life. Today, let's get some more insight into the personal life of this awesome actor.
Crazy Ex-Girlfriend Star Comes Out As Gay; Dating History Unclear
Unlike Ross Marquand, who plays Gay on-screen and is straight in real life, Vincent exactly does the opposite. He is a male lead in the American Romantic Musical Comedy Drama and has shackled the stereotype that only straight people can do justice to such romantic roles. 
Vincent also flaunts a very attractive look, no wonder why he is the lead of the show, and for a guy so good looking, people always have an eye on their relationship status.
Read Also:- Actress Andrea Lowe's Love Life With Boyfriend and Their Baby Boy, Married Life and Husband?
Vincent kept his love life completely out of the radar, without letting people know anything about it until August 21, 2016, when Vincent revealed to the world that he is married; through an Instagram post.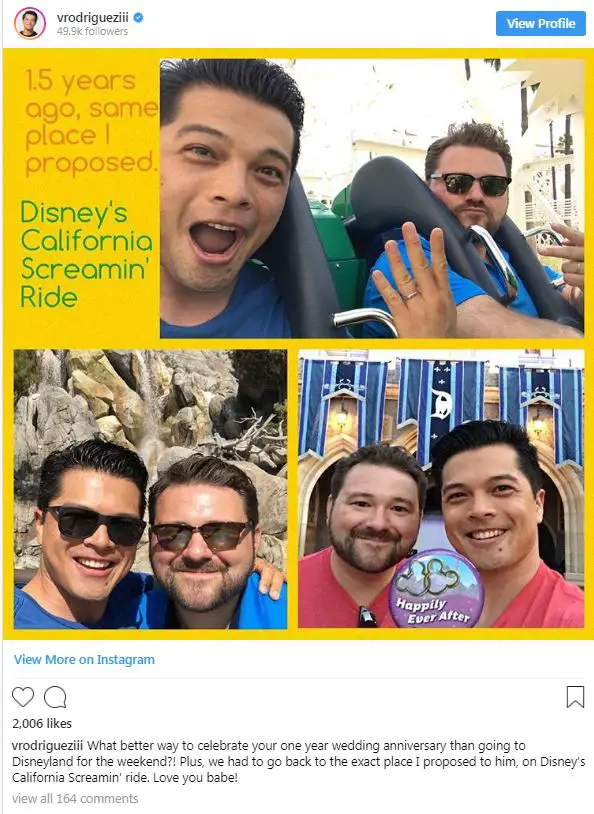 Vincent announces that he's married (Photo:- Vincent Rodriguez's Instagram)
Vincent's announcement doubled as a coming out party. Thankfully, it brought an end to a decade-long conversation among his fans surrounding his sexuality.
Besides Instagram, he took Twitter to share the news as well. He tweeted a photo of the two from the Disneyland alongside a lengthy description, which read:
"Back from a fun weekend at Disneyland celebrating (this Tuesday) my 1st year of marriage to this fella. #LuckyMe"
Over time, Disneyland has become a sacred place for the gay duo. Vincent and Gregory were at the Club33 in Disneyland to celebrate their Wedding anniversary in August this year.
By looking at Vincent's posts, it has been very clear by now that Vincent and his Husband Gregory Wright, who is widely known for his work in Marvel's Comics character like Spiderman, the Defenders and much more, have been married for a year now. 
They both seem jubilant together in the pictures shared by Vincent over his Instagram. Likewise, they have used the social media platform to celebrate important dates including National Coming Out Day.
Discover:- Sam Witwer Talks About Girlfriend On Social Media; Actual Dating Affair In Line?
It seems like the couple is having the time of their life with each others company.
Vincent Rodriguez's Wiki-like Bio Including Parents & Ethnicity
Vincent Coco Rodriguez, an actor, singer and dancer, who graduated from Pacific Conservatory of the Performing Arts was born on August 10, 1982, in San Francisco, CA. Vincent is of a Filipino-American ethnicity.
Apart from his lead role in Crazy Ex-Girlfriend, he is also known for his role in Television series like 'Designated Survivor' and 'Donny.'
Aside from the fact that his father passed away in 2010 after losing the battle with cancer, there is no any revelation made about his parents. But back in November 2015, Vincent Tweeted something interesting. The tweet which not only provided an insight into his ethnicity but also suggested that his parents might have been strict.
Vincent Rodriguez hints his ethnicity and name-drops his parents (Photo:- Vince Rodriguez's Instagram)
It just provides us with the funny information that his parents also don't prefer dumb people being an Asian! He also revealed his identity through Twitter on October 11, 2016, that he is gay. The tweet read:
"Mornin'! I'm an actor, singer, dancer, teacher, martial artist, athlete, musician, husband and I'm gay. #NationalComingOutDay #GoConfidently"
Another rare insight into his parents' lives came in the form of an Instagram post on this year's Mother Day. Vincent penned a heartwarming post dedicated to her mother with the caption that read:
"My mother is amazing. She's taught me so much and continues to be a source of inspiration, love & insight. I love you, Mom! I would not be who I am today, without you."
With no other dating affairs with a girlfriend; getting married to George makes everyone believe George to be his first love.
Interesting:- Elizabeth Rooney Age 33 Engaged To Girlfriend Rosie | Ready To Tie The Knot
We wish him a successful and happy married life ahead with his partner and hope he keeps entertaining his audience with his work.