News
Elizabeth Rooney Age 33 Engaged To Girlfriend Rosie | Ready To Tie The Knot
Elizabeth Rooney, a police officer by profession, has said yes to the proposal from her girlfriend Rosie O'Donnell, a comedian, and a celebrity blogger. Elizabeth finally confirmed her engagement through a post on Instagram.  
While the officer previously hinted of their engagement, the confirmation came only hours ago. Elizabeth posted a picture showing off her studded diamond ring on her ring finger as she held the wine glass.
See Also: What Is Kendrick Sampson Doing With His Dating Life? Has Thoughts Of An Ideal Girlfriend Or Is He A Gay Man?
In the caption, she wrote "YES" along with a heart emoji formalizing that she is now engaged with the love of her life, Rosie.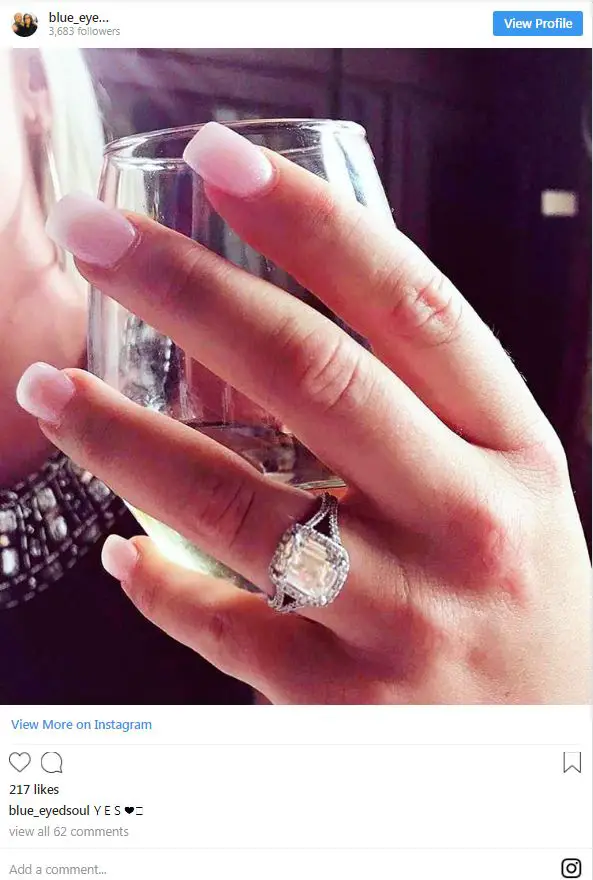 Elizabeth Rooney confirmed the news of her engagement to Rosie O'Donnell. (Photo: Elizabeth Rooney's Instagram)  
Before Elizabeth actually posted the picture of the ring, she hinted the good news as she updated her bio with a letter 'R' followed by a ring emoji. 
Elizabeth had updated her bio a week ago which, however, has been removed now. The rumors of their engagement and upcoming nuptials first began circulating during the first week of October 2018. 
However, it was reported that The View star, Rosie popped the question over the summer but the couple kept the news quiet because of Elizabeth's reputation as a police officer in Worcester, Massachusetts.
Don't Miss: Joseph Mazzello Talks On Girlfriend; Does That Mean He's Dating?
According to a source, Elizabeth prefers keeping the details of her personal life under the veil due to her job as a police officer. Speaking with Radar Online, the source said,
'Elizabeth is in the police force so she tries to keep a lot of those details on the low,'
Likewise, the couple's family sources also mentioned that they are 'very much in love.' However, a representative for Rosie did not actually confirmed their engagement but confirmed that they are together.
The couple went public with their relationship back in November 2017 and as far as the reports go, they have been dating for almost a year now. The couple dated each other from two different cities as they were involved in a long-distance relationship. Elizabeth lives in Boston while Rosie lives in New York.
More From Liverampup: Rachel Robinson Death Hoax Swirls; Still Alive & Carrying Husband's Legacy Proudly
Well, the duo is still going strong with their relationship despite living miles apart and sharing the age gap of 23 years. While Rosie is a little bothered with their age difference, Elizabeth is totally unaffected with the numbers. She is determined to be with Rosie and for her age is just a number. 
For Elizabeth, this would be her first marriage while for Rosie, it would be her third as she has been married twice before and also shares six children with her ex-wifes.