Entertainment
Does Travis Kalanick Have A Wife, Or Still In Search?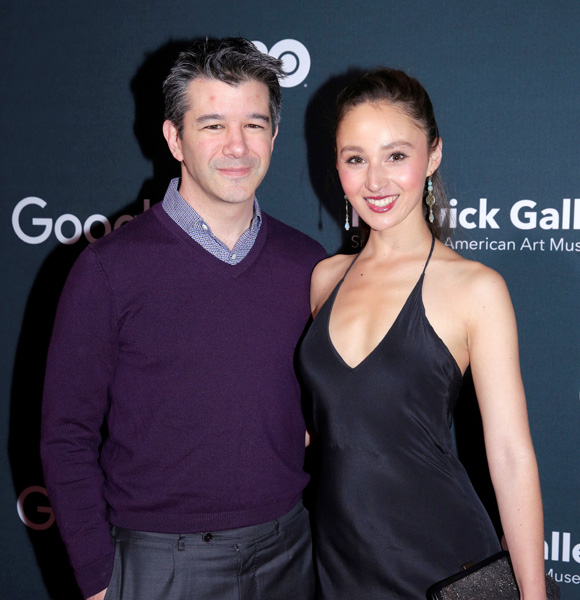 Uber has been making millions of lives easier. Among the two heads, who conceptualized the idea of Uber and brought the service into existence, is the former CEO of Uber, Travis Kalanick.
Business and relationship are similar, as both have gain and loss, but both teach us something. Travis has also learned a lot from his business and relationships. 
But did he find anyone who he could call his wife? 
Let's find out about his personal life. 
Travis Kalanick's Wife
Unfortunately, Travis Kalanick, age 45, is not married and does not have anyone he can call his wife. As a result, Travis has been very private about his personal life. However, recently, Travis was in a relationship with Victoria's Secret model Daniela Lopez. 
Travis and his girlfriend Daniela kept their relationship under wrap and did not reveal when they started dating. There were no updates on their relationship, but later everyone found out about their breakup through Daniela's Instagram. She posted a video with Bryan Craig confirming her new relationship. 
Find About: Inside Victoria Pratt and Trace Adkins's Beautiful Wedding
Before dating Daniela, Travis was in a relationship with a violinist, Gabi Holzwarth. The couple crossed paths at a party hosted by a venture capitalist, Shervin Pishevar. Gabi was hired to play violin for the event in 2015. Travis witnessed her talent, and they both started dating after a while. His fans were shipping both of them and wishing Gabi to be Travis's wife.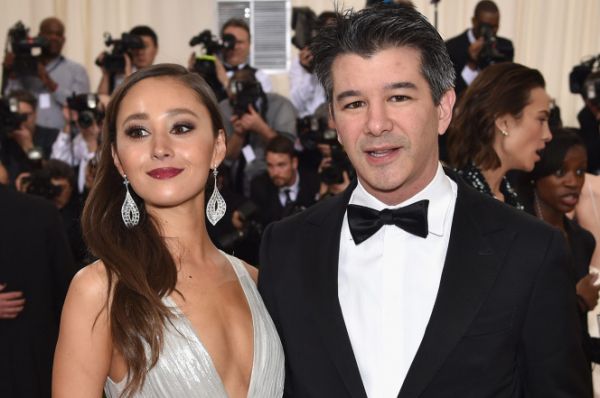 Travis with his then-girlfriend, Gabi Holzwarth. (Source: Dailymail)
But, they broke up after dating for more than a year. The reason for the split is Travis's busy life because of the immense pressure from his company. Unfortunately, he couldn't make Gabi his wife.
Even though Travis has been in relationships with different women, he is still rumored to have a wife named Angie You. Travis has dated Angie, but they never got married. Travis's rumored wife, Angie you, is actually the CEO of Amunix.
There is no reliable information about when and where they met. But the rumors of Angie being Travis's wife started when they both shared a townhouse in the upper hills of San Francisco. The townhouse was nicknamed "The Jam Pad," and it also had a Twitter account of its own. 
Know About: Lisa Hochstein Admits to Having Too Much Fillers In the Past
Everyone started to speculate about Angie being Travis's wife and getting married, but they somehow broke up. Unfortunately, there is no information about why they broke up, but they are still close and have a good relationship. 
There are many reasons why Travis's relationships did not work out. But one of the main reasons can be because of his busy lifestyle. 
Travis Kalanick's Personal Life
Despite being one of the most prosperous people globally, Travis Kalanick couldn't hold onto his relationship. However, his unsuccessful relationship can be because of his busy life as an entrepreneur. 
Travis is the former CEO of Uber who had to break up with Gabi because of the immense pressure from Travis's work and the inevitable loss of  $1.2 billion in just the first half of 2016.
The split wasn't enough of a tragedy, as he, unfortunately, had to lose his mother forever.
Travis lost his mother in a boating accident. As per reports, both his parents, mother Bonnie Kalanick and father Donald Kalanick, were riding the boat when the misfortune occurred on May 26, 2017.
The boat they rode hit a rock in Pine Flat Lake in the eastern part of the county, leading to Bonnie's death on the scene while his father, Donald Kalanick, suffered moderate injuries.
Regarding the incident, the Fresno County Sheriff stated,
"Bonnie Kalanick died at the scene, and her husband suffered moderate injuries, while the boat had sunk."
However, a month after the terrible incident, while Travis was trying to recover from the loss, he made his resignation official as he stepped down from the CEO designation at Uber in June 2017.
After leaving Uber, he focused on his new business and philanthropic endeavors. According to the Insiders, he has spent about $130 million to lunch CloudKitchens. It is a company that rents space to restaurateurs for delivery-based businesses. 
However, no matter how lavish Travis's life seems now, he has worked hard to earn what he has achieved to date.
Travis Kalanick's Career
As a teen, Travis went door-to-door, selling knives for Cutco. Then, Kalanick, at the age of 18, stepped into the business world, starting an online file-exchange service called Scour with some UCLA classmates.
The file exchange got sued by the Motion Picture Association and the Recording Industry Association of America before filing for bankruptcy in 2000.
Explore: Kathy Burke Has No Regrets on Not Having a Husband and Kids
His second company was another file-sharing company called Red Swoosh. Kalanick struggled financially while running Red Swoosh, and he didn't have enough money to handle his expenses. He was still living under the roof of his mom and dad's house. Later he sold Red Swoosh to Akami in an all-stock deal valued at $ 18.7 Million in 2007. 
The biggest leap for Travis happened in 2009 when he teamed up with Garrett and introduced the Uber app, which is serving millions of people around the globe, connecting passengers with drivers of vehicles for hiring or ride-sharing. After the success of Uber, he bought his own house in San Fransisco.
He is passionate about what he does, and his quotes justify the fact, 
 "Look, I'm a passionate entrepreneur. I'm like fire and brimstone sometimes. And so there are times when I'll go—I'll get too into the weeds and too into the debate, because I'm so passionate about it."
Uber made him a multi-billionaire, but he still holds a net worth of $3 Billion even after leaving the company. 
Travis has mostly invested his money in real estate. In 2019, he spent $36.5 million on penthouses in New York City. Also, in 2020, he bought a mansion in Los Angeles with two pools spending $43.3 million. 
We hope Travis will find his perfect wife soon. We will surely update you guys; until then, stay tuned.