Entertainment
While Prolifically Dating Her Boyfriend, Holly Hagan Gets Lashed Out For Before And After 'Chin' Picture
English TV personality, Holly Hagan, who has created several headlines over the years, is less likely to be known by few. Moreover, fans are also interested in knowing what the Geordie Shore cast member has been up to with her love relationships in the past as well as at present. So let's take a look at her relationship status. boyfriend,dating,pregnant,makeup,before and after,weight loss,tattoo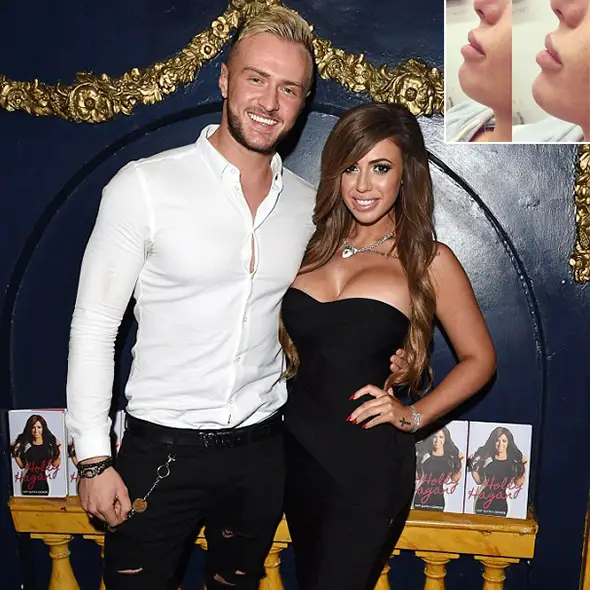 English TV personality, Holly Hagan, who has created several headlines over the years, is less likely to be known by few. Moreover, fans are also interested in knowing what the Geordie Shore cast member has been up to with her love relationships in the past as well as at present. So let's take a look at her relationship status.
During her time on the show, Holly was busy dating fellow cast members. Also, she has been in a relationship with Dan senior. To further discuss her relationships with the boyfriends, let's first go with her relationship with Kyle Christie. Additionally, learn about Holly's transformation from before and after weight loss.
Holly Hagan's Dating Life; Tons Of Boyfriends
Holly has had a long list of people who she has dated and let's have a look at some of her major dating partners and her relationship with them. 
Starting, Holly and Kyle Christie began their relationship during season 9 of Geordie Shore, and that kick-started their relationship. They first met in the year 2014 and began dating. 
See Also:- Pam Oliver Bio Unravels: Family Issue, Supportive Husband | Explicit Details
While the pair was dating each other, things were not as smooth as they would have wanted them to be and thus, following several bitter arguments, they split a year after they began dating. 
But despite the pair splitting, Holly stated that she remained good friends with her ex-boyfriend. A quote from her saying,
  "We've been through so much together - we're best friends. A lot of the time in our relationship it felt like me and Kyle against the world."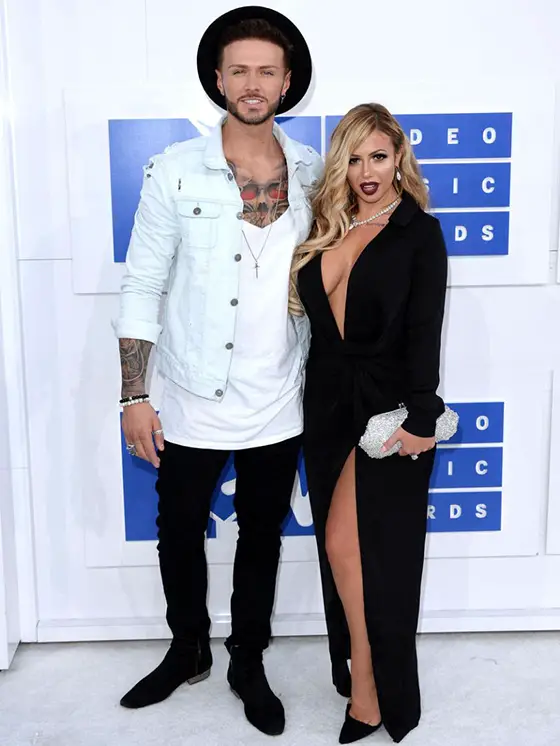 Holly Hagan and Kyle were making a great pairing together in an event. (Photo: gettyimages.com)
But things started to go downhill when fellow cast member Chloe Ferry was said to have slept with Kyle as revealed by other cast members. That ignited the fire between them, and the relationship ended but not the friendship.
Also if you go back in time and remember season 1 of the very show, you might also know that Holly dated a high school mate of hers, Dan Senior.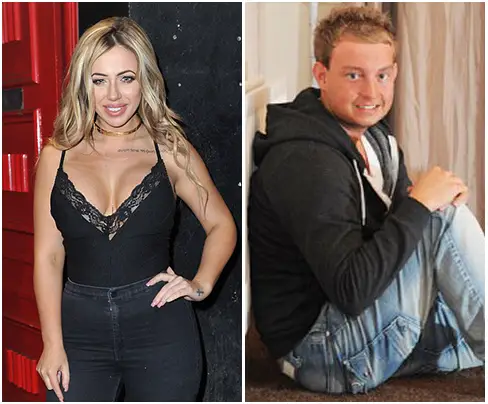 Holly Hagan and Dan Senior dated during season 1 of Geordie Shore. (Photo: Liverampup.com)
Knowing each other from high school days in Middlesborough, the two dated each other and a sequence of arguments led the pair to split on live television when Hagan dumped Dan. About the speculation about Holly moving on, Dan hit out,
   "I was with Holly for three and a half years and now I know she has gotten over me and I have gotten over her. I need to live my life". 
As per now, people are still, wondering whether or not Kyle and Hagan are back together as they have had a good bond continuing even after their split up and both of them have also been parts of several other projects.  
You May Like:- Princess Eugenie Married Jack Brooksbank In Astounding Wedding Dress!
Let's hope something official will be revealed by any of them as they are said to have a lot of mutual respect for one another.  Furthermore, Holly has posted her pictures with Kyle, and if you follow her on Instagram, things shall get much clear.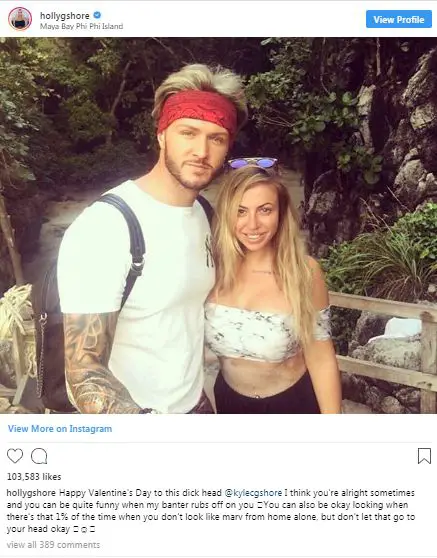 Holly wishes Happy Valentine's Day to Kyle ( Photo: Holly Hagan's Instagram)
Despite wishing Kyle a "Happy Valentine's Day", the former lovers are not back together and might not ever be more than just friends.
Holly Hagan Pregnant? Truth Or A Practical Joke?
Back in 2016, Holly shocked her fans when she mentioned on Twitter about being pregnant with a child.

Hagan was tweeting about her pregnancy which she later deleted. (Photo: Holly Hagan's Twitter)
However, it later turned out that it was a prank played by the actress on her fans.
"Disgusting thing to joke about." This is something that fans have said about the star when she and her then-boyfriend Kyle played a prank on fans by saying that Holly is expecting a child. The prank though backfired on the pair, and some angry fans had something to say to that.

A fan tweets the disappointment in knowing the prank about Hagan's pregnancy. (Photo: Twitter)
More on this prank,

An angry fan expresses his anger on Holly's pregnancy prank (Photo: Twitter)
Thus, fans who were hopeful that she is pregnant and they can she Holly with her child must wait for some time. And seeing that she is currently in a relationship, fans might not have to wait for a long time.
Dating English Footballer Boyfriend
Holly is currently dating English footballer, Jacob Blyth, and the couple looks adorable together. Holly and her boyfriend first confirmed the relationship in July 2017 but were soon separated (not broken up) for a few months as Holly moved to Australia for shooting.
Recommended For You:- Jerome Boateng Fears Wife & Family Safety! Displays Height Of Care & Love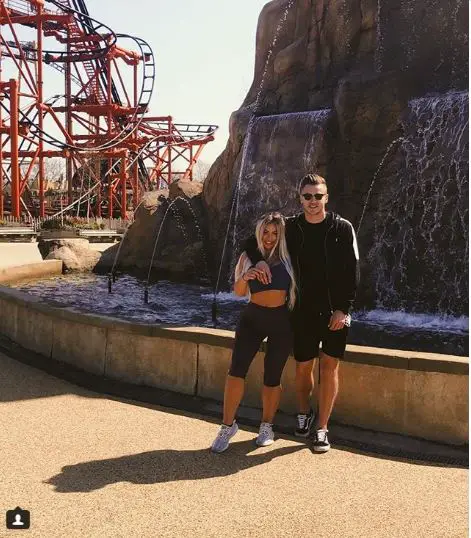 Holly with boyfriend Jacob Blyth in April 2018 (Photo: Holly Hagan's Instagram)
Talking about her relationship with Jacob which had initially started from friendship, Holly said,
"We've both been around the block. I was friends with him first and I knew he was a massive shagger and he knew all about my past. I wouldn't want to be with someone who hadn't experienced that."
Holly and her boyfriend also celebrated this year Valentine's Day together. The pair has not stated their plans for the future but it seems like the lovebirds are in it for the long-run.
Holly And Her Love For Physical Makeup And Transformation:
Everyone who recognizes Holly Hagan knows that Holly has been involved in several makeovers and transformation. She has lost weight in recent times and also got a tattoo on her body.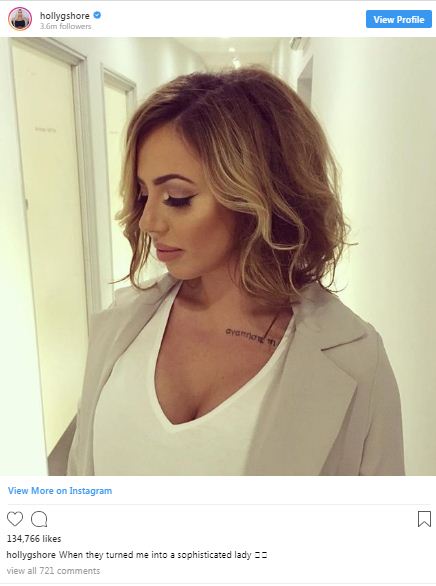 Holly flaunts her neck tattoo on 31 January 2017 (Photo; Holly Hagan's Instagram)
An Instagram post by Hagan where she reveals her Greek tattoo on her collarbone.  The tattoo is written in Greek which translates into "Love the life you live." Clearly, she is in love with her lifestyle.
Also slamming people who call her fat, Holly has had some serious weight loss, and the picture below proves what she has done with her body figure and weight.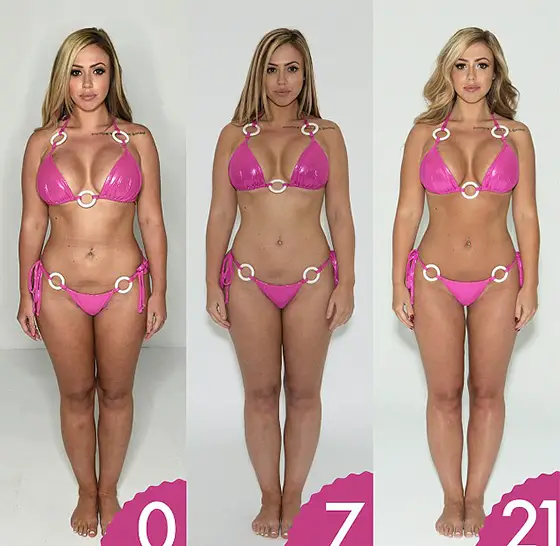 Holly Hagan has slammed her body critics by losing weight in just 21 days. (Photo: Dailymail.co.uk)
But still, people body shame her and Hagan had something to say to those people.
'I hear it hundreds of time a day, "you airbrush your photos" "look how bumpy your legs are from bad airbrushing". If I was going to airbrush my photos I'd at least have my legs made not bumpy! That's just my legs!'
But what has caught the eyes of her fans is if she had her chin surgery. A feed from her on Instagram drew a mixed reaction from her fans as to what she has done with her chin. Clearly, her transformation had made her even more beautiful than what she previously used to be. 
Read Also:- Pauly Shore Married Status Amid Gay Rumors | Has Girlfriend Now? Details
Further, Holly is set to appear on the latest season of Geordie Shore. In the upcoming season, she will appear alongside Sophie Kasaei. Holly explained that re-joining the show has brought her closer to her boyfriend, Jacob Blyth.
She also revealed in a recent interview that she had been hospitalized longer than she was supposed to after undergoing breast implants removal surgery.