Entertainment
Who is "The Big Bang Theory" hottie, Laura Spencer's off-screen Boyfriend? Husband Rumors?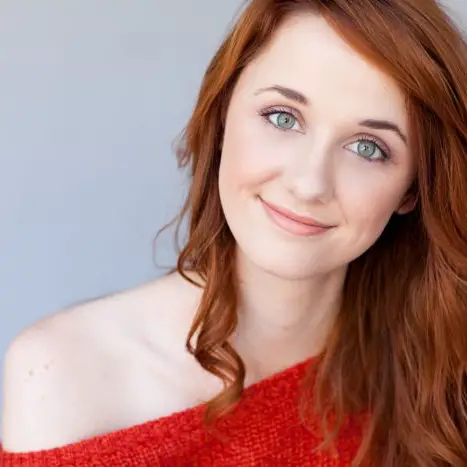 Laura Spencer is a familiar face for the audience of The Big Bang Theory. She portrays the role of Emily Sweeny who is the girlfriend of Dr. Rajesh Koothhapali in the series. but, does the beautiful girlfriend of raj in the series has a real-life boyfriend or not.
With attractive looks and a charming personality, Laura has grabbed quite a few eyeballs from her glorious displays at The Big Bang Theory. With a blossoming career, Laura continues to win over her fans through some wonderful performances. But is the lady available or s she already off the market?
The Big Bang Theory Star's Romantic Fairytale With Boyfriend
Laura revealed from her post in December 2015 that she has a boyfriend. She posted a picture with Kunal Nayyar and mentioned the photo is taken by her off-screen boyfriend. However, she had not mentioned the name of her boyfriend till then.
You May Also Like: Johnny Galecki Dating Confirmed! Half Age Girlfriend, Absolute Stunner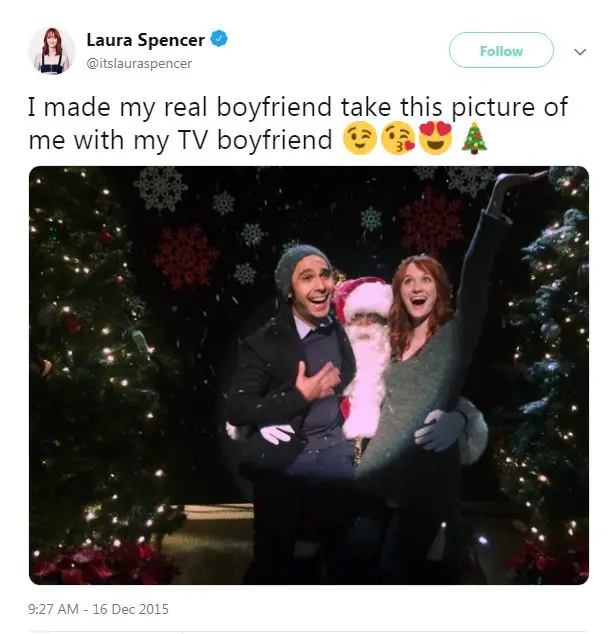 Laura Spencer makes her real-life boyfriend capture a photo alongside her on-screen boyfriend. (Laura Spencer's Twitter)
Similarly, she continued the mystery and uploaded a photo on Instagram where she wrote a love line below the photo. She also tagged the photo to a certain michaeljackgreenwald.  Laura, since then, uploaded many photos with the same boy including his single photo.
She left her fans wondering if he is the boyfriend of Laura Spencer or are they just close friends??
See Also: Big Bang Theory's Kaley Cuoco Marries Equestrian Karl Cook; Recited Emotional Wedding Vows!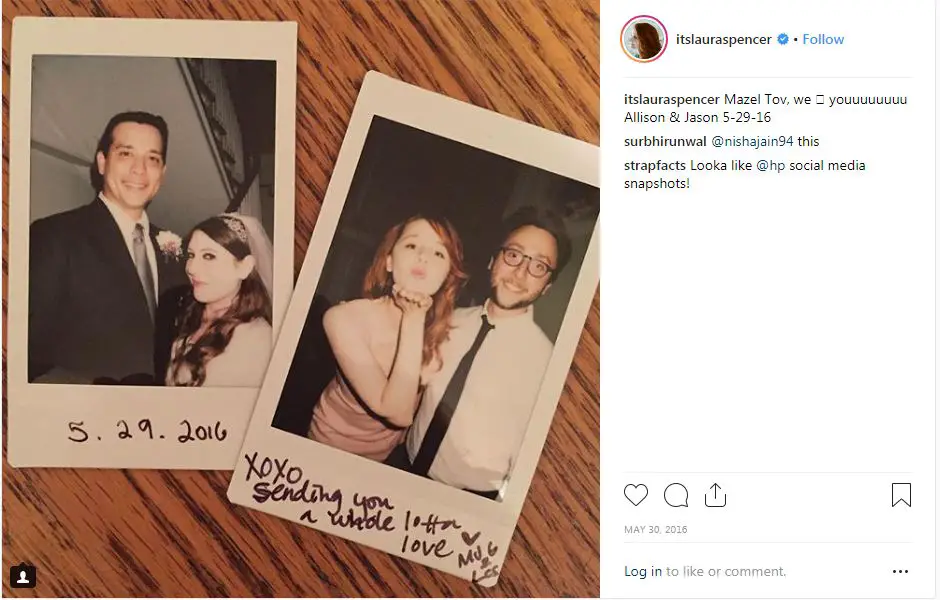 Laura Spencer along with her boyfriend. (Laura Spencer's Instagram)
This was the first time she revealed the partial information about her affair. However, prior to this she always stayed silent rumor about her affair and boyfriend.
Divorce Stay Away: Wedding on The Cards With Soon To Be Husband
After staying low key and maintaining the mystery over her love life, Laura finally decided to unveil the curtains over her personal life and officially announced the identity of her boyfriend on August 2017. She labeled the guy that appeared on her Twitter video to be her boyfriend on 15 August 2017.
"My boyfriend bought a back scratcher for our neighbor's dog..."
Indeed, the boyfriend did turn out to be the same guy she initially tagged along in her posts. The name happened to be Michael. 
Laura soon escalated her relationship with Michael to the next level after she announced her engagement with her long-term boyfriend. She took to Instagram to announce the big news on 30 January 2018, with a caption labeling Michael to be his future husband.
"I said YAASSS ?#engaged? by Future Husband @michaeljackgreenwald"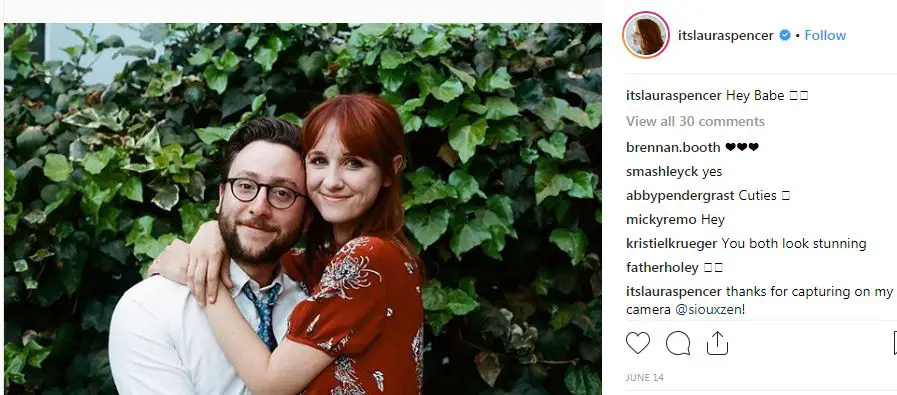 Laura Spencer alongside her fiance Michael. (Photo: Laura Spencer's Instagram)
Laura has since then been ever-so-excited about her wedding. Though the official date have not yet been announced by the actress, she remains extremely keen about the wedding and has already figured out her wedding dress too.
Don't Miss: Laurie Metcalf In Harmony; Both With Husbands, Kids!​​​​​​​
Laura Spencer was first seen in the web series adaptation as Jane Bennet in pride and prejudice and The Bennet Diaries. She starred in films, television series, and web series. Soon to be wife Laura now hopes that her personal life settles in the same way her career on-screen has, and there remains no room for divorce in her soon to be married life.