Entertainment
Why Hasn't Lamman Rucker Still Not Married? Searching For Perfect Wife Or Is He Secretly Gay?
American actor Lamman Rucker is a man who has fulfilled a lot in his glittering career. He has fans and admirers, and all of them are there to support in his life through every step. But why is this star still unmarried? Is it because he has always been busy with his career and as a result, he did not find a perfect match, or is he a gay?
Let us find out!
Is Rucker Gay And Is Seeking For A Perfect Match?
Rucker has lived for over 45 years, and still, he has not married and made anyone his wife. And that has prompted fans to assume two things. One, is he yet to find his perfect match and two, is he a gay?
Well, the star actor has never been a fan of speaking about his personal life in front of the media and public, and thus, there are no track records of his love relationships.
However, he was once linked with dating his co-star, Jill Scott who he shared the screen with in Tyler Perry's "Why Did I Get Married?". Some reports surfaced that the two were indeed dating one another back in 2008. But the two did not reveal anything about the nature of their connection.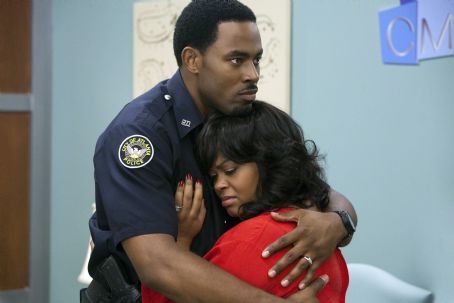 Caption: Lamman Rucker and Jill Scott were said to be in a dating relationship in 2008.
Photo Credit: whosdatedwho.com
But if this is indeed true, then he is free from all the gay accusations people make as he has not presented a partner of opposing gender to the public. The truth about his sexuality, however, lies with the actor himself.
Rucker has played a married man in one of his projects but is still a bachelor is in real life which is why one might assume that he is looking for the right match who he is yet to met. Let us hope that he finds someone suitable soon and ties the knot with her.
In an interview back in 2009, he discussed his married role and the character's similarity with him, and here is what he had to say.
A lot of things. He is the first in [the Brown family] to have an advanced degree. I know what a challenge that can be and the dynamic of being one of the people in your family who has had the privilege to go off to school. He's really down to earth, has a great sense of humor and is very giving and supportive in his relationships. All of that I can relate to.
Furthermore, when he was asked what fans can expect from him when he rejoins the cast for the sequel to "Why Did I Get Married?". He answered,
I've seen a draft of the script and everyone is going to love this one! We're filming this summer and it is a very interesting snapshot into marriage. The whole cast is returning and the film takes place a couple years down the line. When it comes to marriage and relationships, there is always a new adventure. Sheriff Troy will show an interesting side of himself and people will see his layers. "Why Did I Get Married?" did so well because it gave some real perspective on the realities of love.
The man does seem to channel his real life experiences to the project he becomes a part of.
A Short Wiki-Like Bio of Lamman Rucker:
Born in Pittsburgh, Pennsylvania, United States on October 6, 1971, Lamman Rucker is an American actor who is famously known for his roles in "Why Did I Get Married?", "Why Did I Get Married Too?", and "Meet the Browns." He has also starred in the Oprah Winfrey Network drama series, "Greenleaf" as Jacob Greenleaf.
The man has been a part of several other successful projects in his professional career, and the success of those projects have helped his finances the world of good. As a result, he has accumulated a net worth of $2.5 million.
Stay with us for more news on Lamman Rucker!