Young Buck is an American recording artist, best recognized for his association with the legendary rap group G-Unit.
Before making his mark as a G-Unit affiliate at the turn of the century, the Hip-Hop veteran made a name for himself as a close confidant of New Orleans-based rap label Cash Money.
Having earned unprecedented success, G-Unit eventually disbanded. In years that followed, Buck and the fellow members engaged in countless feuds. The grimmest of them came in 2019 when 50 Cent - the group's leader - accused him of being a closeted gay.
Is Young Buck Gay? Know His Partner
His former member, 50 Cent is arguably the internet's biggest troll. Buck should know better than not to mess with the Many Men wordsmith.
Rapper Accused Of The Same:- Lady Leshurr Dating; Plenty Partner Talks Suggests Boyfriend, Revealed?
It all begun when 50 took to Instagram, accusing Buck of having a sexual relationship with a transgender woman named GlamourPurfek. While threatening to leak the video of him performing sexual acts on alleged partner GlamourPurfek, the In Da Club hitmaker insinuated that Buck might be gay.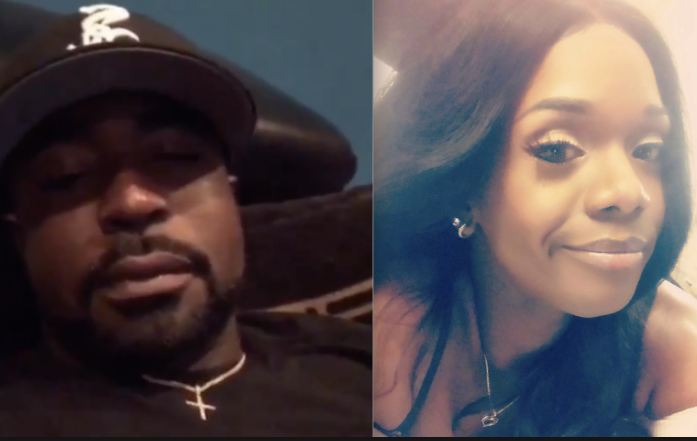 Young Buck (right) denies getting caught with a transgender woman named GlamourPurfek (left) after 50 Cent claims in 2019 (Photo:- worldstarhiphop.com)
Responding to the gay allegations, the Nashville Tennessee-native asserted:-
"Let me address this real fast real quick … ain't shit gay about me... "
He then called out 50 for his lack of musical success in recent times.
Dating Mother Of His Children? Girlfriend Issues
The news of Buck being anything other than a straight man is startling on so many levels. For one thing, he seems to be fathering five children at the time.
Musician With Multiple Children:- Fetty Wap Is Father To Baby Boy! Adds 7th Child To Family
Of all his kids - teenage daughters: Jayla, Maya, & Dede, and sons: David & an unnamed child - only Jayla's mother Tanee McCall is a known public figure. He and his wife Tanee got married in July 2005.
It's still unclear whether the rapper and his partner Tanee are still together. By Buck's accounts, he doesn't have a wife & is married to money. That said, he isn't free of baby mama drama. Also, there have been instances when he hit the headlines following the altercations with multiple girlfriends.
Age, Real Name & Height
Born on 15th March 1981, Buck - now age 38 - is a native of Nashville Tennessee. His real name is David Darnell Brown.
The "Get Buck" hitmaker boasts a humongous discography with memorable songs such as Can't Lose, I Know You Want Me, Stomp, You Ain't Going Nowhere and Bonafide Hustler to name a few.
Buck owns a modest height of 6 feet (1.8 m).
Inside Young Buck's Net Worth & House
Over the years, the father of five has released an aggregate of eight studio albums, four of which as an independent artist through his label Cashville Records.
Equally Impressive Net Worth:- Shantel Jackson & Rapper Nelly Relationship | Married & Net Worth Talks
Despite the RIAA-certified musical projects, Buck's net worth hovers little under $1 million. It wasn't always the case though. At the height of the G-Unit days, in 2004, he splashed over $600 thousand on the house in Tennessee.
$333 thousand in unpaid taxes and numerous poor business choices later, the stated house got put on sale following Buck's bankruptcy claim in 2012. Two years earlier, the IRS had raided the same house.
His legal issues with the law are mostly to blame for his debilitating net worth.