Entertainment
Why Zell Swag Age 30 Isn't Gay Despite Dating, Having Boyfriend History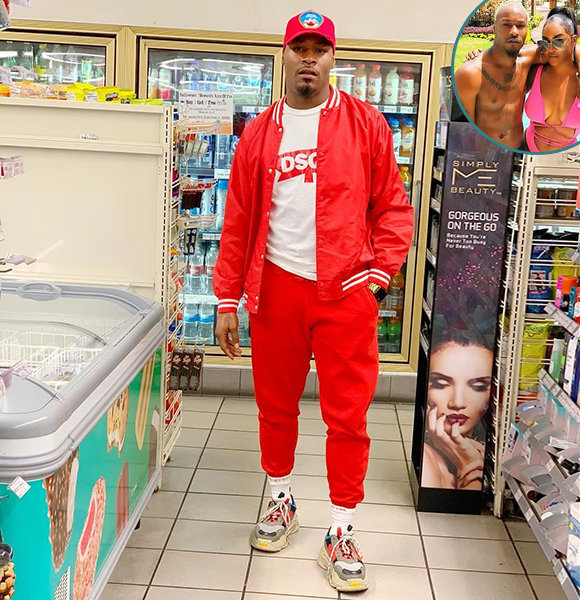 Zell Shaw is a well-renowned fashion designer best known for his unique talent of blending the traditional designing with the modern fashion trends. His designing skills have been appreciated by several celebrities, and some have even worn his dresses while attending public events.
Fans have always been fascinated by his personal life due to his strict dating rules and his sexual preferences. Although not gay, Zell has had boyfriends but he also likes dating women, but he doesn't date both at the same time.
So, who is he dating at the moment? A boyfriend, a girlfriend, or a transgender? 
Not Gay; Had Boyfriends And Girlfriends But Not At Same Time
Zell's sexuality has always been a topic of gossip in the media, and many wanted to ask their favorite designer a single question, "Are you gay?" 
When Zell was finally asked about his sexuality, he mentioned that he had been in relationships with both genders. The Love and Hip Hop star explained that until the age of 23, he had been involved with only women.
But once he reached 23, he began messing around with men and even confessed his sexuality to his mother. Zell revealed that his mother was shocked to hear his confession and also demanded Zell change his mind as she wanted to see her grandkids. 
You May Also Like:- Is Trevor Moran Interested In Some Dating Affair After Coming Out As Gay? Hiding Boyfriend From Fans?
Zell further stated during an episode of Love and Hip Hop that he has occasionally felt guilty about his sexuality. He added that his identity was not limited to his sexuality and that his works defined him rather than his sexual preferences. 
Later, in October 2017, he appeared in an interview with Hollywood Unlocked and explained in details about his sexual nature. Zell told the interviewer that he was bisexual but only had boyfriends after the age of 23 implying that he had been dating men for six years.
Zell mentioned that his grandmother had once told him not to be dating only both genders at the same time, due to which he just made boyfriends at the time. 
Zell even added that he had been in a relationship with a guy named Joseph but never felt like a "real boyfriend" while dating him as they rarely got intimate with each other. However, Zell added that he loved him as Joe had always been for the designer during his time of need.
In the interview, Zell had confessed that he missed dating women and less than a year later, he found a new girlfriend. Zell started dating a transgender woman named Savanna earlier in 2018. He even mentioned his girlfriend as prettier than all the girls on Love and Hip Hop. 
More Bisexual Celebs:- Janelle Monáe & Tessa Thompson Dating Revealed As 'Ragnarok' Actress Outs As Bisexual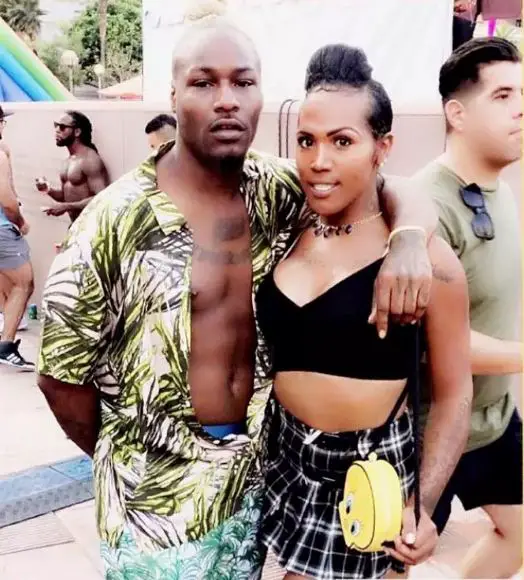 Zell Swag with his girlfriend Savanna in 2018 (Photo: Mtonews.com)
However, as of August 2018, it seemed like Zell had broken up with Savanna and found a new love interest. On 12 August 2018, Zell shared an Instagram post alongside reality star Brandi Maxiell calling her as his "babe."
See Also:- Transgender Actress Jamie Clayton And Her Dating Affair With Actor Keanu Reeves Amid Of 'John Wick 2'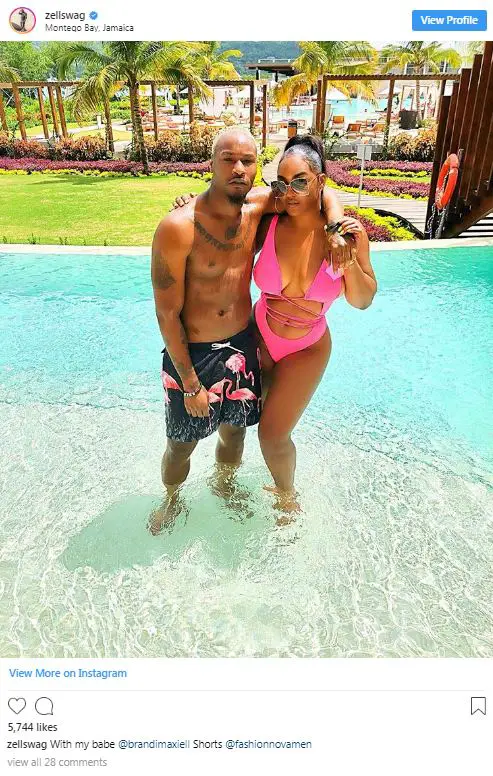 Zell with new girlfriend Brandi Maxiell on 12 August 2018 (Photo: Zell Swag's Instagram)
While the relationship between Zell and Brandi has not yet been confirmed by his latest girlfriend, looking at the picture, it's hard to believe the two are not dating. 
Zell's Real Name; Net Worth, Fired, And More
Zell Swag, who rarely goes by his real name Lazell Shaw, is a fashion designer known for his unique cultural designing style which blends various designs of clothing including the high fashion, hip-hop and the casual streetwear.
More From LiveRamp Up:- Did Aaron Goodwin From Ghost Adventures Really Get Fired | Married & More
Zell, who ages 30, started his career in fashion by sharing pictures of his outfit designs on social media. He has also been featured on VH1's show Love and Hip Hop.
He later appeared on the reunion episode of the show but started a feud with Mister Ray (real name Myles Cunningham) after which he was accused of fat-shaming. Sources reveal that the fashion designer was fired from the show due to his fight with Ray and will not be appearing in the fifth season of Love and Hip Hop. 
Zell confirmed that he would not be returning for the upcoming season but revealed that he would soon be appearing in a new show. Despite being fired, Zell still owns a clothing line which has helped him build a fortune.
Further, he also enjoys a considerable net worth even though the exact amount of his net worth has not been disclosed.