Zion Kuwonu stands at the height of...celebrates his birthday on...dating life with the girlfriend is...with family backing traveled to...joined Instagram in...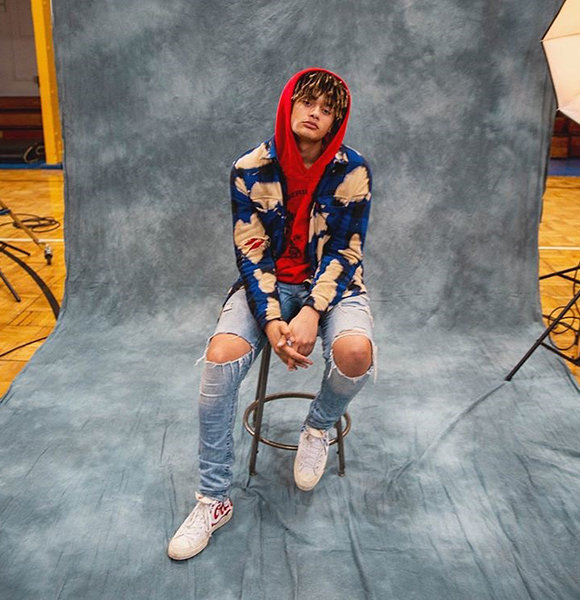 Zion Kuwonu's name gets mentioned with the likes of Harry Styles and Zayn Malik. The comparison couldn't be more fitting. Like the stated former One Direction members, he too got discovered by Simon Cowell.
The singing sensation is the one-fifth of the musical group "PRETTYMUCH." Formed in 2016 under Simon Cowell's tutelage, PRETTYMUCH - besides Zion - consists of Nick Mara, Austin Porter, Brandon Arreaga, and Edwin Honoret.
2017 marked the boy band's breakout year. That year, Zion and his crew dazzled the audiences at the Teen Choice Awards and MTV Video Music Awards with their smooth dance routines while performing their debut single Would You Mind.
In terms of discography, PRETTYMUCH has released a self-titled EP and a seven-song EP Phases. Open Arms and 10,000 Hours are the group's chart-topping singles.
Age, Birthday & Height
There's no PRETTYMUCH without Zion ⁠— literally. As an inside joke, he used to say the phrase "pretty much" all the time. Before everyone knew it, the quirky trait became the band's identity and eventually its moniker.
Discovered By Simon Cowell:- Cher Lloyd Age, Height, Husband, Children, Parents
Another standout fact about Zion: he's the only non-American member of PRETTYMUCH. He was born in Ottawa, Canda in 1999.
In 29th June 2019, Zion celebrated his 20th birthday. A Cancer by Sun sign, his birthday falls on the same day as YouTuber SmallishBeans and TV actress Camila Mendes.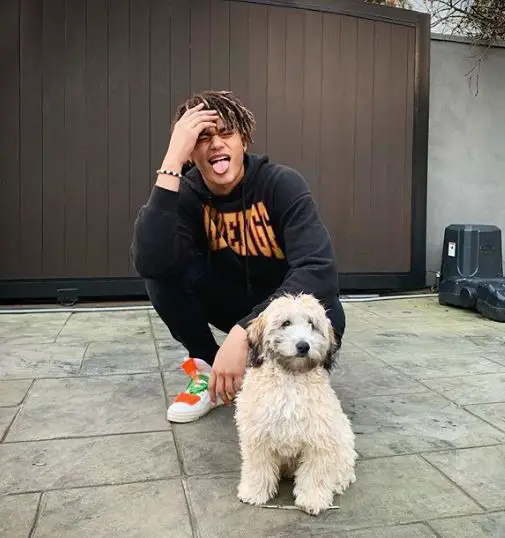 Zion Kuwonu with dog Simba poses for a picture Circa March 2019 (Photo:- Zion Kuwonu's Instagram)
Regarding height, the 20-year-old musical artist stands a little over five feet and seven inches (1.70 m).
His Family - Parents & Siblings
Zion is his parents' middle child. He grew up alongside two siblings: a younger brother Elom and his elder sister Kékéli. The latter was his singing partner while growing up. 
Info on his family's lineage evades the public sphere. Thus, it has become a Herculean task to pinpoint his ethnicity. Going by the physical features alone, he could be of a mixed race.
Celeb With Ambiguous Ethnicity:- Zeeko Zaki Bio, Height, Age, Dating, Ethnicity, Married
Nonetheless, Zion's family were very supportive of his life goals. Or else, why would they allow him to move to the US?
Instagram Famous
In 2015, Sony Music offered then-teenager Zion an all-expenses-paid trip to New York. They wanted to discuss a possible record deal with him. At the time, the Would You Mind crooner had accumulated a sizable following on Instagram.
Zion first began posting videos of him singing and dancing on Instagram in December 2014. Within months, he was attracting interests from various record labels.
After coming contact with Simon Cowell, Zion - as part of PRETTYMUCH - penned a deal with Columbia Records and SYCO Entertainment.
Dating & Girlfriend
Boy bands get marketed to a specific demographic (teenagers). Thus, there lies a pressure on its members to maintain a clean image. In that, they get advised not to engage in dating activity of any sort. Zion, for better or worse, strictly adheres to the rule.
Equally Reclusive Love Life:- Mike Muscala Contract, Salary, Girlfriend, Siblings
Jazmine Nunez happens to be the Open Arms crooner's only known girlfriend. Even that romance is notoriously secret. There is no accurate timeline of Zion and his ex-girlfriend Jazmine's dating history.