News
Bachelor In Paradise's Jenna Cooper & Jordan Kimball Reconciling Split?
Trouble in paradise for the Bachelor in Paradise's alumni, Jenna Cooper & Jordan Kimball! 
The formerly engaged couple, Jenna Cooper and Jordan Kimball broke their engagement after the franchise spoiler blogger Reality Steve shared the screenshot on 11 September 2018 accusing Jenna Cooper was cheating her fiance, Jordan Kimball before the finale premiered.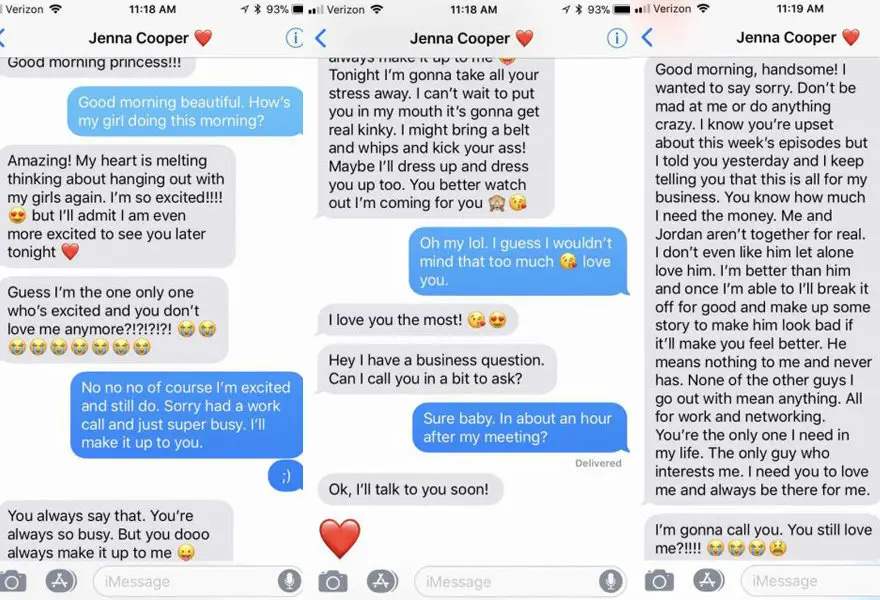 Screenshot of Jenna Cooper's chat with the mystery man (Photo: Realitysteve.com)
The blogger posted the three screenshots which included the romantic text sent by Jenna Cooper to the mystery man on 11 September 2018. The text sent by Jenna claimed that she and Jordan are not together in real life. It stated:
"Me and Jordan aren't even together for real. I don't even like him let alone love him. I'm better than him and once I'm able to I'll break it off for good and make up some story and make up some story to make him look bad if it will make you feel better." 
The Bachelor contestant, Jenna was convincing her alleged boyfriend claiming that her purpose of going to the show was only to enhance her business. 
Other Bachelor in Paradise's Love-bird:- Jared Haibon & Girlfriend Ashley Iaconetti Hyped For Marriage! Here's Their Talk On Wedding
After the reunion episode aired on Tuesday .i.e., 11 September 2018, both Jenna and Jordan spoke publicly about the accusations. Though Jenna denied the message was from her, the blogger stated that he shared the screenshot after verifying that the message came from Cooper's phone number.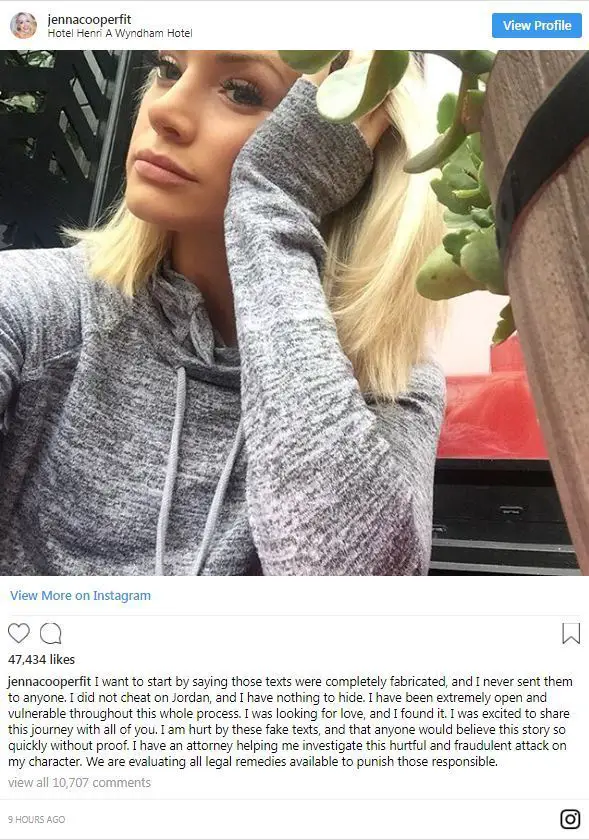 Jenna Cooper denying the cheating allegation (Photo: Jenna Cooper's Instagram)
See Also:- Luke Pell And Girlfriend Holly Allen Dating Again After Split! Rekindles Romance
After Jenna 's continuous refusal about the cheating allegation, her fiance believed the report and eventually break up the relationship they had formed since 4 June 2018.
After the cheating allegation, the model Jordan talked about the cheating in an interview on Steve's podcast on 12 September 2018 claiming he does believe that he has been cheated on. Following the split from Jenna, he told Steve:
"I know my Jenna, and I read those texts and in my heart, I know it's her. She was saying she didn't do it, but hinting towards the fact that there's a possibility that it happened. In all reality, I don't expect her to own it."
Also, he added:
"It is extremely hard to talk about but when I read these texts, I can hear her voice saying it. The structure of the speaking and the facts this gentleman has about her...it's scary. It gives me chills."
Well, the pair looked like the couple-made-in heaven when the show premiered their finale on 11 September 2018. The couple had engaged on the finale of The Bachelor, and even after the show wrapped up, they were strongly going together and also had gushed about their wedding plans.
Don't Miss:- Chris Harrison Ends Married Life In Divorce - Bachelor Host Is Bachelor Himself
During their reunion show which was tapped on 28 August 2018 and was premiered on 10 September 2018, Jordan, who was beyond the TV romance with Jenna, talked about their wedding plans to be in the Christian religion and also gushed about their future together. He told to The Hollywood Reporter on September 2018: 
"We have a date for the wedding, we have to start planning that. We want to bring our families closer together and we have to figure out a living space. We met on June 9 and it's her birthday. The network brought us together, so why not bring us even closer together?" 
Since the 29 aged, Jenna continued to deny the allegation and also sought legal advice to investigate the hurtful allegation which attacked her character. As for Jordan, he seemed to be nowhere believing on her and had already broken the engagement with Jenna. 
Meanwhile, Bachelor In Paradise fellow contestants took sides to support the broken couple for their failed engagement.