News
Yungblud Age 20 & Halsey Romance, New Girlfriend? Upcoming Tours, Album
New Couple Alert!
British musician Yungblud, aged 20, has ignited a new romance with American songstress, Halsey.
All eyes were on Yungblud, real name Dominic Harrison, and his rumored girlfriend, Halsey as they left Milk Studios in Hollywood on 20 November 2018. With a boquet of flowers on her hand, Halsey appeared cozy with the Polygraph Eyes singer.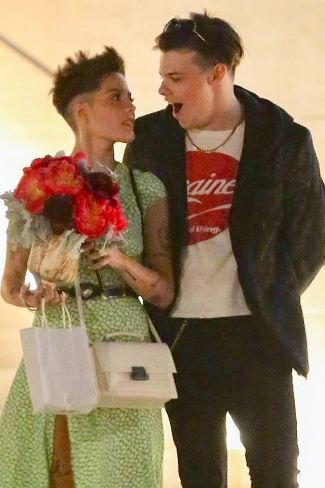 Yungblud and Halsey leaving the Milk Studio (Photo:- eonline.com)
Speaking to E! News, a bystander who witnessed the rumored couple entering a limo at 6:30 pm that day recalled:-
"It was so obvious there was something going on, they were so close. She was definitely feeling him, from what I could see it definitely seemed there was an attraction."
The stated bystander followed up by claiming that the British rocker and his alleged muse, Halsey picked food from In-N-Out Burger through a drive-through and left for the latter's home.
Read Also:- The Rolling Stones Members Tours Dates & Location, Songs They'll Perform
The pair's sighting comes following days of flirty exchanges online. 
All of this began when the Psychotic Kids singer uploaded a snap of himself holding a guitar, and to which the Without Me songstress commented with a baby angel emoji. The former then replied with a heart emoji.
Most recently, Hasley, age 24, tweeted a heart emoji by posting a video of Yungblud performing California. And in another instance, the Bad At Love songstress wrote a cryptic message which read:-
"You make me see the world in different colors."
Because Yungblud - who's currently enjoying a successful US tour - had liked the stated tweet, the romance between the two was all but confirmed to their respective fans.
Discover:- Jamey Johnson Age 43 Really Divorced Wife For Sake Of New Album?
That said, the alleged lovers could be friends at best and cooking new music in the studios. Not that long ago, Hasley had to fend off dating romance with John Mayer via Twitter. She wrote:-
"I just had a ground breaking idea. What if...we let female artists...have friends...without assuming that they are sleeping together?"
If the rumors of Yungblud and Hasley dating are indeed correct, hopefully, it won't end like the latter's much-hyped relationship with rapper G-Eazy. Hasley and G-Eazy dated for almost a year before calling it quits in October 2018. Previously, the Now or Never songstress had dated Clevland rapper Machine Gun Kelly.
As things stand, neither her nor Yungblud - who's currently busy crafting his latest album alongside with his band members - has yet to comment on the dating rumors.