Entertainment
Angela Bassett's 25-Years-Long Marriage- What's the Secret to Her Long-Standing Marriage?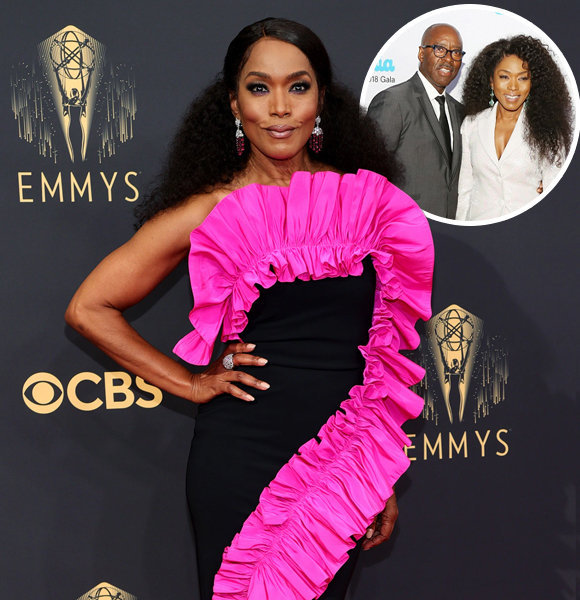 Hollywood is a difficult place to find love. But by marrying the love of her life, actress, producer, and director Angela Bassett achieved a major victory.
She is fortunate to have a loving husband and kids who have supported her to build a noteworthy net worth.
Angela and her husband's love story are taken as examples of the happily ever after. 
We will certainly talk about her net worth, but let's learn more about their famous love story.
Angela Bassett and Her Husband
Angela is married to American actor Courtney B. Vance. They both attended Yale School of Drama, but their romance did not develop immediately.
In an episode of The Oprah Winfrey Show, Angela revealed that her husband was tall, dark, skinny, and alluring, whereas Courtney couldn't even recall his wife from college.
Angela and Courtney went in different directions after graduation, and it took fourteen years before their love story truly began.
Angela Bassett and Courtney mark 25 years of marriage. (Photo: Instagram)
Angela explained that both of them were single and went on a date. However, their date didn't go as planned, and Angela thought it was boring. But, their second date was fantastic, and their relationship grew eventually.
Following three years of dating, the couple exchanged vows in 1997.
Like in every relationship, Angela and her husband struggled to be parents. 
Similar: Holly Robinson Peete's Married Life- Shares Her Secret to Her Long-Standing Marriage
After several unsuccessful IVF attempts, the duo chose surrogacy to become parents. The A-lister Hollywood couple welcomed their twins, Bronwyn and Slater, in January 2006.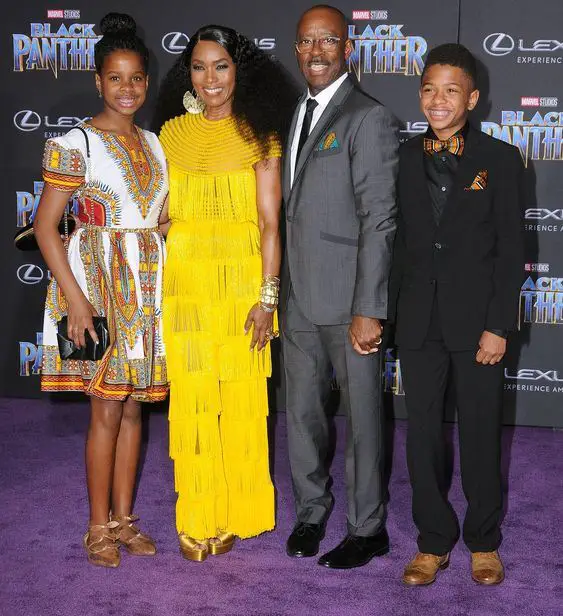 Angela with her daughter, son, and husband in Black Panther's Premiere. (Photo: Pinterest)
Although Bronwyn and Slater's parents are in the acting industry, the twins are more inclined toward music. They know how to play piano, guitar, and rap. 
It is too early to predict whether the twins will follow in their parent's footsteps or not. 
Angela is living a wonderful life with her children and husband. The couple has been together for more than 25 years. When asked about the reason behind their successful marriage, Angela said, 
"Staying together so long, whether in the industry or not, I think the important thing is that you gotta marry the right person. Make sure you're both looking in the same direction, basically,"
She added, 
"You're not clones of each other, but you have similar or closest similar belief systems and, you know, pleasant personalities. Because we all have strengths, strengths and weaknesses, and we want to support one another. But I think also recognizing that we are each individuals, we have our individual dreams and desires and hopes and ways of, of doing things."
Courtney and Angela have experienced many highs and lows together but have never left one other's side.
Moreover, they have worked together to build a successful career and huge net worth.
Angela Bassett's Career and Net Worth
Angela, age 63, celebrates her birthday on August 16. She was born in New York to her mother, Betty Jane, and her father, Daniel Benjamin Bassett. Regarding siblings, Angela has a sister D'nette, and a step-sister Jean. 
She joined the Upward Bound college prep program, the debate team, the student government, the theatre club, and the choir and was a cheerleader. She has been quite active since high school.
Explore: Bern Nadette Stanis's Married Life & Her Big Family
Angela, who stands at the height of 5ft 3 inches, made her acting debut in the 1985 movie 'Doubletake.' After that, she played several well-known parts in movies and TV shows.
Her movies and TV shows include '9-1-1,' 'What's Love Got to Do with It,' 'Vampire in Brooklyn,' 'Music of the Heart,' 'Malcom X,' and many more.
'The Rosa Parks Story' actress has won twenty awards, including Golden Globe Awards, Screen Actors Guild Awards, Black Reel Awards, Image Awards, and many more. 
Her amazing talent and career have amassed her a good net worth.
You May Like: Omotola Jalade-Ekeinde's Happy Married Life- Who Is Her Husband?
According to Celebrity Net Worth, Angela currently has a net worth of $25 million with a salary of $450,000 per episode. Angela and her partner, Courtney's combined net worth is a whopping $50 million. 
The 'Black Panther' actress enjoys a luxurious lifestyle with her family in a stunning Los Angeles home.