Entertainment
Holly Robinson Peete's Married Life- Shares Her Secret to Her Long-Standing Marriage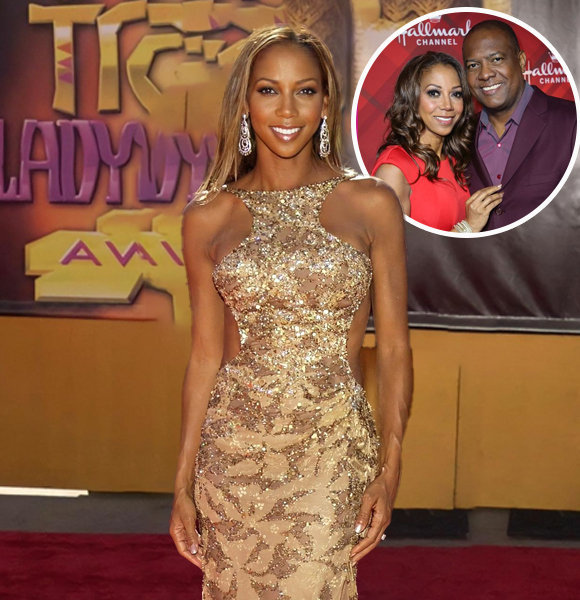 Famously known for her amazing acting and singing, Holly Robinson Peete has a raving net worth alongside her notable acting credits.
Apart from the star's on-screen career, the fandom is curious about the actor's married life.
Who Is Holly Robinson Peete Married to?
Married to her husband, Rodney Peete, since 1995, Holly Robinson Peete is currently at the age of 57.
Recently the married couple celebrated their 27th marriage anniversary on June 10, 2022.
Holly shared an adorable video that had moments of her wedding captured, from dances to walking down the aisle, captioning, 
"27th-anniversary #photodump June 10, 1995
I love you, @rodneypeete9!! Toasting us 27 times today !#HollyRodney27"
So, the question remains, how does the star keep her married life strong?
Read About: Alex McLeod Content With Soon-To-Be-Husband! Any Plans On Getting Married?
Opening up in an interview, the couple came forward with a ritual they follow which has helped them through everything.
The ritual is called a 20-second hug.
Holly stated,
"The rule is you have to give each other a hug for 20 full seconds when one or the other asks for it no matter what you're feeling in that moment," 
She further explains, 
"There's something about the first 15 seconds [that] are just being held, but after that, the pheromones take over and it really works for us."
Ending it with,
"If we're in a conflict or any kind of stressful situation, when we pull out our 20-second hug card, which isn't a lot, it works for us, and I think it's helped resolve and get past some really stressful moments,"
If you are asking yourself this question, "Is This Legit?"
Well, let us tell you that the hug ritual has also been proven by science. Indeed, happiness is a hug away, and the couple proves to be an absolute relationship goal!
Calling himself the luckiest man alive, Rodney wished his wife a happy birthday on his Instagram.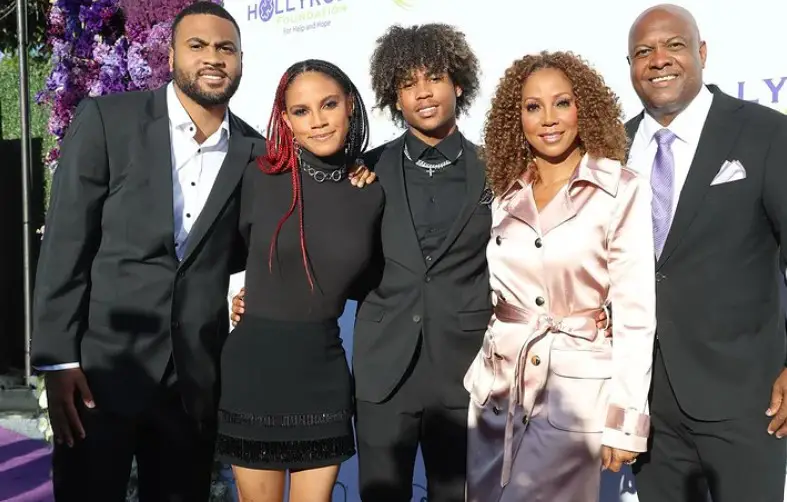 Holly Robinson with Her Husband and Kids (source: Instagram)
Adding to the bundle of happiness, the married star couple welcomed four kids into their happy family of six.
Who Are Holly Robinson Peete's Kids?
Born to the Peete family, Holly has four kids: Ryan Elizabeth Peete, Rodney Peete Jr, Roman Peete, and Robinson James Peete.
Among the children, Ryan Elizabeth Peete and Rodney Peete Jr are twins.
Read About: Mary Calvi Shares How She Makes Time for Her Family Despite Demanding Career! Take a Look
Talking about the twins, Ryan was diagnosed with ADHD in her teenage years, and their son Rodney Jr. was diagnosed with autism when he was three.
Supporting her children in any way she can, Holly is an active advocate through her platform, where she spreads awareness regarding autism and ADHD.
With her platform, the star also has an amazing career as an actress with 50 credits, including 'The Road Ahead,' 'Our Christmas Journey,' and more.
Because of a rising career, the star, who stands at the height of 1.65 m, has an incredible net worth of $4 Million, according to Celebrity Net Worth.
Adding to her net worth, Holly also owns her home, which values at about $3.5 Million.
Stay with us for more updates regarding the star's personal and professional life.