Entertainment
Insight Into Angie Harmon Married Life Alongside Her Daughters
Angie Harmon's daughter are the primary reason behind her happiness...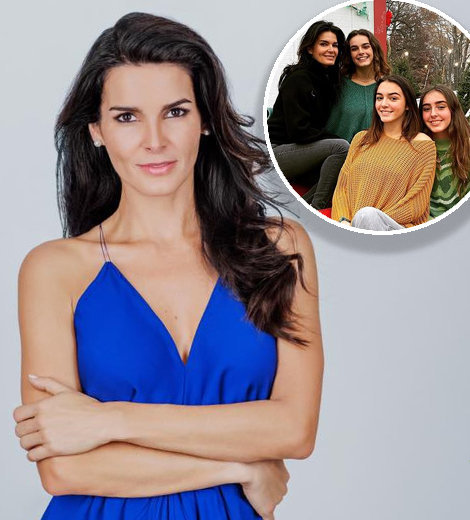 Angie Harmon, a talent that exudes paramount beauty, has graced the covers of Elle, Cosmopolitan, and other numerous brands. 
Her heavy weight of portfolio and roles on prominent tv shows is a known factor for many; however, another aspect of her life that is equally intriguing and is always in question is her married life and life with daughters. 
Angie Harmon's Married Life
The "Law & Order" actress was a married woman once who cherished the fruits of married life to the fullest. Harmon who was nominated four times for Screen Actors Guild Awards was married to Jason Sehorn once for over a decade. 
Married in 2001, the pair went on to share three children together; three beautiful daughters. All of whom are grown-ups now and, not to forget, extremely beautiful. 
Well, no wonder genetics did come to play when it came to her daughters. Her mother, now at the age of 50 (almost), looks as youthful as ever. So looking into her beautiful angels, one does not have to reckon much on where this enchanting beauty came from.
But also to add, every 50-year old's looks as ravishing as ever in our eyes. Women have eternal beauty to them, after all. 
The mother of three shared a beautiful picture with her three baby girls recently on the occasion of Christmas (2021). The mother-daughters combo posed for a warm picture during the chilly weather, and we can attest to the fact that this family is filled with smiles and beauty all over.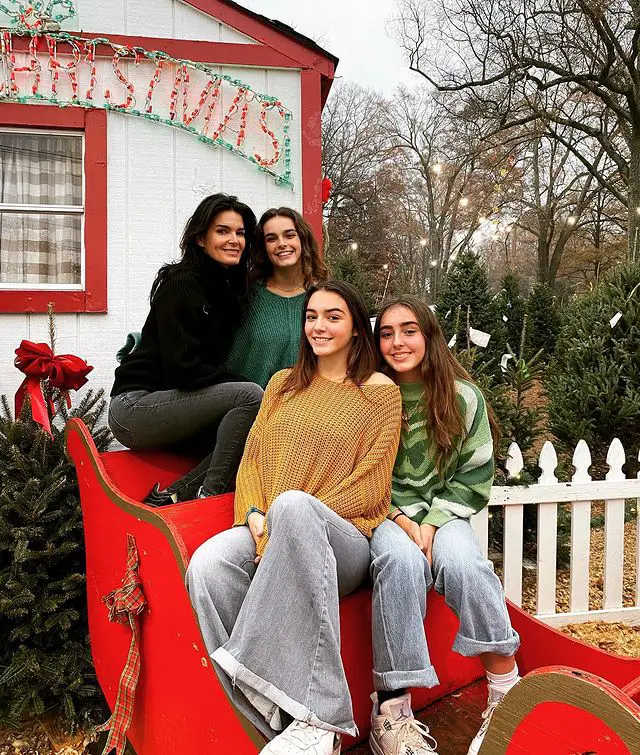 Angie Harmon With Her Three Daughters During Christmas (Source - Instagram)
Her oldest, Avery Grace Sehron, is 18 years of age as of 2021; she was born in 2005, followed by her daughter Emery Hope Sehorn, born in 2009. 
Her younger daughters love to play football and are oftentimes featured on their mother's Instagram account. On October 15, 2018, Angie commemorated her eldest daughter's birthday, which was her 15th birthday. 
More On Law & Order Cast: Love Is In The Air! Stephanie March Is Dating Hedge Funder Daniel After Divorce With Her Husband Bobby!
Posting several pictures of her gorgeous daughter's happy moments, she declared immense love for her by writing, 
"You have lit up this world since the moment you arrived 15 (!!!) years ago... the joy & love & laughter that you bring to all of us is the greatest gift! "
The mother of three further added, 
"Your soulful kindness matched with your huge heart is what blesses us all every day! We love you endlessly & wish you the happiest of birthdays! I know this will be your BEST YEAR YET!!"
Harmon really does not miss a single occasion to show her support and love indeed! 
Currently the mother of three is single. 
Her pervious married life with Jason lasted over a decade, and the couple separated in 2016. However, this was not the only time that the "Batman Beyond: Return of the Joker," actress had to experience broken promises in her life. 
She was engaged to actor Greg Vaughan back in 2019. Us Weekly confirmed the news of their engagement with pictures from Angie and Greg's Christmas celebration with their children.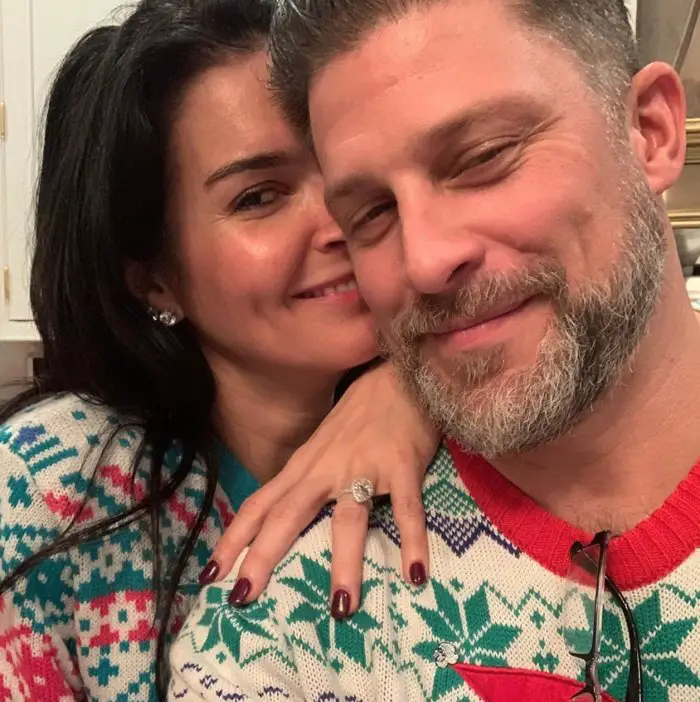 Angie Harmon's Engagement Picture With Her Ex-Fiance (Source- US Weekly)
Angie had also posted a picture with her then-fiance, Greg Vaughan sporting a big diamond stone. But sadly, the "Charmed" actor and Angie's relationship was somewhat fugitive compared to her previous one as the couple now seem to have separated. 
Going by Angie's Instagram account, life seems to be surrounded with happiness all over.
From polished craft in acting that is adherent to her successful career to her amazing life with her daughters, Angie aka, Angela Michelle Harmon's life is one of a kind. 
Although Harmon has had her romances with men, she has at times been specualted of being gay. But as they say, there is no smoke without a fire, this rumor too has its own seed. 
Is Angie Harmon Gay?
Surely, Angie having a husband and a fiance considerably removes her from the question of her being gay.
However, she was once speculated to be a "gay-hating racist" (as per her), which was heartbreaking for her as she explained how her close friends of that time were gay as well. 
But the matter of fact is that Angie openly supports gay rights, and she herself is backed by several fans that represent the LGBTQIA+ community. 
Additionally, when giving her opinions on homosexuality, she said, 
"Whether we're gay or straight, it doesn't matter. We're all women. We all have the same wonderful situations happening to us, the same horrific situations. We all get our hearts broken."
One thing is pretty much clear that Angie Harmon is not gay, but what can be reflected through her statements is that she supports gay rights.