Music
Debunking Axl Rose's Controversies- Does He Have Children?
An American musical sensation, Axl Rose is an inspiration to thousands of eyes. But, apart from garnering immense success worldwide, this man holds himself down to earth.
He has had his contributions as a musician, singer, songwriter, and song producer. Axl has captivated thousands of people with his lyrics and music, but there are certain things his fans are still intrigued about.
The aspect of his personal life that garners significant attention is the legendary Axl Rose's children, relationships, and much more. So if you count as one of those fans, we have your back.
Does Axl Rose Have Any Children? 
Axl has stolen hearts with his mesmerizing yet voluble essence in music. However, Axl has always been private regarding his personal life issues.
But, there was a revelation on how the musical sensation had his heart fixed to his girl, his former wife, Erin Everly, whom he got married to in 1990. 
You must have heard the legendary song, Sweet Child O'Mine. The lyrics of the song were beautifully written by Axl, who dedicated every bit of the words to his wife.
He seemed to be deeply in love with her, leaving his fanbase in awe.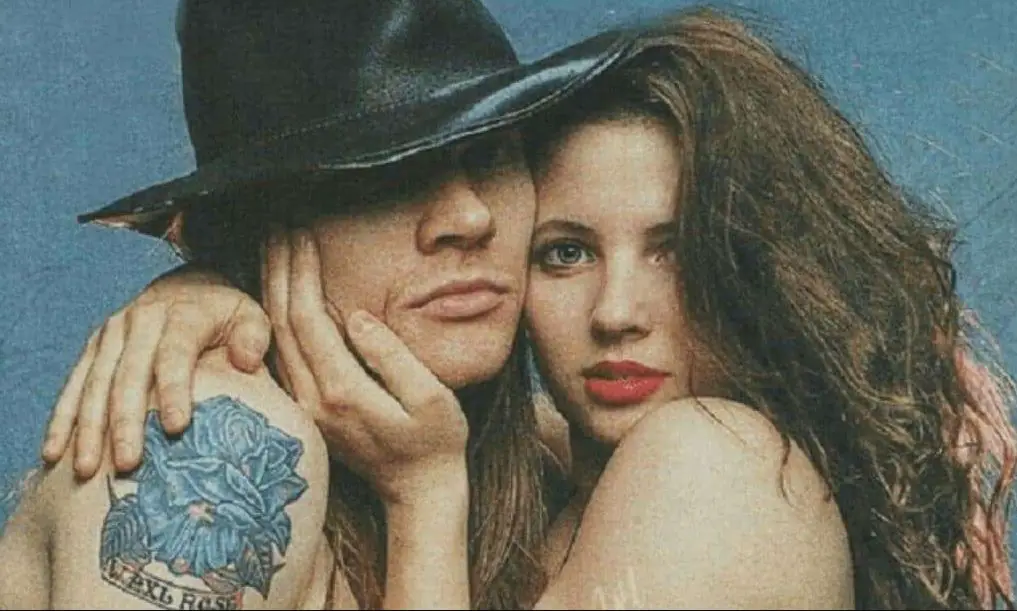 Axl with his former wife Erin Everly (Image Source: Rocks Off)
As per a few sources, the couple had decided to separate and get divorced just after a month of their wedding, but they later reconciled and thought of giving their wedding another chance.
After getting back together, a ray of light made its way into the couple's lives. Their life initiated to blossom when Erin struck her husband with her pregnancy news.
But unfortunately, the happiness couldn't shimmer much on the couple's faces when Erin suffered a miscarriage after four months of pregnancy. 
Walking down the aisle, exchanging vows of promises together, expanding their family with children is a dream for most couples.
Axl and his wife, too, had paved the paths of love hoping for the same. But unfortunately, their dreams did take a pause and led them to a journey they never wished to become a part of.
They split before they could expand their family with children. By January 1991, they officially became exes and ended their relationship with a divorce.
Also, read Is Willow Smith Gay/Lesbian? 2010 'Whip My Hair' Rockstar Reveals Fact
A Controversial Sequence in Axl's Life
But, things didn't end up here. As a few sources reported, Erin allegedly sued Axl for domestic violence in 1994. 
One of the sources narrates that Erin accused Axl of pressuring her into marrying him, saying he would kill himself if Erin did not marry him.  
More on Axl's Tattoos - 'Tattoos are much more than drawings' Says Axl Rose
It is also said that later Axl settled the case with a cash settlement. However, the feud between the two seemed to dim with time. 
After his first marriage ended, the legendary rocker made headlines for several of his romantic relationships. But, the singer chose to remain unmarried and did not have any children. 
After years of their split, a fresh rumor hit the internet where several questions arose regarding him having a daughter.
Well, the buzz kick-started when a YouTube video was entitled Axl Rose's Daughter.
The video did not claim the rockstar had a daughter; it also said "Fake Documentary," but some people misunderstood the title.
More so, the video added to the rumor of Axl having children, having them bombard the internet with the queries of his son and daughter. 
Axl has had many relationships, but he has never had any children. Adding on his life today, he is single and hasn't been dragged into any controversies for quite a long time.