Music
Let's Take a Look Inside Beenie Man's Big Family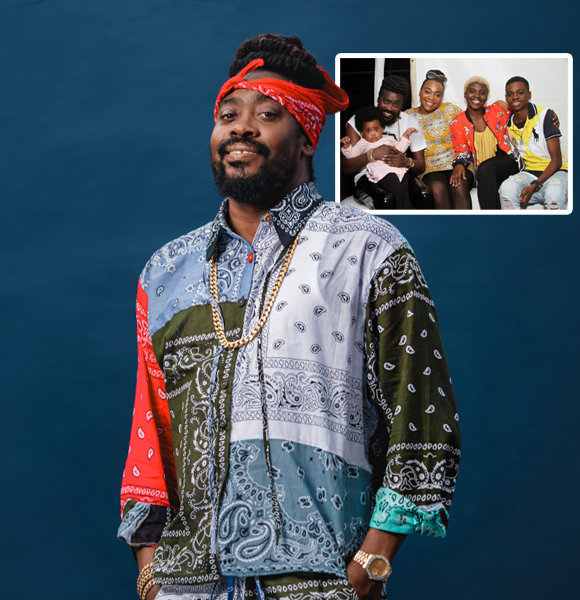 As much as deejay Beenie Man's craft excites people, his fanbase seems equally intrigued to learn what goes on inside his big family with twelve children.
Let's take a look at the loving father's large family.
Beenie Man's Children
People these days are scared to raise a child because of the expenses. But this isn't the case for Beenie, the father of twelve children. 
Beenie, age 48, hasn't revealed all the mothers of his kids; however, some of his baby mamas are renowned personalities.
On Mother's Day in 2022, Beenie took his social media to thank all his children's mothers for giving birth and raising them with love.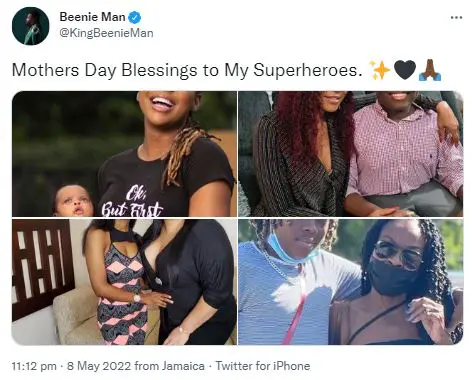 Beenie wished his baby mamas on Mother's Day. (Photo: Twitter)
Besides being the father of twelve children, he is also a grandfather to his first daughter Desha Ravers's child.
Beenie and Carlene Smith, former dancehall queen, are parents to Crystal Davis. 
He was married to his ex-wife, Michelle Downer, also known as D' Angel, and shares a son Marco Dean Davis.
Interesting: Darryl Stephens on Raising a Child Alongside His Partner
Krystal Tomlinson is the mother of his youngest child, a daughter named Xiah Amina.
His other kids' names are Moses Davis Jr., Ashley-Jade Davis, Mosiah Davis, Maiya Devis, and Ikera Davis. His remaining three kids' names are not revealed yet.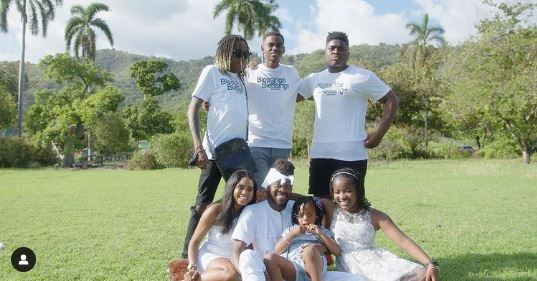 Beenie hangouts with his six children. (Photo: Instagram)
Beenie makes sure to look after his kids even if he is unable to devote all of his attention to them. In addition, he keeps in close touch with his baby mamas.
However, Beenie doesn't have any child with his current girlfriend. 
Beenie is currently in a relationship with Camille Lee, a British businesswoman. The couple started dating around November 2021 and has been going strong.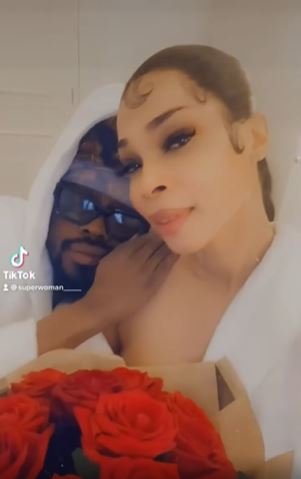 Beenie celebrates his girlfriend Camille Lee's birthday. (Photo: Instagram)
Looking at Beenie's social media, he enjoys a wonderful and romantic time with his current partner. 
Beenie and Camille had known each other for more than two decades, and their love flourished after Camille divorced Cawka Lee. 
Explore: Elpidia Carrillo's Happy Married Life and Net Worth
Beenie Man's Net Worth 
Beenie, whose real name is Anthony Moses Davis, was born on 22 August 1973 in the Waterhouse district of Kingston.
His uncle Sydney Knowles, who played drums for Jimmy Cliff, served as an inspiration to him and helped him develop a lifelong passion for music.
When he was just seven years old, he collaborated with music producer Henry Junjo Lawes to make his debut single, Too Fancy.
You May Like: What Is the Relationship Between Robert Duvall and Shelley Duvall?
Beenie's music career was held for some years to complete his studies. However, he came back in 1990, where he earned popularity following a 1992 appearance at the Reggae Sunsplash festival.
The Blessed album singer, who stands at a height of 5ft 9 inches, has made a whopping net worth with his career. 
Many factors contributed to his wealth, like his concert, sales of his music albums, and especially his songs on several online platforms with monthly listeners in millions.
According to Celebrity Net Worth, Beenie Man has accumulated a net worth of $4 million which will undoubtedly increase in the future.