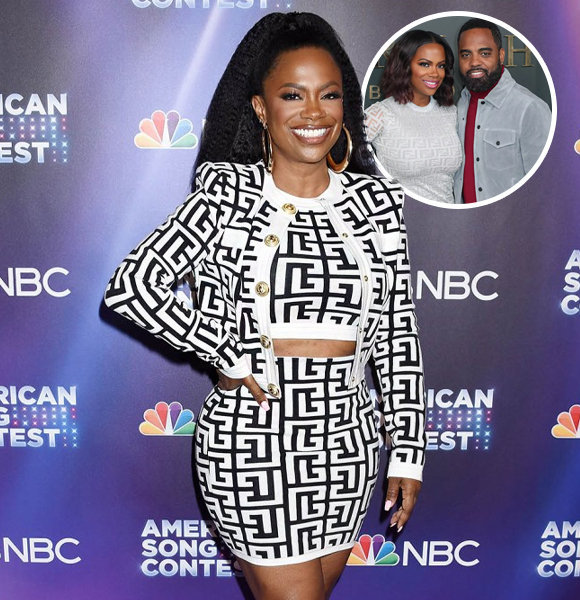 'The Real Housewives of Atlanta' star Kandi Burruss wrote, "you were the perfect man for me. I'm a better me with you! 😘❤️ 8 years down & a lifetime to go!" celebrating her eighth wedding anniversary with her husband. 
Kandi, who is known as an actress, singer, songwriter, and producer, has had a remarkable run in her professional career and personal life.
Kandi Burruss's Husband and Kids
Kandi has been leading a wonderful life with her husband and kids. 
She is married to Todd Tucker, an entrepreneur, producer, and production manager. The couple first met in 2011 on the set of 'The Real Housewives of Atlanta,' where Todd was the production manager. 
The pair started dating, and after two years into their relationship, Todd proposed to Kandi in January 2013.
You May Like: Darryl Stephens on Raising a Child Alongside His Partner
Kandi and Todd didn't delay getting married, and after getting engaged for three months, the couple had their wedding surrounded by their close friends and family.
According to Kandi, her big day was the wedding of her dreams.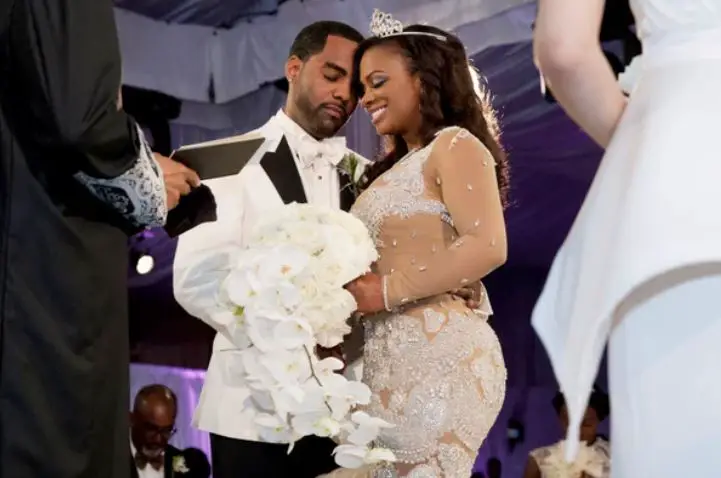 Kandi with her husband on their wedding day. (Photo: Essence)
The couple have welcomed two kids into the world, a son, Ace, and a daughter, Blaze.
However, Kandi and Todd both have children from their previous relationships. Kandi's daughter Riley and Todd's daughter Kaela. All six of them get along well.
But it seems like there is going to be another member added soon. Is Kandi pregnant?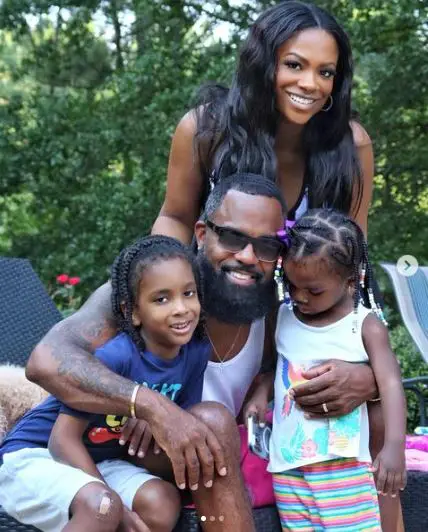 Kandi with her husband and kids. (Photo: Instagram)
Kandi being pregnant is just a rumor, and she once said that she couldn't have a baby naturally. 
In one of the People's 'Me Becoming Mom' podcast episodes, Kandi shared her pregnancy journey. 
Kandi and her husband, Todd, already had children from their previous relationship; however, they wanted to have their own kids.
So after trying for a few months and not getting a positive result, the husband and wife went for a check-up, finding out about their pregnancy issues.
Know About: David Avery Is a Father! A Look Inside His Family with Wife and Daughter
Nevertheless, they conceive their first son, Ace, with the help of IVF. They wanted another child, but it was difficult for Kandi's body, so the couple took the process of surrogacy. 
Kandi shared how she worried about people judging her and the possibility of not being attached to her baby. But after welcoming her baby girl, Blaze, to this world, she knew everything was worth it.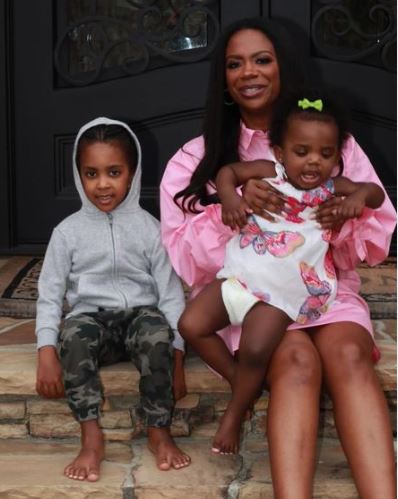 Kandi Burruss with her son and daughter. (Photo: Instagram)
After her experience with surrogacy, she clearly has said, "Parents who welcome babies via surrogacy are just as valid as parents who carry."
As a dotting mother, Kandi has perfectly balanced her profession and personal life. 
What Is Kandi Burruss's Net Worth?
Kandi was born in College Park, Georgia, on May 17, 1976, to parents Titus Burruss Jr. and Joyce Jones.
At age 15, she made her TV debut on BET's 'Teen Summit.'
She has been active in the entertainment industry for more than three decades. 
Besides acting, she has also written songs that have received Grammy awards, including Bills, Bills, Bills, and No Scrubs.
Fing Out: Matthew Gravelle, His Wife and His Life Alongside His Family
With her talent, she sure has amassed a huge net worth. 
According to Celebrity Net Worth, Kandi has accumulated a net worth of $30 million with her acting and music career. 
She also makes money from her shows, 'Kandi and The Gang' and 'Black Love.'
She mostly earns from 'The Real Housewives of Atlanta,' in which she is paid $2.3 million per season.
Kandi lives a comfortable life with her family of four in her $1.7 million Atlanta mansion.