Entertainment
Everything You Need to Know about Cris Collinsworth's Eye-Widening Net Worth
From having a career as a football player to later shifting his role to a sportscaster, Cris Collinsworth's impressive professional ride has garnered him a hefty net worth allowing him to live a lavish life alongside his family.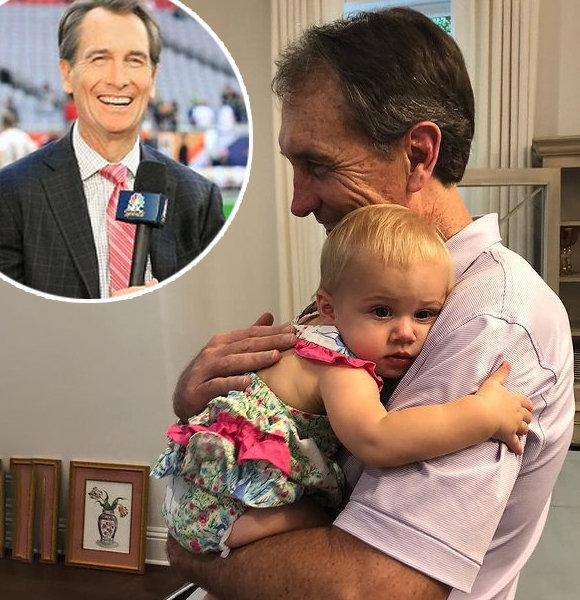 "The one thing I learned from five years of law school is that I definitely didn't want to be an attorney," said sports broadcaster Cris Collinsworth, talking about how he made sports his career path. And his career choice could not have been more right.
Recognizing his inclination and following it with utter dedication from the start has established his name amongst the profound sports broadcasters in the country. At the same time, his success screams through his impressive net worth.
Cris Collinsworth's Mind-Blowing Net Worth
Before he made a big name as a sports broadcaster, he was already a well-recognized personality as an NFL player.
Standing at the staggering height of six foot five inches, his physique was as dominating as his gameplay in the arena.
His attention-grabbing skills persisted since high school when he was granted the title of high school All-American quarterback.
Continuing to harness his football abilities, he played college football with impressive stats that later got him into the NFL.
With several accolades under his belt as a college football player, he was quickly noticed by the NFL team Cincinnati Bengals, drafting Cris as a second-round pick in 1981.
Signing multi-million dollar deals with Bengals over the span of seven years, the former football player retired from the NFL in 1988.
Get to know - All About Stephen Silas's Wife, Children, & Impressive Salary
Already having been at the top of his game as an athlete, it did not take too long for Cris to prove his dominance in the studio as a sports broadcaster.
But since his broadcasting career has hit the roof garnering him even more success than as an athlete, Fred Gaudelli, NBC's executive producer, once told,
He's not an ex-football player doing television. He's a television broadcaster who happens to be an ex-football player. He made it a point to really study, understand and become proficient in the job of broadcasting. And not every ex-pro athlete is able to do that.
As per the report by CelebrityNetWorth, Cris is expected to have amassed a generous net worth of 20 million dollars as of 2021.
The report further illustrates Cris's annual salary as a broadcaster to be 4 million dollars, making him one of the top-earning broadcasters in the country.
Currently working as the sportscaster for the NFL Network, NBX, and Showtime and also as a podcast host of his show The Cris Collinsworth's Show, his professional journey has hailed him with the level of success that only a few have achieved.
But besides his astounding vocation, he is a blessed man with a prosperous family whose support has immensely assisted in his professional success.
More on - Shawn Marion Pours Out His Heart To His Son Through An Instagram Post
Cris Collinsworth's Family
Cris's relationship with his wife, Holly Bankemper, dates back to his college day at the University of Cincinnati, where both earned law degrees.
Having dated for a few years, they tied the knot in 1989, and their marriage has been smooth sailing to this date.
Cris Collinsworth and his wife, an attorney, are parents to four wonderful children, Austin, Jac, Katie, and Ashley, who excel at their respective professions.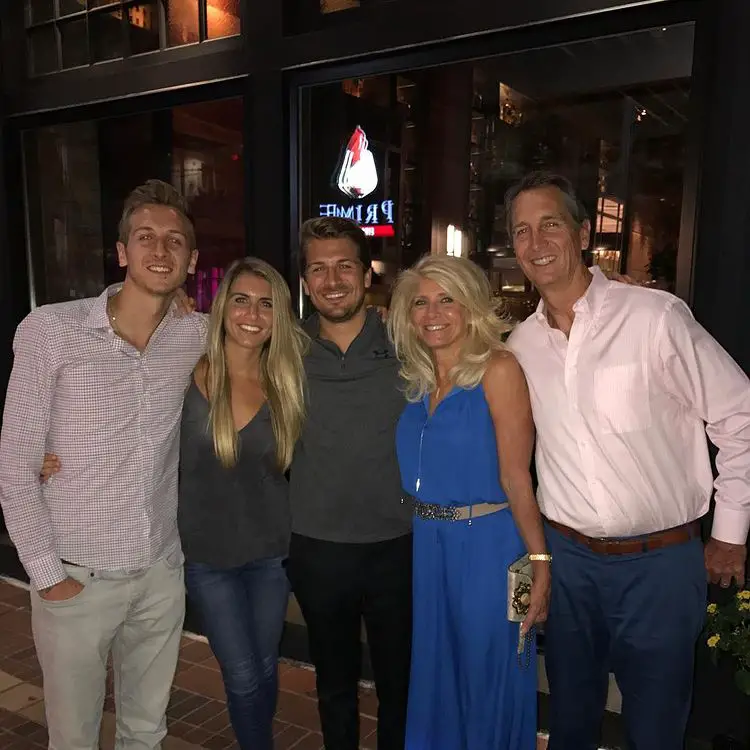 Cris Collinsworth with his family (Source: Instagram)
Following in the footsteps of Cris, his youngest son Jac later took up their vocation in sports. Jac is currently working as a sports broadcaster for ESPN while Cris's son Austin explored his athletic side during his time in college. 
Due to some injuries, Austin could not continue his journey as an athlete. However, he has an admirable career as an investment director at Pro Football Focus.
Likewise, Cris's daughter, Katie, works in the media as a manager for GolfNow, a Golf Channel show. On the other hand, Ashley, who earned a degree in psychology, works as a sales coordinator.
The proud father is pretty transparent about his family moments with thousand of his followers on his socials. More so, as his Instagram posts suggest, his family expands with the addition of his grandchild.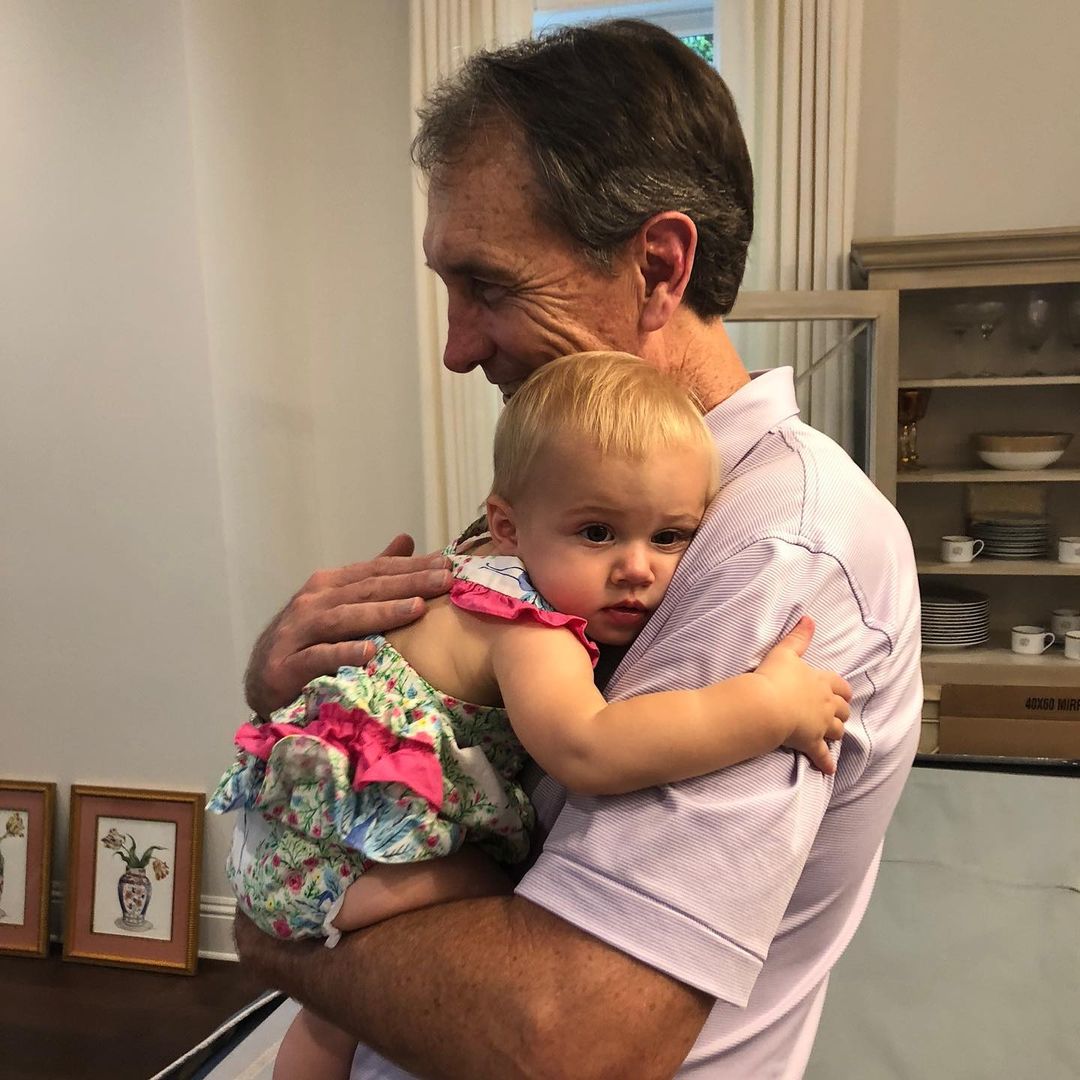 Cris with his grandchild (Source: Instagram)
Sharing his proud grandfather moment on his 'gram, he took to social to share a heartwarming picture with his grandchild, adding it with a caption that read,
Grandpa duty is one of the greatest joys of my life.
Life is indeed treating him well in every way possible, and it clearly shows through his social media presence and professional accomplishments.