Sports
How Did Ernestine Shepherd Cope Up after Her Husband's Passing?
85-year-old American bodybuilder Ernestine Shepherd is truly an inspiration to people all over the world. 
Her love for fitness and living a healthy, happy life is truly exciting to see, and her radiating personality goes on to add to her already strong persona. 
Ernestine is one of the oldest competitive female bodybuilders, for which she now holds Guinness World Records. 
The bodybuilder has time and again shown and proved with her persistence that age is actually just a number, and all it takes for one is immensely hard work and extreme tenacity to achieve one's goal. 
She has lived a wonderful life, and along the way, she has earned a lot of respect and love. But one thing that stands way above it all is the love that she shared with her husband. 
Married for over six decades, Ernestine and her husband's relationship is truly exemplary.
Who Is Ernestine Shepherd's Husband?
In our previous article, we covered her diet plans and fitness regime but let us today go through Ernestine's precious relationship with her late husband. 
Yes, sadly, Ernestine lost her long-time love not very long ago. She and her spouse had one child with whom they lived in Baltimore, and reportedly the two also had a grandson back in 2011. 
She was married to her husband, Collin Shepherd, for 67 years. Their love was truly pure, and the two were together till the very end.
Read More: Hilton Als Talks about How His Relationship Went South
Unfortunately, her spouse passed away in September of 2019, and all the while they were married, nothing in the world could make them apart.
"Till Death Do Us Apart."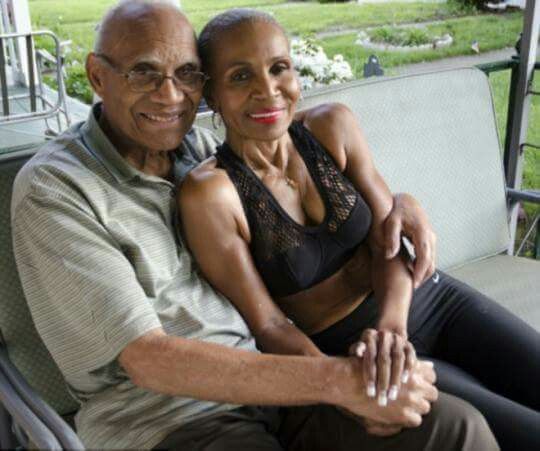 Ernestine Shepherd with Her Late Husband (Source Pinterest)
The only thing that separated the two was something inevitable and uncontrollable, death.
But we remember her spouse Collin Shepherd as the humorous guy he was, who talked about how hard it was to keep guys away from his wife during an interview with Daily Mail. 
54, at the time, Collin shared about how he had trouble keeping guys away from his gorgeous wife. 
Collin passed away in 2019, and Shepherd struggled with anxiety once again. The first big loss was Shepherd's sister, Mildred Velvet Blackwell. 
The sister duo started their fitness journey in their 50s, but sadly only a year later, her sister fell ill and died from a ruptured brain aneurysm. 
The promise she kept with her sister to continue working on their goals is a promise that the bodybuilder has fulfilled and still works on to this day. 
After her sister's passing, she became mean and shared how she "hated everybody."
And the passing of her husband was like ripping off a bandaid, but her way of dealing was completely different this time. 
Head To: Jesseca Dupart Marries Her 'Twin Flame' Wife, New Baby on the Way!
"After that, I started suffering with my anxiety again," she says. "I wasn't mean and nasty but I didn't know how to cope without him. We had been together 67 years," She shared. 
Despite any and every grief, Ernestine has moved forward, and it truly is an inspirational thing to witness. 
For someone who has been through so much in life, Ernestine Shepherd is one of the strongest people we have ever covered in our magazine, and her story will go on to inspire many.