Celebs
Janaya Khan's Partner No Longer in the Picture? Did They Break Up?
The Black Lives Matter Ambassador, Janaya Khan, also known as Future, is a social activist who has raised their voice regarding black and queer people. 
Black transgender Janaya prefers not to identify with a particular gender.
Involvement in activism made it possible for Janaya to meet their partner. Are they still together? Let's find out. 
Janaya Khan's Partner
Janaya and their partner, Patrisse Cullors, also an activist, met in June 2015. According to Patrisse, she shared that meeting Janaya was an instant connection. 
For Patrisse, she felt sure she and Janaya would make a perfect match. So soon after knowing each other, they got married in 2016. Their wedding ceremony was accompanied by their close and loved ones.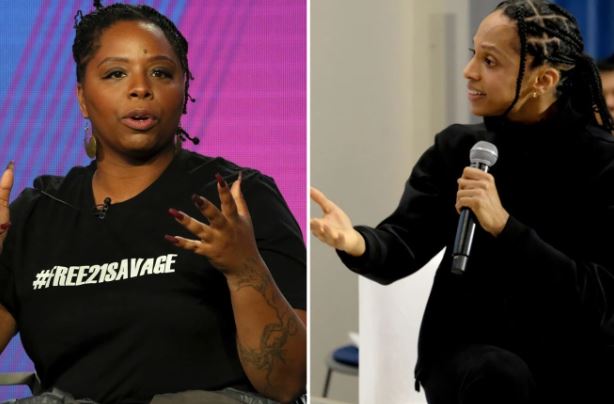 Janaya Khan and their partner, Patrisse Cullors. (Photo: Ths Sun)
Both of them haven't given many details about their marriage and prefer to keep their personal life away from the spotlight. 
The couple didn't wait too long to become parents. Though they haven't shared the baby's gender, Patrisse did share her complicated pregnancy. 
Patrisse had always dreamed of becoming a mother and starting a family independently. Despite being aware of the high risk of pregnancy, she carried their baby, Shine, fulfilling her dream.
Interesting: Openly Gay Actor Nicco Annan Talks about His Portrayal In P-Valley
The activist was prepared to go into labour in her home, but because of certain circumstances, Patrisse had to go for a c-section. 
The couple was not given enough information regarding the complication that a mother can have after a c-section. 
After welcoming their baby Shine to this world and going home, Patrisse suddenly became very sick and was in so much pain.
Again, she had to visit the hospital, where she got diagnosed with pneumonia. 
No one warned the pair that it was very common to get pneumonia after a c-section. 
As they were dealing with the new arrival and their illness, Janaya and their partner got a phone call from their doctor and learned that Patrisse might have a blood clot.
Again having a blood clot after a c-section was also quite common.
Patrisse described her experience in a Moms Rising blog and said that while she was fortunate to survive, many black women haven't due to a lack of information.
Although Janaya and their partner haven't revealed many details about their child, The Sun claims they have two kids together.
However, after going through many hurdles together, the couple could not make their marriage work.
Though they haven't spoken about it, Janaya revealed they and Patrisse had separated during an Instagram Live in April 2022.
Even though their journey didn't go as planned, they still work and fight for what they believe in.
More on Janaya Khan
Janaya, date of birth 1987, was born in Toronto, Canada, to a parent's Trinidadian father and a British Jamaican mother who moved to Canada.
Future's parents are of different races and possess a mixed ethnicity. 
Janaya has been fighting for Black rights since they were a teenager. As a result, she became well-known by the name Future, given by her followers. 
You May Like: Kevin Clash's Married Life and Struggle with Sexuality
Besides activism, they also did boxing. 
At age 35, they rose to prominence by becoming the voice of the voiceless.
Janaya hasn't shared details about her net worth as a private person. But judging by her accomplishments, she has certainly accumulated a sizable fortune.