Entertainment
Inside Notoriously Secretive Life of Jonathan Taylor Thomas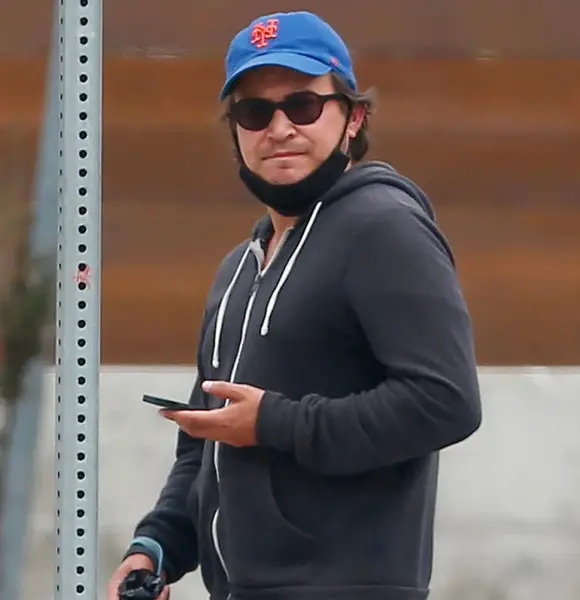 The 90s heartthrob Jonathan Taylor Thomas, who was able to steal the hearts of many at a young age with the portrayal of Randy Tylor in Home Improvement, suddenly stepped away from the limelight, rarely taking any films or TV series.
He has kept his personal life super low-key which kept everyone guessing what is going on in his life. However, he was once rumored to have a wife. Did he really get married?
Does Jonathan Taylor Thomas Have A Wife?
Jonathan has always remained unaffected by spotlights, despite making an unforgettable mark in the entertainment industry as an actor in the TV series Home Improvement.
His carefree nature also reflects in his dating life that he usually prefers to keep away from the media's prying eyes.
But, despite trying to keep his love life low-key, the news of his engagement somehow escaped into the media, and it took no time to spread all over the gossip sites.
The rumor came to light in 2007 that Jonathan was engaged to his girlfriend Natalie Wright, an author. Some of the sites still claim Natalie as his wife and about them getting married in private. But before the couple could get married, Jonathan and his could-have-been wife parted their ways the same year they were rumored engaged.
We can't be sure if the rumors are true or not because neither Jonathan nor his supposed wife Natalie came up denying it or accepting it. 
Besides the rumor, the actor has never once made it into the limelight for his relationship update. So we are guessing that Natalie never got around to becoming his life. More so, his social media absence also makes it hard to track down his personal life.
However, he did become a matter of discussion for his sexuality in the past. As Jonathan unhesitantly portrayed gay characters on-screen, many assumed him to be gay. But addressing the rumors, he once commented,
I wasn't going to pass up an opportunity to play these great roles merely because of rumors.
His response to the spirling speculation cleared the confusion suggesting he is not gay.
Living a life away from any attention is probably serving him well as he says he doesn't 'regret walking away from fame.'
Love life of - Inside Yung Lean's Low-Key Love Life
Walking Away From Fame
Talking to People magazine in 2013, the Home Improvement actor said,
I never took fame too seriously.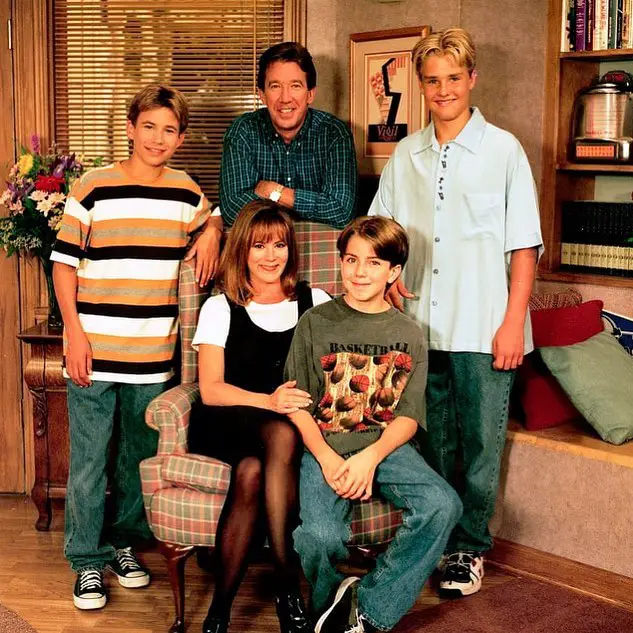 Jonathan Taylor Thomas(left) with the cast of Home Improvement (Source: Instagram)
Indeed it shows through the distance he has maintained with exposure over the past years. While people looking for a career in entertainment usually crave fame, Jonathan was just the opposite.
Having been in Hollywood since the age of eight, he gave several years of his childhood to acting. But rather than public attention, living a regular life, going to school, traveling, and taking breaks, excited him more. He stated,
To sit in a big library amongst books and students was pretty cool. It was a novel experience for me.
While he was not much into acting, the actor also wrote scripts and directed for a while. He admitted to having had a great time while at the peak of his acting career but never regretted taking a break to continue his education.
More on - Know What Tate McRae Has To Say About Relationship
More On Jonathan's Family
Born in 1981, Jonathan's parents are Claudin and Stephen Weiss. However, the actor's parents divorced while he was young.
Jonathan, age 40, carries German and Portuguese heritage from his parents' side. Standing at the height of five feet six inches, the actor's charming looks had many falls for him, but his disappearance from Hollywood for almost a decade also had people thinking he was dead.
Amid his death rumor, Jonathan was once photographed walking his dogs out. And it was the first time in several years that he was spotted out in public. Well, his appearance might have settled the death rumor he was surrounded with. But still, the actor lives a notoriously private life keeping away from the media.
Jonathan Taylor has vanished entirely from the spotlight, leaving us with very little information. However, we can be sure that he does not have a wife. Instead, he is living his life happily with his dogs. We will keep you updated on Jonathan Taylor Thomas's life. Till then stay tuned.