Katie George's impressive career achievements that led her to become a part of ESPN, entitling her to a hefty salary, is worth looking at.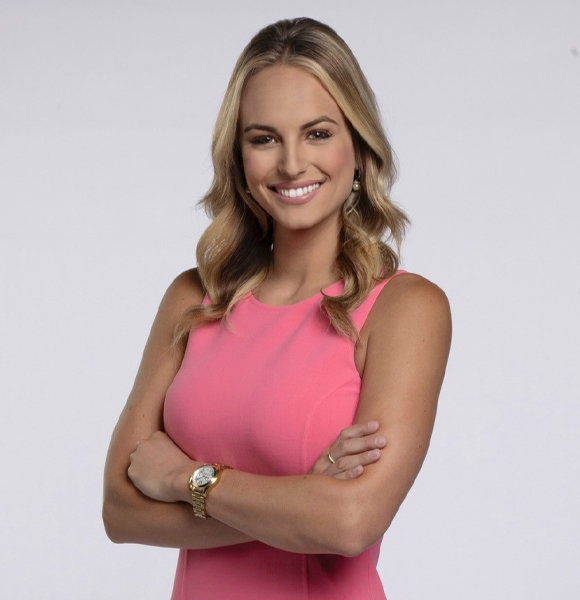 From having a background as a notable volleyball player to being an ESPN sportscaster, Katie George's career has only climbed higher with each passing year, and so has her salary and net worth.
Having an already impressive resume prior to her broadcasting career, her affiliation with ESPN is more like a cherry on top of her excelling professional life. 
Katie George's Journey To ESPN
To begin with, Katie's popularity dates back to her school days when she was one of the sought-after volleyball players.
Her impressive volleyball skills have been predominant since her high school days at Assumption High School. Playing for the volleyball team at the school, Katie even secured the title Prep Volleyball's National Player of the Year.
She continued her passion for the game to her college as well. Enrolling into the University of Louisville, she played for the women's volleyball team Louisville Cardinals.
Having played volleyball throughout her college years, she was bestowed upon the 2015 ACC player and setter of the year. The same year Katie graduated from the university with a degree in communication and sports administration.
Another prestigious title she won the same year was Miss Kentucky USA 2015.
Yes, she is a beauty pageant titleholder too. However, the all-around talent halted her volleyball career as soon as she graduated and explored her potential in broadcasting.
WDRB initially hired her as a reporter. Later she went to Fox Sports Wisconsin for 2018-19 NBA season coverage of Milwaukee Bucks.
After ending her reporting at Fox, she joined ACC Network in 2019 and contributed to several coverages as an ESPN sportscaster. Talking about her journey with the network, she said,
My hope is, being a former Olympic sport and female sports athlete, I want to be able to share those stories within the ACC as much as I can. I think that's what was interesting and intriguing about me to the ACC Network when they were looking to hire talent.
What Is Katie George's Salary?
Already headed towards a promising direction with her brilliant reporting at ESPN, she does not seem too far from being one of the dominant reporters at the network.
While a bright future awaits her, she is already making big bucks considering her years of expertise and dedication to her work.
More on - All About Stephen Silas's Wife, Children, & Impressive Salary
Analyzing the average salary range of a reporter as shown by several sources, Katie George supposedly has an annual salary of around 50 thousand dollars.
Moreover, being a famous tv personality, she is often seen endorsing brands through her social media accounts, which adds up to her impressive net worth.
Blessed with a prosperous career just at twenty-seven, Katie is undoubtedly an inspiration to many, and with her flourishing love life, her life could not seem more perfect.
Personal life of - Arlette Saenz's Low-Key Love Life
More On Her Personal Life
If you are unaware, Katie George, age 27, is already off the singles list and is soon to embark on a new adventurous chapter in her life.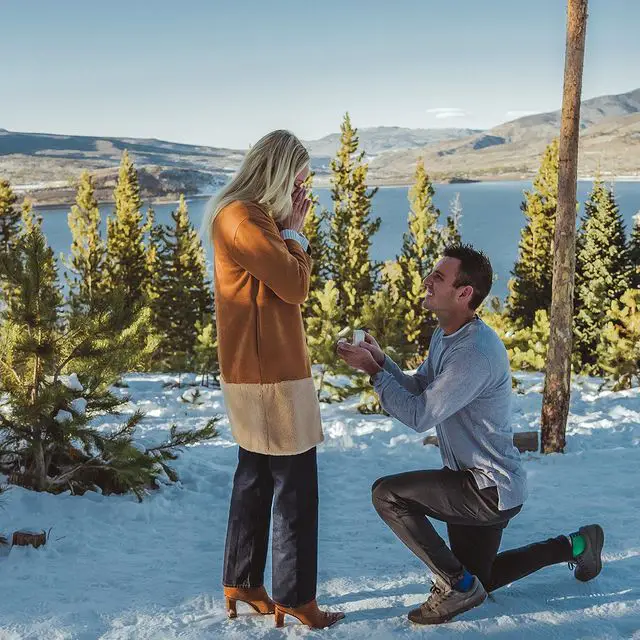 Katie's boyfriend proposing her (Source: Instagram)
In 2020, her longtime boyfriend, Paolo John Prince DelPiccolo, asked her the big question with a ring on his hand.
And, for the surprise proposal, Katie's beau picked a breathtaking location, with snow-filled hills and spectacular scenery, which perfectly added the romantic element to the proposal.
Katie and her beau have maintained a low profile regarding their live life since the proposal. But, though they are yet to announce their wedding, it does not seem too far. So, let's just hang in there and watch the pair's socials closely, as the next big news might drop anytime soon.