Entertainment
Lucas Bravo REVEALS What His Ideal Girlfriend Should Be Like
Emily in Paris star Lucas Bravo finally reveals his dating status and his ideal girlfriend type. So, what qualities is he looking for in his girl?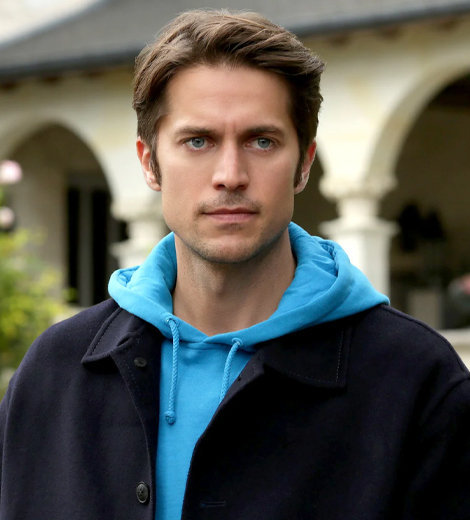 When the Netflix hit Emily in Paris was released in 2020, the fans went crazy over the irresistible charm of French actor Lucas Bravo who plays chef Gabriel in the series.
Soon his Instagram followers peaked from a few thousand to over a million while the google searches on his name skyrocketed.
The newly emerging actor is under the radar of his global fanbase, enthusiastic enough to crack down on every little detail of the heartthrob. And obviously, one of the most intriguing aspects of the actor his fans are eying on is his dating life.
And, the Emily in Paris star is there to save your day, answering all your questions regarding his love life.
So Lucas Bravo Has a Girlfriend?
Reading this will probably put all the hearts, crushing over him, at ease. No! The French charmer does not have a girlfriend, nor is he known to have a wife.
To tame the curiosity of his fanbase, the actor came forth talking about his dating life and revealing what his ideal girlfriend would be like.
In an interview, October 2, 2020, when Emily in Paris was first released, the rising star played the Inappropriate Questions segment with Glamour, where he checks off all the questions touching his love life and more.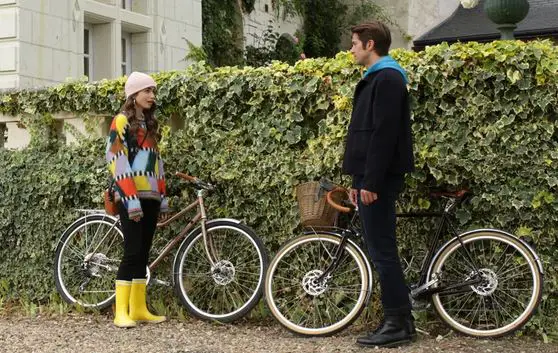 Lily Collins and Lucas Bravo in a scene from Emily in Paris (Source: Glamour) 
The first one on his love life was the direct query if he had a girlfriend, to which he openly replied that he didn't. So, yeah, he is up for grabs for those who meet his ideal girlfriend specification.
But, he has a set of boundaries. His dating rules do not allow him to date his costars. Stretching on his opinion on dating a costar or a fan, the actor said,
I have this rule about costars. Once you step on set, it's a workplace, and I want to keep it professional…And a fan? I don't really have fans, so I don't know. [Laughs.] That is a question I will maybe answer some other time.
Well, it's for us to see if he ever breaks his dating rule. But for now, Lucas seems to be still waiting for his future girlfriend, or let's say his potential future wife.
While he waits for his girl, he spares his fans with answers that somewhat describe what he would be looking for in his ideal partner.
Jumping onto another question in the interview, his swoon-worthy answer about his partner's action he would find lovable will probably give you jitters. Well, the reply was, 
There are so many possibilities. I love when my partner wakes me up in the morning with cuddly, tender…just a sweet wakeup is the best. Kisses on the neck and all that kind of stuff.
That's not all. The French heartthrob also mentioned 'communication' as the 'biggest deal-breaker' in a relationship. He said that he does not like when a person runs away from communication, and to him, it is 'the basis of everything.'
Indeed communication is the foundation of a relationship. The actor could not have been more right about it.
But lately, the actor has been rumored to have a girlfriend. So, who is she?  
Get to know - All You Need to Know about Miranda Rae Mayo's Personal Life
Lucas's Dating Rumor
Well, his rumored girlfriend is none other than Portuguese actress Alba Baptista who is currently working with Lucas on the film Mrs. Harris Goes to Paris.
The movie will be released in 2022, but the couple is already under the public radar for their alleged relationship.
As reported by a gossip site, the rumor probably started after the couple was seen posting their pictures together, enjoying some vacation time.
While the weekend trip might have been just a friendly getaway, the stars' fans seem to be reluctant to believe they were on a romantic trip.
But as Lucas mentioned about his dating boundaries in his interview with Glamour, i.e., no dating with his costars, the two are probably not dating.
But their fanbase would love to see their chemistry come to life outside the cameras as well.
As we are yet to see their on-screen chemistry, judging Lucas's amazing portrayal in Emily in Paris, the upcoming film is sure to be another treat to his fans.
Get to know - Vincent Regan Confirmed as a Cast on "Aquaman And the Lost Kingdom"
Lucas Bravo in Emily in Paris
Lucas has actively been in the entertainment industry since 2013. But it was not until 2020 that he garnered substantial attention, and that breakthrough was brought about by his role in the American drama series Emily in Paris.
The 2020 released series has lead actress Lily Collins portraying the character Emily, while Lucas plays the love interest of Emily.
The series has already finished airing its first season. After receiving lots of love from the audiences, it is back with another season, currently airing (2021) on Netflix.
As Lucas's popularity is skyrocketing through his role in Emily in Paris, his fans will probably see him on screens often with greater roles in the future.