Music
All on Mick Thomson's Married Life With His Wife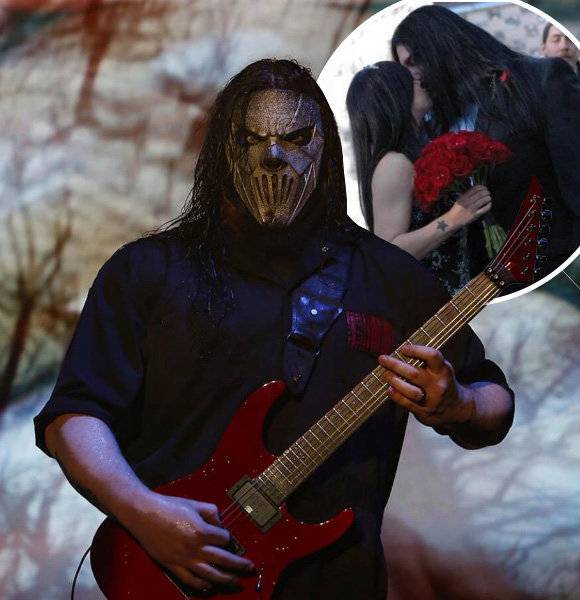 Mick Thomson, who is notable for being one of the guitarists in Slipknot, joined the heavy metal band in 1996. Ever since, life has rewarded him with a never-ending career and, along the way, his loving wife. 
The heavy metal musician sports his black leather gimp mask, which (honestly) makes him look quite intimidating but looking further into his personal life discloses a side of him that many don't know exists. 
Mick Thomson's Wife
The Slipknot guitarist might have a hard external when it comes to his appearance, but he is a softie at heart when it comes to love. 
Mick does not post much about his personal life, but yet we have found just the perfect way to know it all. 
How?
Well through his wife, Stacy Riley. Riley is never short on expressing her love to her beau through her social media.
Thomson married his wife Stacy Riley back in 2012, and the two celebrated their 9th anniversary recently on October 05, 2021. 
Noticing and celebrating the wonderful day, Riley took to her Instagram account to post a beautiful Simpson art of the two alongside their two cats and wrote, 
"Today is 9 years married and I wake up happier every day. I tell Mick all the time that I know how lucky I am. "
Thomson later concluded the caption by writing that he was her "perfect match."
Indeed! The two just look adorable with each other, even when Mick stands alongside her with his mask on. 
Another Spliknot Member : Shawn Crahan Hefty Net Worth At Age 49! Mask History & Family With Wife
This is just one of the few instances where Stacy shares how lucky she is to have him in her life, and well, Thomson is one lucky man himself.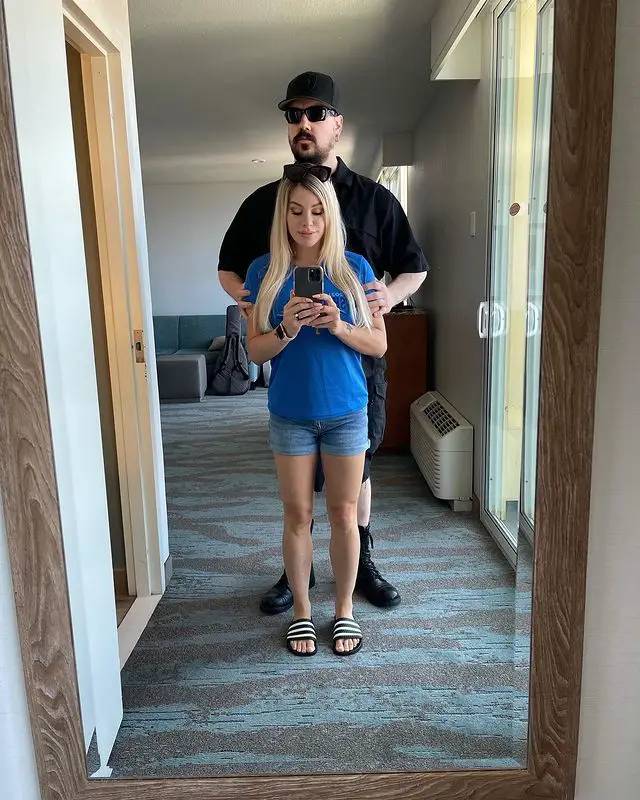 Mick Thomson Alongside His Wife (Credit to Stacy's Instagram)
The two met in the 2000s, so their love dates back to decades now.
Stacy also shared the first-ever picture that the two took together but never mentioned any dates; however, in another post, she shared a picture which dated back to 2007/08, one which she captioned with, 
" Uhhh so many memories and so many great years. We built so much together for so long. "
Therefore, it is no doubt that the two dated for a while before starting a new chapter in their life. A new chapter that started with them getting engaged first, back in 2011. 
The two got engaged on 3rd March 2011 and got married a year later.
Although the world knows of Mick, very few are aware of his wife's life. 
Well, what are we here for?
Who Is His Wife?
Stacy Riley is undoubtedly one charming woman. Her blonde hair (she was a brunette before) and deep black eyes, along with her charming smile, are purely magical. 
But Riley in not the only one who shares these traits. Her sister Megan has quite a common appearance with Stacy as they are twin sisters. 
As evident by her social media, Stacy seemingly is very close with her sister, as her sister has few to many appearances on her Instagram.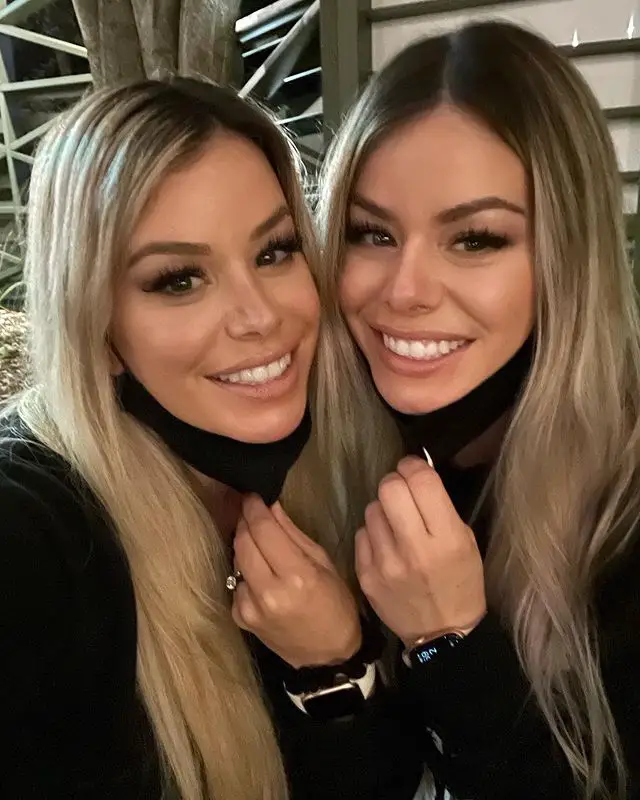 Stacy Riley with Her Twin Sister (Source - Stacy's Instagram)
Nevertheless, these two sisters, or The Metal twins, as they call themselves, look wonderful together (well, a compliment for one is for the other, right?)
Riley is heavily invested in fitness and workouts, and she is never short on sharing every detail about her fitness goals on her official fitness handle. 
She posts all on her diet and fitness journey on the page.
Keep Reading : Corey Taylor's Son Makes First Move In His Professional Career
Moreover, she also has a YouTube channel where she started posting back in late 2018, and after a gap, she is back to posting it again. Her recent YouTube videos are mostly reposts of her TikTok videos. 
The two do not have any children together, but by the looks of it, they have their own little world and family (as each other along with their cats) that gives them much content and happiness.