Celebs
All on Omari Hardwick's Personal Life & More
The super handsome 'Army of the Dead' actor Omari Hardwick has come a long way in the industry. 
From roles in movies such as 'The Guardian' to series as 'Pieces of Her,' Hardwick's versatility is truly a class of its own. Whether it be his astounding portrayals or intriguing tattoos on his body, the actor has remained his admirer's favorite. 
And, blessed with all the fame, he never forgets to credit his parents for all of the achievements he has experienced throughout his career. 
However, as much as his professional life has seen its glory, his personal life has experienced its share of losses. 
Omari Hardwick's Parents
Omari Hardwick was born to his parents Clifford Hardwick IV and Joyce Hardwick. 
The actor who came into the industry in the 2000s gained significant recognization after his roles in 'Saved' and 'Dark Blue.'
 His father was an attorney, and his mother was Catholic. Belonging from African-American ethnicity, he was raised in a Christian household. 
He has also shared how his mother raised him as a "God's child" and taught him first to walk a mile in his "own shoe" and when he gets strong enough, "maybe run two."
But Hardwick grew up with parents who had quite a contrasting opinion on using his gift of talent and possibly being a big name in the future. 
While his father advised him to flaunt his gifts, his mother wanted him to keep things lowkey.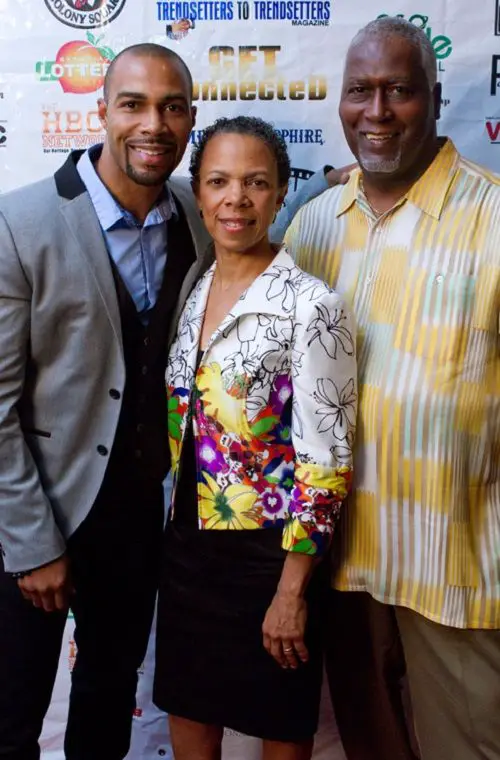 Omari Hardwick with his Parents (Source Pinterest)
In an interview with Ebony, he shared how his parents had different views while advising him for the future. He said, 
 My father would say to never apologize for the gifts you are given, but I had a Black Catholic mother who came with the guilt that comes with that.
He used both of their advice and walked towards the road to success, which reflects through his outstanding career. 
Belonging from an African-American ethnicity, it is no doubt that he is very proud of where he has come from and how far he has come.
Get to know - Maitland Ward's Husband's Support through Her Career Change
However, this stunner had had to endure some tough times when he wanted to marry his wife, Jennifer Jaw Pfautch. 
When the actor and his wife had decided to start a new chapter in their lives with marriage, his wife's family did not agree with the relationship as it was an interracial relationship. He and his wife both hold American nationality. 
Nevertheless, he stood up for his love and now has three kids with his wife and lives quite a happy family life. 
But all of this sunshine in his life has come after a few roadblocks. As much as he has gained in life, he has also faced loss.
Losses In His Life 
Now a prominent figure in the industry, Hardwick has endured some harsh storms in his life. He grew up alongside his parents and his siblings.
He has two brothers, Jamil Hardwick and Malik Hardwich, and a sister Shani Hardwick. 
Sadly, he lost two of his siblings, a brother, and a sister, and during the same time, he also lost a child back in 2008. 
In 2014, he shared the pain he was feeling of losing a brother, sister, and a son all within the period of three years. He wrote, 
"I thought it was ugly losing my son. I thought it was ugly losing my brother at 45 & sister at 33. All within 3 yr span. Ugly of HATE is"
Moreover, in 2018, he also lost his grandfather at 91.
While life has through many roadblocks and challenges at him, Hardwick has stood strong through it all and has proved that he is as strong as a lion. 
He now lives quite a busy life both personally and professionally, giving him much content and happiness.