Music
Simon Le Bon's Daughters Refuse to Leave Home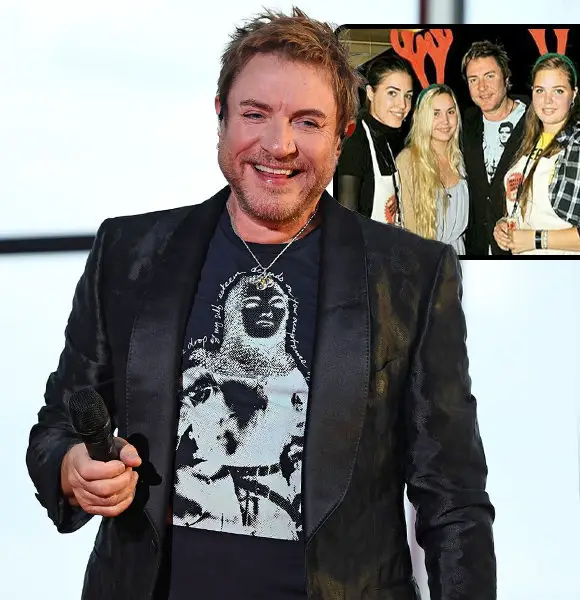 Simon Le Bon is undoubtedly a wonderful singer, but he is not just limited to that. The talented singer is also a wonderful husband and a doting father. 
His journey through fatherhood has been so rewarding that his daughters refuse to leave their parental home even while they are all grown up. If this is not love, then what is?
How did Simon and his Wife succeed in creating such a home for their daughters? Of course, every parent would want to know. 
Simon Le Bon's Daughters Refuse to Leave Home
The legendary singer is married to a supermodel Yasmin Le Bon. They were married in 1985 and continue to share a tightly knit family.
The couple has three daughters, who are all grown up now. Their first daughter, Amber Le Bon, is now in her early thirties, a model like her mother, and follows her passion as a DJ.
More On Famous Singers: Howard Hewett: Roaming Around Wife and Divorce Issues, What Might be the Reasons?
Simon and Yasmin's second daughter is Saffron Le Bon, and the third one is Tallulah Le Bon.
Simon Le Bon Wife And Daughters (Source: Red)
Talking about their daughters, Simon's wife stated that it was a difficult time during their adolescent phase as she felt like they were shutting her out. 
In an interview, Yasmin Le Bon said,
I found myself crying every day.
Despite going through ups and downs, the loving parents didn't fail to make their kids feel at home. 
Even now that they are all grown up, their girls refuse to move out. As the girls grew up in a home filled with tremendous love, they are not ready to leave it behind.
Find More About Celebrity Families: Crystal Egger's 12 Years Of Married Life And Two Daughters. Meet Boyfriend-Turned-Husband
So, the only solution for the Le Bon family was to extend their house to fit all the members. 
Regarding the renovations of their house, Simon said,
We are turning six bedrooms into three suites. All we have in our house are the (expletive) builders.
Having their children around has been great for the couple. They love spending time with their girls and having dinner together. 
Yasmin mentioned that they would have lunch in the garden every day during the lockdown. 
They have a big household, with their daughters, and dogs and cats. 
Yasmin said in an interview,
At the moment, we're eight adults, two cats and three dogs.
However, a big household is not a new scenario for the singer, as he grew up in a large family. Maybe that's where he gets his knack for being a better family man.
Read Also: Who Are Jimmy Fortune Children? Details On Wife & Family
More on Simon Le Bon
Born and brought up in England, Simon grew up with his younger brothers, Jonathan and David.
Unlike Simon, his family lives a pretty low-key life, as little is known about them. 
However, his brother David Le Bon is associated with the entertainment industry. But, his work lies mostly off the cameras, serving the Camera and Electrical department.
And to this date, David has amassed several projects under his name such as 'Baptiste,' 'Doc Martin,' 'Be Happy,' 'Killing Eve,' and so on.
Growing up with two brothers, Simon has always loved being around family. Even now, the three brothers have kept their bond intact.
Looking at his life as a successful singer and a good parent, Simon has achieved quite a lot. And with the continuous support of his beloved family members and fans, he is sure to achieve more.