Celebs
Has Taylor Lorenz Found the Perfect Man for Her? Unveiling Her Husband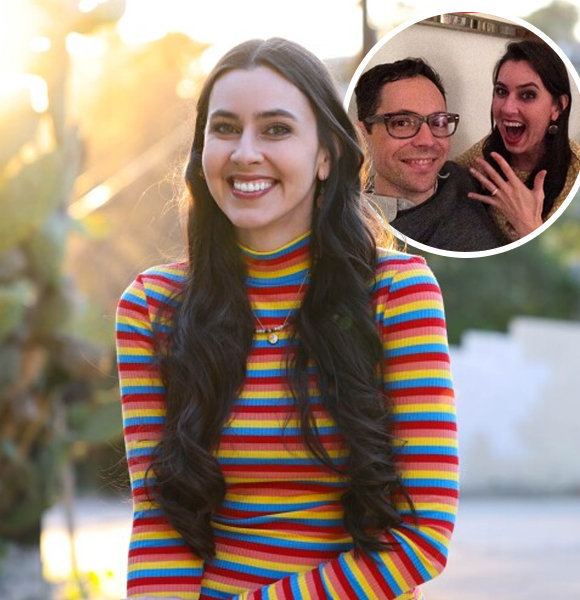 Taylor Lorenz has caused quite the stir in the news and journalism industry with her coverage of trending topics, especially related to social media and online content.
But, has the journalist found time to settle with a husband amidst her busy career? 
Surely, her work has occupied most of her time, requiring her to be on top of her feet hunting for news. So has Lorenz squeezed in some time for a potential partner or husband?
Does Taylor Lorenz Have a Husband?
Taylor has kept her social media presence mostly professional ever since she gained recognition.
However, being a public figure, privacy becomes a compromising factor, so she has taken necessary steps to keep her loved ones' names out of the media's access. 
However, that wasn't always the case. Before the journalist gained notoriety, she used to share with her followers a few insights into her life.
But such posts have plummeted in frequency now, and she has even gone as far as to delete any pictures or news of the past. 
But, after some digging, it can be confirmed that Taylor does indeed have a man in her life. Husband, boyfriend, or fiancee, the status of the special man is not clear, but she does have a loving partner accompanying her. 
Taylor announced her engagement a few years back, 2015 to be exact, to Christopher Mims. Christopher is a technology columnist at The Wall Street Journal.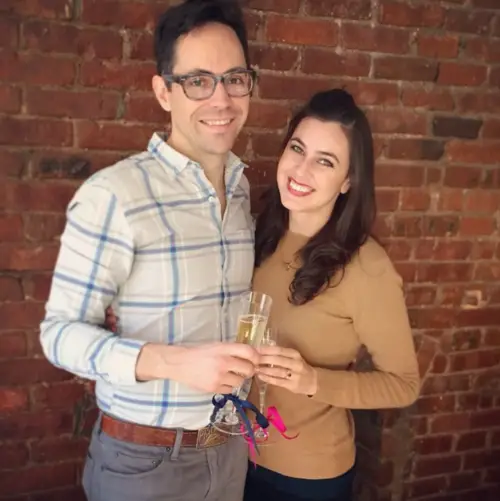 Taylor Lorenz and her soon-to-be husband, Christopher Mims (Source: Taylor's blog)
Get to know - Ella Dorsey's Boyfriend Goes MIA from Her Social Media Feed! What Happened?
As both come from the same profession, it's no wonder that they had many common grounds and clicked instantly. Eventually, their relationship blossomed and led Christopher to pop the big question to Taylor, to which she gladly said yes.
Lorenz shared the happy news on her blog, and she was so happy that she had to keep pinching herself! She shared,
It happened at a wine bar in Fort Greene just a couple blocks from my house. He gave me a beautiful vintage gold ring with a black diamond in the center.
Fast forward to now, the soon-to-be husband and wife have not given out further updates about their love life.
Seven years after the engagement, it's highly likely that Christopher is now Taylor Lorenz's husband, but there's no source to confirm the news of their wedding.
Moreover, she had once posted pictures on her Instagram with her beau, but the post has been deleted, raising more questions regarding their relationship status. 
Read more on: Rick Williams Thanks His Wife for Making Him a Better Man
But, they still share a few tweets from time to time with each other, so we're thinking the best and guessing that they're still together, enjoying their time together away from the media. 
Their jobs may look like regular desk jobs, but they can get risky. So especially with Taylor's reports on technology and culture attracting a lot of attention, it's best that they've chosen the safe route and stayed low-key. 
For instance, her recent controversy with a certain TikTok personality made it to the headlines and gained her attention that was both negative and positive.
Taylor Lorenz's TikTok Controversy
A few weeks ago, Lorenz became the center of news after her article unmasking the real person behind the TikTok account 'Libs of Tiktok' got published in The Washington Post. 
Some criticized her writing and accused her of "doxxing" the person who was revealed to be Chaya Raichik, while some supported her saying she was just doing her job.
Learn more about - Meet John Dean's Wife Who Was Beside Him During Watergate Testimony
Nonetheless, she continues to tackle all kinds of stories boldly. She recently joined The Washington Post after spending three years as a technology reporter for The New York Times.
Born in New York City to her adoring parents, Taylor has a strong background in political science and journalism, making her a well-known name in the industry and certainly, a well-paid one as well. 
A specific number on her net worth is yet to be disclosed, but annual salaries for The Washington Post journalist range up to $160 thousand, as per Glassdoor, which definitely adds a huge chunk to Lorenz's net worth.
With her being still very active in the field, Taylor is sure to reach a greater height of success in the future.