Music
YG's Adorable Moments with His Kids! More Into His Dating History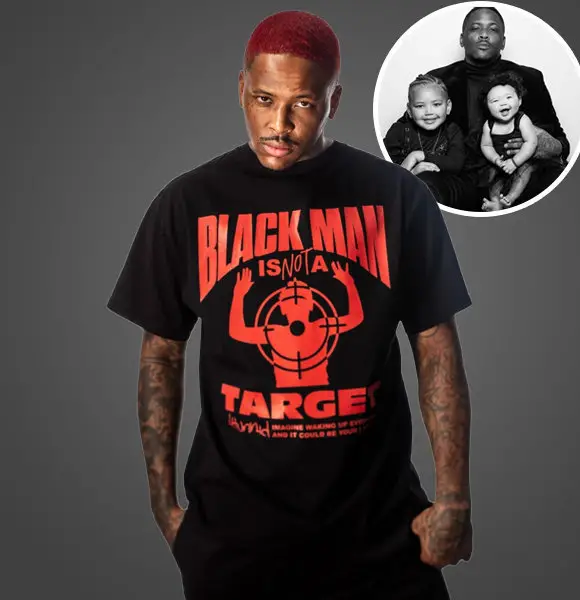 The rapper YG, whose real name is Keenon Daequan Ray Jackson, hasn't had much luck in relationships compared to his career.
However, he is fortunate to have two adorable kids, whom he holds dear in his heart.
YG's Kids
YG, short for Young Gasnsta, shares two daughters, Harmony and Vibe, with his ex-girlfriend, Catelyn Sparks. The couple had an on-and-off relationship. 
They welcomed their first daughter, Harmony, on May 24, 2015. After four years, they again welcomed their second daughter, Vibe, on July 8, 2019. 
You Might Be Interested: Debunking Jimmie Walker's Relationship Rumors- Has a Wife?
However, the relationship broke soon after the birth of their second daughter.
Despite not being together, they share their kids' custody. 
Maybe because of the rapper's hectic schedule, his kids are mostly seen with their mom. 
The Billboard Music Awards nominee singer prioritizes his girls and makes time for them in his busy schedule.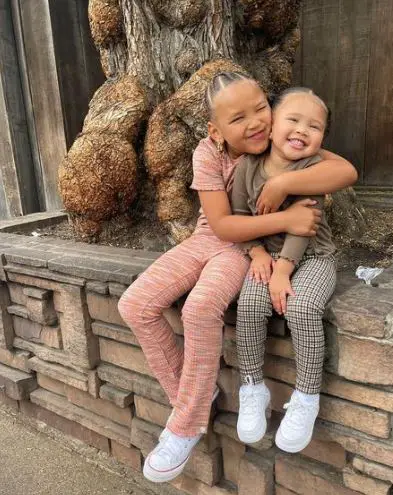 Young Gasnsta's kids are close with each other. (Photo: Instagram)
In 2021, the Blood Walk singer shared a story on his Instagram. 
Among his two kids, his eldest daughter, Harmony's love for art inspired her to doodle in Young's Lamborghini. 
Lamborghini costs between $390k to $400k; obviously, a doddle would cost the rapper hundreds of dollars. 
But the rapper, being a nice father, showed her daughter how to correct her mistakes by washing the drawing she created on his car.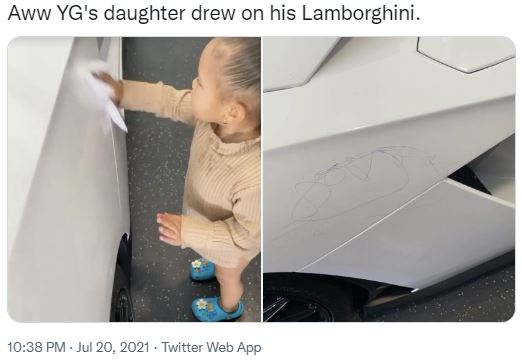 Young Gasnsta's eldest daughter, Harmony, corrected her mistake. (Photo: Twitter) 
The Ride Out singer sure is a good father to his kids because instead of using harsh ways, he taught his daughter to take accountability for her mistake. 
But we cannot say the same for his love life. 
His Dating History
The rapper has been involved with a few women in his life. 
He may or may not be dating now, but his most recent romance was with American singer-songwriter Kehlani. 
Even though the couple was not together for a long time, YG seemed quite serious with Kehlani as he tattooed her name on his wrist.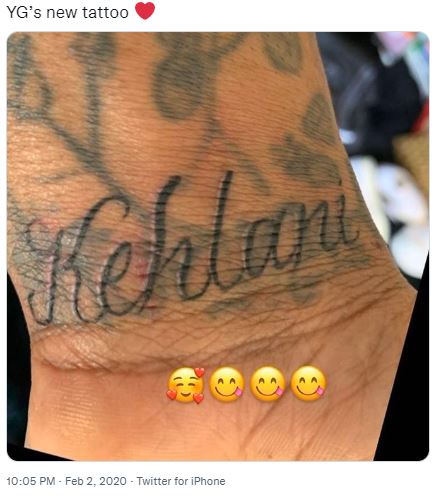 Young Gasnsta gets Kehlani written on his wrist. (Photo: Twitter)
Early in September 2019, Young and Kehlani made their romance public before calling it quits three months later.
However, they again reconciled in late January 2020, following their splits after a month. 
Their relationship looked stable as they released a track on Valentine's Day 2020, but just a few days after their song was released, Kehlani broke up with him. 
The reason behind this time break-up was because Kehlani caught the rapper kissing another woman during a party. 
Kehlani was disappointed in the rapper for not communicating, resulting in their split. 
Before dating Kehlani, he was in a relationship with the former 'Scream Queen' actress, Keke Palmer. 
They were in love, but according to Keke, their relationship ended when the rapper disclosed that he was expecting a second child with his former girlfriend, Caitlyn.
This completely broke Keke's heart, and she took a long time to get over him.
The main cause of Young's failed romantic relationships is his infidelity. We cannot, however, make the same statement about his career, which has made him wealthy.
His Net Worth
YG, age 32, was born in Compton, California, on March 9, 1990. 
He gained popularity with his debut single Toot It and Boot It with Ty Dolla Sign. 
He has built up a sizable fortune thanks to his musical talent. 
Celebrity Net Worth estimates the rapper's impressive net worth to be $5 million.
You May Like: Timbaland's Married Life & Kids- Still Together with His Wife?
His concerts and music streams on various online platforms, where millions of fans tune in each month, are just a few of the factors that contribute to his net worth.
With his fortune, the rapper, who stands at the height of 6ft, has been able to live comfortably. He bought a $785k property in 2016.
He gifted himself a yellow Ferrari F8 Tribute for his 32nd birthday.
The 'Blame It on the Streets' producer-writer definitely knows how to live a lavish life.