Sports
Callum Hudson-Odoi Fifa 19 Stats, Contract, Salary, Injury, Transfer
For a footballer, his/her FIFA player ranking and stats are as much important as winning a World Cup trophy.
Callum Hudson-Odoi is no exception. As the news of the launch of FIFA 19 was announced, the youngster was keen to see his stats. While the figures were not overwhelming with an overall of 69, it was way better compared to his FIFA 18 players card. 
Further, he is still very young, and keeping in mind his progress and growth, the left-winger is sure to make a name for himself in the world of football.
Transfer Rumors, Salary and Contract Detail
During the start of the 2019-20 Premier League season, Callum Hudson-Odoi faced a lot of uncertainties regarding his contract with Chelsea. The 19-year-old was heavily linked to the German Club Bayern Munich at the end of 2018 and was almost sure to leave the club.
Highly Rated Player:- Markelle Fultz Dating, Parents, College
However, the transfer news was shred to pieces when he signed a new five-year extension with the Blues in September 2019. The contract will see him earn a total of £31.2 million ($40 million approx.) in five years and make him the new face of the football club.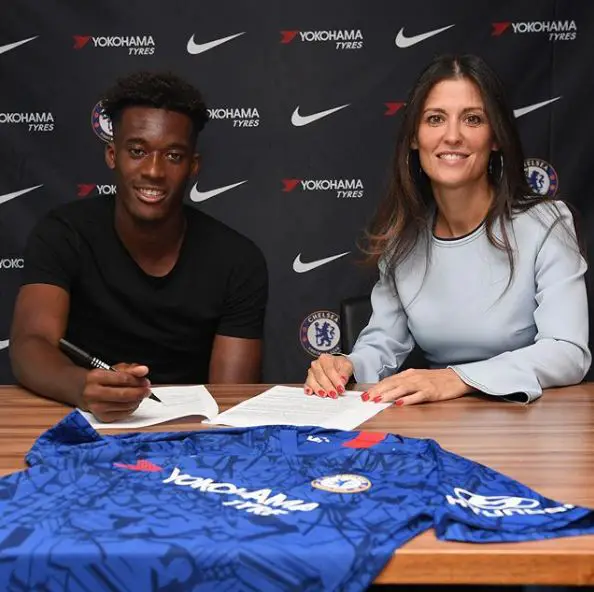 Callum Hudson-Odoi signs a five-year contract with Chelsea FC in September 2019 (Photo: Callum Hudson-Odoi's Instagram)
Amidst all the transfer rumors, when asked about what made the young athlete change his mind to stay in the club, he expressed his most profound interest in working with the manager in charge, Frank Lampard.
The England international was happy to work under a man, whom he watched while growing up, and that feeling made his stay in the club a bit longer.
Injury Detail & Current Teams Info
Injuries are often part and parcel in a sportsman's career. Some are short-lived, and some take years to cure. The Chelsea youngster Callum Hudson-Odoi also feared the end of his playing career when he ruptured his Achilles in the 2018 season.
The injury was quite bad and needed the player to go through a surgery. After a lengthy layoff from the game, he returned to the training camp of the England U-21 in October 2019.
Promising Performer:- Jalen Brunson Girlfriend, Dating, Parents, Family
Following the comeback, the England manager Aidy Boothroyd remarked the Chelsea man to have evolved and become more capable physically. Now, the 19-year-old is eyeing to make an impact both internationally as well as for his club.  
Callum's Bio: Parents, U-17 Career
Callum Hudson-Odoi is a Ghanian-origin English player born on 7 November 2000. His parents: Bismark and Jennifer Odoi, relocated to Wandsworth, South London, for his father to join Coca Cola soccer course.
Drawing inspiration from his dad, Callum also joined the Chelsea Youth Academy at the age of eight. With his explosive pace and great shot-making ability, he quickly raised the ranks.
Soon, he made it to the U-16 team for England and represented his country in all the youth competitions. He was also part of the U-17 World Cup-winning English Team. Now, he is a formidable asset for both his club and country.
Height & Weight Info
Callum Hudson-Odoi stands at 6 feet (1.83m).
His body weight amounts to 76 kgs.