Sports
Donovan Mitchell Stats, College, Girlfriend, Salary
Donovan Mitchell had an exciting start at the NBA. Well, he was drafted by the Denver Nuggets as 13th overall in 2017. But, the team immediately transferred him to Utah Jazz.
Despite the shuffle, everything worked out in Donovan's favor as he became one of the four-player ever to play more than 20 games in his rookie season.
It surprised nobody when he was named the 2017-18 NBA All-Rookie first team. Now, Donovan is in the Team USA roster for the 2019 World Cup Team. He might get to play with the primary team in China.
NBA Stats & College Info
Donovan, age 22, used to play both basketball and baseball in high school. The influence behind his baseball inclination was his father. The NBA star's father, Donovan Mitchell Sr., was a minor league player and a baseball coach. However, Donovan's old man let him choose his professional sports career, and the player let go of baseball to concentrate on basketball.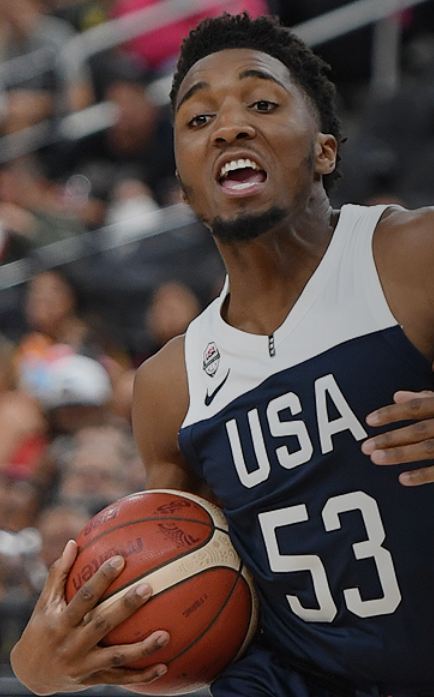 Donovan Mitchell reacts during a basketball game (Photo: www.usab.com)
Righ on track, Donovan played college basketball at the University of Louisville, before he got the opportunity at NBA. The athlete boasted 23.8 points per game with 43.2% shooting, along with a 36% rate from behind the arc, in his second NBA season.
Player In 2019 World Cup Squad:- Derrick White Stats, College, Contract, Net Worth
Despite his success, Donovan is still planning on completing his education. He plans to complete a college degree in Broadcasting at the University of Louisville. The athlete credits his teacher mother Nicole Mitchell for instilling such work ethic. He sure has inherited a balance of athletic skills and education aspiration from his parents, athlete-father and teacher-mother.
Injury Update & Salary Breakdown
As injuries are part and parcel of a player's life, Donovan hasn't been able to escape it. Amidst his glowing 2018 NBA season, the athelete was forced to take a back seat due to a hamstring injury. It occurred on 31 October 2018 during a match against Minnesota Timberwolves.
The injury forced the jersey no. Forty-five to miss multiple matches, but he bounced back soon enough.
Explore Donovan's Inspiration:- Michael Jordan Lesson From Ex-Wife & Divorce, Now Married With Twins In Content Family
Sadly, the NBA star suffered a rib injury while playing against the Los Angeles Lakers on November 2018. He gained back his health with the help of his fans and girlfriend, Deja Lighty - whom he has been dating since college.
As of 2019, the player seems to be in good health ready to lead his team Utah Jazz.
Taking about his money matters with the team, he signed a three-year contract worth $9,368,520 in 2017.
With his performance, the athlete of height 6 feet 3 inches ( 1.9m) and weight 97 kgs brought in a salary of $3.1 million in the 2018/2019 season. Donovan will bring in over $3 million in 2019-2020 and $5 million in the subsequent season with the Jazz. Finally, he will bring in a whopping salary of over $7 million in the 2020-2021 season.