Sports
Matt Simms, Phil Simms' Son: How Much Is His Net Worth & Salary?
American footballer Matt Simms is an active member of Atlanta Falcons.
Before the Falcons, he was associated with a number of teams. His NFL journey began when he was first signed by New York Jets on 6th May 2012. Then, he was part of the teams including Buffalo Bills and Atlanta Legends.
Net Worth, Contract, Salary
Matt Simms's net worth remains undisclosed along with his prior contract with the New York Jets and Buffalo Bills. However, he started to garner a considerable amount after he signed a new contract with Atlanta Falcons in 2019. He raked a whopping $645,000 as per the contract.
Traded To The Buffalo Bills In 2015 :- LeSean McCoy Girlfriend, Wife, Gay, Son
Moreover, he is guaranteed an average salary of an average annual salary of $645,000.Likewise, he will earn a base salary of $408,000 as per the deal.

Salary details of Phil Simms with Atlanta Falcons in 2019 (Source: spotrac.com)
However, starting in 2020, he will continue as a free agent.
Time With Atlanta Legends
Although Atlanta Legends football operation is suspended for now due to bankruptcy filed on 17th April 2019, Matt's time in the team was notable. He played as the team's quarterback and received prominent praise from the team's coach Kevin Coyle as well. On February 2019 the coach shared during in interview quoting,
"He has taken ownership of his role on the offense as a leader and a captain. On the field, he is oftentimes like a coach."
Moreover, he beat out former Georgia quarterback Aaron Murray during the starting game that year. Talking about his experience playing for the team, in retrospect, he shared,
"I think I did a good job of not really putting certain expectations to the league or what it was supposed to be like. I really looked at it as 'Hey, I'm getting an opportunity to play football. I'm getting the opportunity to continue the evaluation process, to show people that I'm relevant, to show people I'm still talented enough to play at a high level."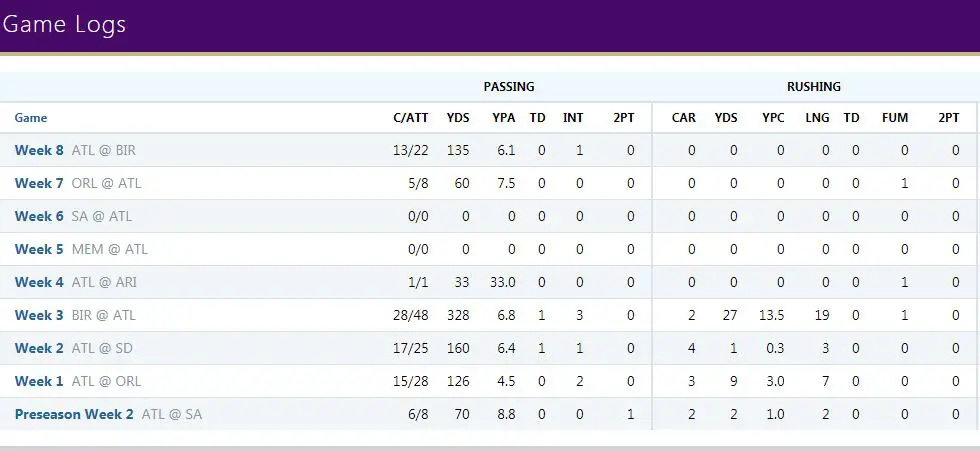 Matt Simms game stats during his time at Atlanta Legends (Photo: noextrapoints.com)
As of now, he plays as a quarterback for Atlanta Falcons. The decision to sign him came after the teams another player Kurt Benkert suffered an injury.
Facts About Matt Simms :
Matt was born and raised in his hometown Franklin Lakes, New Jersey.
His father, Phill Simms, played in the quarterback position for the New York Giants and received the MVP title in Super Bowl XXI.
MVP of National Championship :- Tua Tagovailoa Parents, Girlfriend, Ethnicity
The footballer's older brother is Chris Simms, quarterback player for Tampa Bay Buccaneers.
Talking about his education, he initially enrolled in the University of Louisville but later transferred to the University of Tennessee.