Sports
Muhammad Ali: The First Pro-Athlete who asked, "Why is Jesus White?"
Quick Information
Date of Birth

B- 1942-01-17, D- 2016-06-03

Nationality

American

Birth Place

Louisville, Kentucky, United States

Profession

Professional Boxer

Birth Name

Cassius Marcellus Clay Jr.

Nick Name

The Louisville Lip, The Greatest, The People's Champion

Zodiac Sign

Capricorn

Ethnicity/Race

African-American

Father

Cassius Marcellus Clay Sr.

Mother

Odessa Grady Clay

Brother/s

Rahman Ali

Son/s

Ali Jr., Asaad Amin

Daughter/s

Laila Ali, Maryum Ali, Rasheda Ali, Hana Ali, Jamillah Ali, Khaliah Ali-Wertheimer, Miya Ali

Relationship Status

Married

Wife/Spouse

Lonnie Ali (m. 1986–2016)

Divorce/Split

Yes (Thrice)

Ex-Wife

Khalilah Ali (m. 1967–1976), Veronica Porché Ali (m. 1977–1986), Sonji Roi (m. 1964–1966)

Gay

No

Dating/Affair

No

Net Worth

$50 Million

High School

Central High School

Height/ How Tall?

6'3" (1.91 m)

Weight

107 kg (236 lbs)

Hair

Short

Hair Color

Black

Eye Color

Black
The exceptional boxing caliber wasn't the only factor that distinguished The Greatest Muhammad Ali from all other professionals. There are numbers of other reasons why Ali deserves to reign at the pinnacle of the sporting world.
From trash talking the opponents out to protesting against racial discrimination, he was never afraid to express his heart.
Caption: Why is Jesus white? - Muhammad Ali
Source: JonasSunshine.com
The tremors of his witty and revolting words once shook the world when he forwarded a simple yet profound question on"Why is Jesus white?". During an interview with Michael Parkinson in 1971 some 45 years ago, he came out with all guns blazing through his words.
The interrogation started pretty normal with Parkinson questioning him on his bout with Frazier, growing up and miscellaneous, but things took the shocking turn as talks deviated to his experience as the then so called second class citizen.
"I always asked my mother, I said, 'Momma, how come is everything white?' I said, 'Why is Jesus white with blond hair and blue eyes? Why is the Lord's supper all white men? Angels are white, the Pope, Mary, and even the angels.' I said, 'Mother, when we die, do we go to Heaven?' She said, 'Naturally we go to Heaven.' I said, 'Well, what happened to all the black angels?'

-An excerpt from the interview
Ali went on to add to the list of "white and not black things" describing about Tarzan, the white King of the jungle in Africa, the previous Miss America and Miss Universe, White House cigars, White Swan Shop, white angel fruit cake, Snow White, White House, White feet of Mary's Lamb and many others.
Parkinson, on the other end of the seat, was spellbound to his words and never interrupted as Muhammad kept pouring his expressions spontaneously. Finally, when he got his mouth open, all he could manage to say was "Yeah!"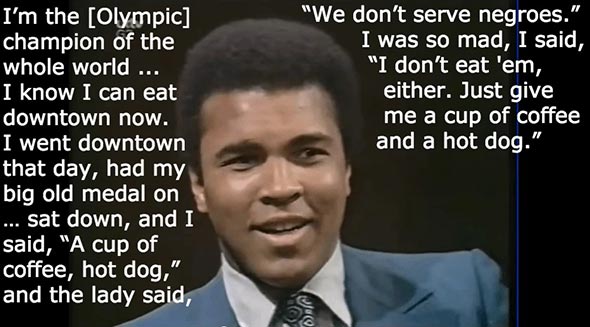 Caption: Ali explains his interesting "downtown meal" during his "Why is Jesus white?" interview.
Source: Global.sss.fastly.net
Muhammad Ali, who preferred to tag himself as 'a freedom struggler over power struggler,' had promised to defeat America's so-called threats and enemies. Having shed his slave name 'Cassius Clay' to transform into a Proud Muslim, Ali also gave the account of a harsh event he encountered after being an Olympic champion that inspired him for the transformation. He explained how he, as a reigning champion went to eat downtown, the place where "Negros" were prohibited, only to be put out. Such harsh reactions insulted the otherwise (then) proud Christian Muhammad.
Ali went on to have three more interviews with Parkinson before his death owing to Parkinson's disease. However, his words and unbeatable record stay back with us.