Sports
How Much Is Liverpool's Trent Alexander-Arnold Net Worth & Salary?
Trent Alexander-Arnold is one of the best football layers in the world right now...his age is...has not had many injury problems during his career...played for Liverpool FC throughout his childhood...earns a massive wage at...parents are down to earth...recently bought a house in Hale, Chesire...has two brothers...dad is a businessman...his net worth is not revealed yet...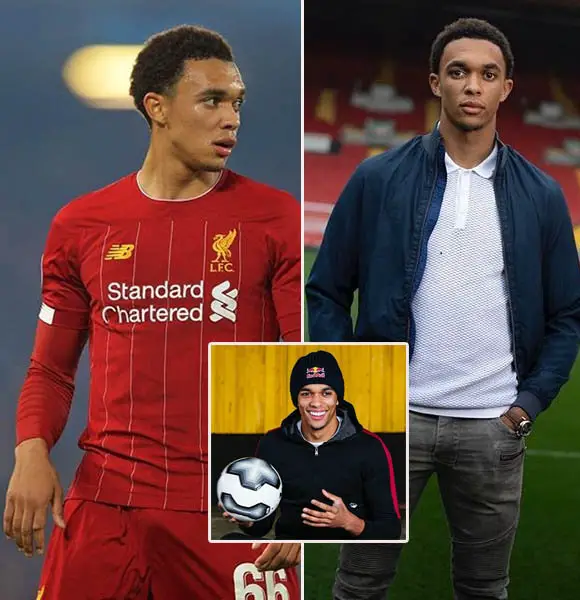 Trent Alexander-Arnold is labeled as one of the best right-backs in the world and has been so for more than a year. He is a talented young player in the sport and one of the leading players in the Liverpool FC squad, especially when going forward.
Trent is an academy player and rose through the ranks of Liverpool's youth setup, making his first-team debut on 2nd August 2015 in a friendly against Swindon. After his debut, he signed his first professional contract with Liverpool in October 2015.
Since his contract signing, he has risen consistently in stature and importance for the Liverpool team, and also for the England National Team.
Parents And Family
A Liverpool native, Trent took birth in a family that had a lot of respect for the community. His mother, Dianne Alexander, taught him at an early age that community was everything. That teaching still affects Trent, who visits the St. Andrews Community food bank frequently and helps with the food supplies.
As for his dad Michael Arnold, he is a businessman. Both Michael and Dianne raised Trent, along with his brothers, in a down-to-earth manner. At a period when many of the young players move out of their parents' homes immediately after starting to earn a bit of money, Trent stayed with his parents until very recently.
It was only in May 2019 that he finally made a move towards independence, purchasing a five-bedroom house in Hale, Chesire, for $3.48 million.
Trent has two brothers - who are also his best friends. One of his siblings, Tyler, acts as Trent's agent, while the other is named Marcel. His brothers have been very selfless in helping Trent achieve his dreams of playing football professionally.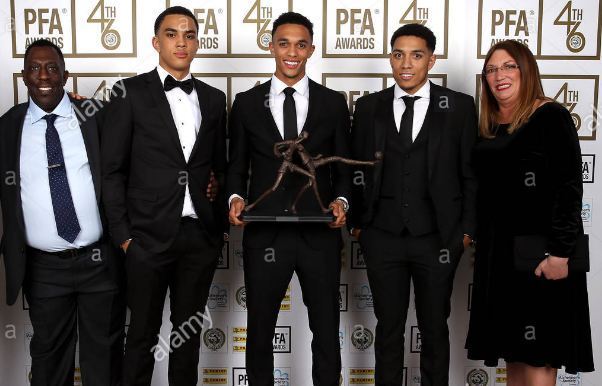 Trent Alexander-Arnold poses with his PFA Team of the Year award alongside his family (Photo: Alamy)
They sacrificed their own playing time during childhood so that Trent could be on time for training. To signify his brothers' importance, Trent says that everything that he has achieved is an achievement of all three of them.
Salary And Contract
Along with the increase in Trent's stature in the football world, his worth has also increased. The athlete's team Liverpool FC is aware of his talent and importance, and pay him his worth.
Another England Player:- Jadon Sancho Contract, Salary, Transfer, FIFA 19 Stats
Trent signed a new contract with Liverpool on 19th January 2019. The contract was a five-year deal which keeps him at Anfield till 2024. The deal is worth a massive $13,923,000 and pays him $2,784,600 yearly wage.
Despite his earning figures being public, Trent's estimated net worth is yet to be disclosed.
Personal Life
Trent is a young player and doesn't yet have a girlfriend. His mother, Dianne, jokes that it would be hard for him to have a girlfriend as his potential partners would have to get her approval and permission first, before actually dating him.
However, it isn't the case that Trent has never been involved with a woman. But, the solitary story of Trent's involvement with a person of the opposite gender could be considered a naive mistake on Trent's part.
Another Football Player:- Detail On Dele Alli's Dating Status, Girlfriend, Family, Religion
The Liverpool star was supposedly flirting with a pregnant woman named Nicole Heaton during the FIFA World Cup 2018 in Russia. The woman also claimed that he sent her some 18+ messages. However, nothing has been conclusively proven yet, and Trent, too, is yet to address the allegations. You will have to wait and see if anything develops regarding the incident.
Interesting Facts: Age, Height, Injury
Trent Alexander-Arnold was born on 7th October 1998 in Liverpool, England, UK.
Trent's full name is Trent John Alexander-Arnold.
He flaunts a height of 5 feet 9 inches (1.80 meters).
The Right-back is a dependable player and has only missed five games during his entire Liverpool senior career due to injuries. He missed one game during the 2018-2019 season due to a back problem and missed four games the same season due to a foot injury.
According to Transfermarkt, the youngster is valued at $123 million.