Entertainment
Who Is Aaron Chalmers Dating In 2017? A List Of His Girlfriend That Never Seems To End
Aaron Chalmers is not an unknown face for MTV fans, particularly for those who follow the shows like Geordie Shore and Ex on the Beach. The shows are the top viewed shows broadcasted in the channel, which didn't just cater huge fan followers for him but also made hot and blonde girls fall for him.
The shows furnished him with an unending list of girlfriends, and he has also been passing through a chain of break ups with those ladies. The hook ups and break ups now cover a major portion of the artist's life.
But, will he continue his hook up and break up series this year too, or is going to stick with the someone? This question may match everyone's query, and we try to quench the same thirst of yours here.
Aaron Chalmers' long list of Girlfriends!
Aaron Chalmers is not the only son of his parents, as he has a brother, Terry Chalmers who is just three years younger than him and a sister.
They do not reveal things related to their father and sister, but what we know is the Chalmers' brothers were born to their mother, Lynn Chalmers in England.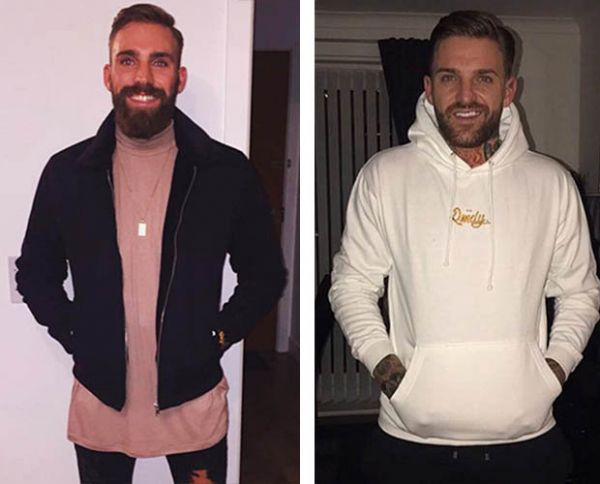 Caption: Aaron Chalmers and his look-alike brother Terry (L).
Photo Credit: dailystar.co.uk
Aaron goes crazy when it comes to girls and is mostly spotted flirting with them. While being on the MTV shows, the hunk made many connections and breakups with his fellow reality stars.
He first fell for Marnie Simpson, who was also his co-star during the eighth season of Geordie Shore. However, he confessed his love only in the summer of 2016.
But they detached, as Marnie moved to new show Celebrity Big Brother and got involved with her fellow contestant, Lewis Bloor.
Caption: Aaron and Marnie are sharing their happy moment.
Photo Credit: thesun.co.uk
Apart from Marnie, Chantelle Connolly was also in a relationship with Aaron at the beginning of 2016. The relationship was short term as their romance quickly died out after the very first date.
They even tattooed their names onto each other, but that was all in vain, as Aaron preferred Marnie to her.
After the breakup with Marnie, Aaron started dating the former Towie star, Lauren Pope in December 2016 and even flew to Dubai for romantic holidays.
However, their romance didn't last forever, and they finally broke up at the end of January, due to an incident on a night out. The Geordie hunk later tried to clarify the reason and told The Sun's Bizzare column:
"The story was laughable; everything that was said in the story was lies. We split because of the distance and working commitments – it wasn't really fair on either of us."
While Lewis was dating his ex, Aaron also had a short-lived relationship with Lewis ex-girlfriend, Nicole Bass during the series of Ex on the Beach. It was a two-months long date, and the split followed was indeed amicable.
He also had a private relationship with Wayne Rooney's hooker Jenny Thompson during his time in the same series.
The list of Aaron's girlfriends doesn't end here. He also managed to date other two beauties: Chelsea Barber and Danielle Scott in early 2017.
While the relationship with Chelsea remained within the show, the Essex beauty, Danielle continued with Aaron from March. But like before, Aaron soon ended up with her and again hooked up with Marnie in May.
Marnie and Aaron have been in on/off relationship for three years and are now busy in filming the new series of Geordie Shore.
Although Aaron has been through many complicated relationships, we hope he finds the perfect woman to get settled down with!
Aaron's New Career in MMA:
Aaron, who has a commendable height of 5' 9,'' also tried his luck in the event of BAMMA. He fought his first MMA fight against Greg Jenkins in the ring at Birmingham's Genting Arena on 12 May last month.
The Geordie Shore star defeated his opponent in just two minutes and nine seconds. All the reality stars of Geordie Shore witnessed his success, but a lady caught everyone's eye by stepping into the ring and congratulating on his victory.
The lady was none other than Aaron's ex-girlfriend Marnie, who later said something interesting in her Star magazine column:
"My cousin Sophie said she'd like to see Aaron and me back together, but that won't happen. We're just friends"
This statement leaves us with the couple's uncertain future, but soon they appeared together at Aaron's birthday party on 26th May 2017, where Aaron dressed up in tight jeans and T-shirt accompanied by his girlfriend who looked hot in a black bodycon mini dress with thigh-high brown boots. They mostly accompanied each other to the party and even left together.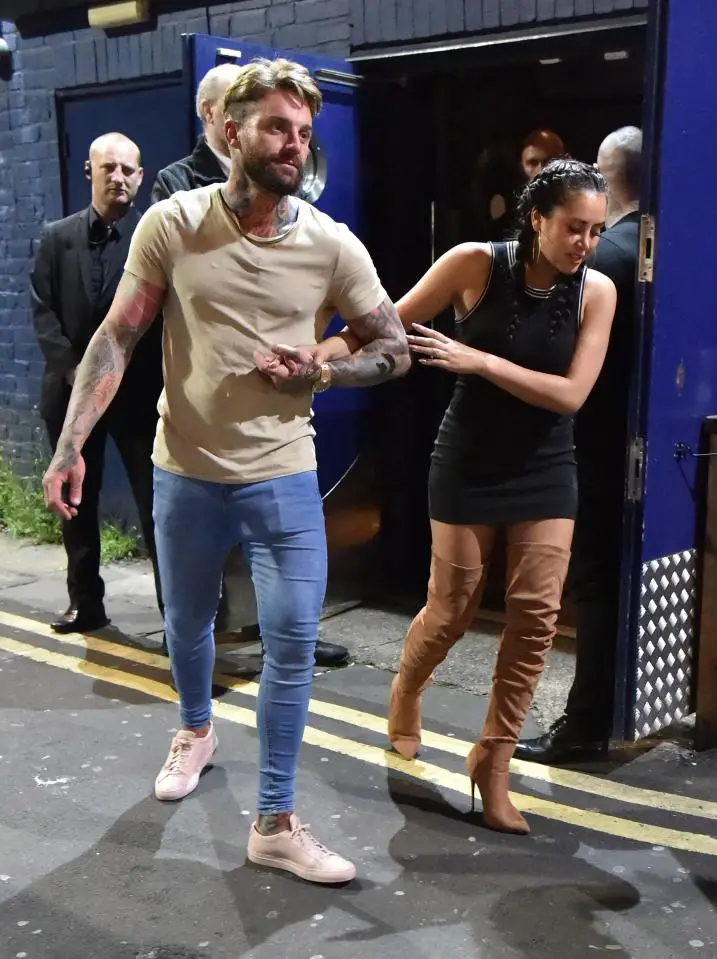 Caption: Aaron and his ex-girlfriend spotted together on his 30th birthday.
Photo Credit: thesun.co.uk
The couple even got more chances to be together in the new series of Geordie Shore and build their broken relationship.
Aaron's craze for Tattoos:
Aaron has a body full of tattoos; starting up from neck and bottom to the legs. His fondness for tattoos is rather commendable as he has even tattooed his penis last year that he states, gave him a hard time. The pain was so high that it made him tweet his feeling to his followers.

Caption: Aaron expressing his pain through Twitter.
Photo Credit: Twitter
The tattoos of Aaron include the symbol of 'OM' on his neck and couple of roses on his belly with serpents on his chest.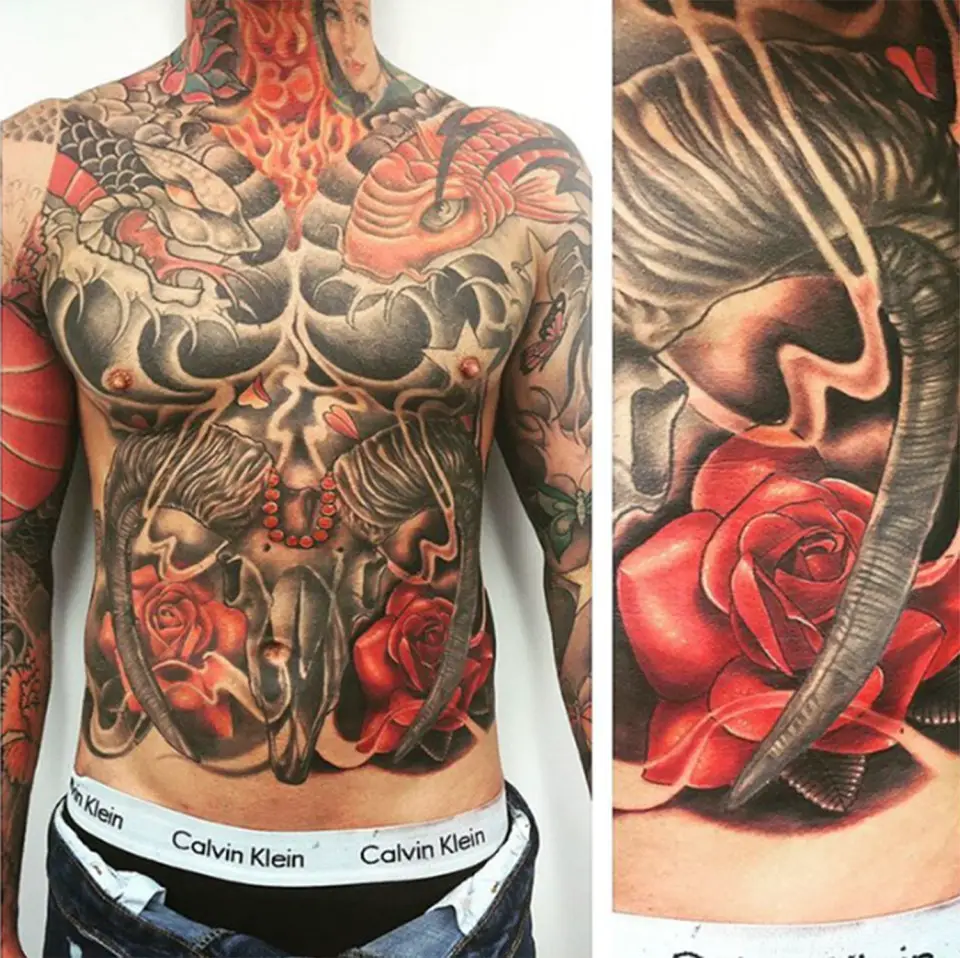 Caption: Aaron is revealing his body Tattoos.
Photo Credit: thesun.co.uk
As Aaron is hitting the MTV shows and also is engaged in MMC, he is sure to make more fans go crazy after him. The tattoo man sumptuously started the year 2017 and is sure to continue the same in the future.